Google's Chromebook Pixel: Addictive allure, expensive high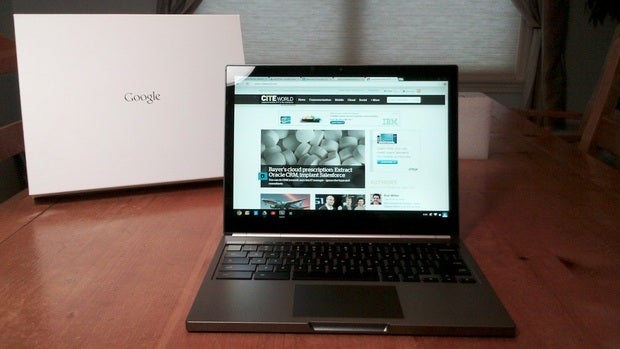 A friend of mine once had major surgery on his shoulder. The pain was so bad the day after the operation that a nurse gave him morphine.
The next day my friend again was offered the drug. But he turned it down, despite the intense pain. I asked him why. "Because," he told me, "I liked it too much."
A similar thought – fear, really – crossed my mind when I first powered up Google's Chromebook Pixel laptop.
Even before that moment I was blown away by Pixel's packaging – it comes in a beautiful, sturdy white box with "Google" on top in silver letters – as well as the quality construction: You pick up the gray, anodized-aluminum casing and immediately recognize this is a well-made piece of hardware. It's not a big laptop – just 11.7 x 8.8 x 0.64 inches – but it has a surprising amount of weight to it (3.4 pounds to be exact, but the Pixel really does feel heavier). Google clearly has put in the effort to make a great first impression here.
It wasn't until I opened the Pixel, however, that the opiate, so to speak, hit my bloodstream: Within seconds, the Pixel booted up to reveal a dazzling high-definition screen that almost shimmers, it's so nice. Only after I marveled at the impeccable screen did I notice the beautiful, backlit keyboard.
I thought about my mid-priced Asus laptop, with the now-invisible "N" and "M" letters on its cheap plastic keyboard, audio that goes out randomly (forcing me to reboot), and frequently hanging apps. Then I closed the Pixel and ignored it for three days. Because I liked it too much.
You see, just as my friend couldn't afford a morphine addiction, I can't afford to become addicted to a limited-functionality laptop that costs $1,300, no matter how beautiful the screen or rapturous the YouTube moments.
But eventually I summoned up the nerve to test out the Chromebook Pixel for a couple of days. And it really is impressive and enjoyable to use – if you can accept its limitations and are willing to turn over your online life to Google (all for more than what it would cost to get a MacBook Air or high-end Windows laptop loaded with power, storage and apps).
What's great about the Chromebook Pixel
Google says the new Chromebook has the "highest pixel density of any laptop," and I believe it. I put the Pixel next to my Asus and ran the same YouTube video (I went with the Gangnam Style official video; I know, so 2012) on both of them simultaneously. It was like the difference between Kansas and Oz. The video on the Pixel was sharp – even on full screen -- and bright. The Asus just didn't measure up, though it's certainly fine when I'm not comparing it to something like the Pixel. 
The sharp HD screen not only makes viewing videos and photos a pleasure, it makes reading online an entirely new experience because text clarity simply is superb. I've never seen such clear type on any laptop or desktop browser. Even late at night when I was tired, website text was razor sharp. And my current Asus aside, I've owned some fairly pricey laptops with respectable screen specs. The Pixel's in a different league.
And the Pixel is fast. It boots up and down in seconds, and moves through web pages on the Chrome browser with ease.
The bottom half of the Pixel is not much more than a quarter-inch high, so it's easy on your wrists. And the Pixel has a smooth, quiet keyboard.
There are two versions of the Chromebook Pixel. One is priced at $1,299. The other is priced at $1,449 because it comes with LTE installed.
Google happened to ship me the latter, which came in handy when I was testing the Pixel's wireless range. I have an office on my property that's probably 150 feet away from the wireless router in my home. I brought out my Asus and the Pixel to see how each picks up the signal. The Asus, as usual, could access the wi-fi, but it was a two-bar connection at best. The Pixel couldn't even pick up the wi-fi signal.
But with LTE, problem solved.
What's lacking (or just weird)
As mentioned above, there are no native apps and no storage. This is not a laptop, really; it's literally a Chromebook -- a machine with a bare-bones operating system built around the Chrome web browser.
If you want to store files, you must do so in the cloud.  And if you're comfortable with that, the Pixel's shortcomings in this area won't bother you. In fact, as part of the deal, Google offers Pixel buyers 1 terabyte of storage on their Google Drive account for three years. That's a lot of storage. Of course, you have to be online to access your files.
The touchscreen is almost irrelevant, despite it being touted as a cool feature. It's certainly worth trying out, but you quickly realize that it's much easier and more efficient to use the trackpad. (Not to mention it's an exceedingly smooth trackpad.)
The keyboard is stripped down, lacking function keys across the top -- you can't Alt-Tab through apps, etc. Again, this isn't Windows or Mac. I'm sure you can get used to these things not being there, but they're noticeable when you first begin using the Pixel. There is, however, a tutorial that walks you through many helpful keyboard shortcuts.
Target audience?
Here's who would love a Pixel: Someone for whom the visual experience -- picture and text clarity -- is of utmost importance.
Here's who else: Someone who wants to dazzle other patrons at the local coffee shop who walk by and get a look at the Pixel's remarkable screen. Which really would happen.
But $1,300 is a lot to pay for a great screen and an ego rush. If Google could deliver the same quality in the $600 to $800 range, I suspect it could find a lot of buyers for the Chromebook Pixel. Hopefully it will be soon.
Not that I'm hooked or anything.
(If you want to check out a short video of Computerworld's JR Raphael going over the Pixel, click here.)
JR Raphael
JR Raphael
View Comments
Top News
Yahoo's share gains since November from a deal with Mozilla may be a clue about whether the search...
Samsung denied it had blocked a Windows update on its hardware but acknowledged that it was...
The new Remote Keyboard app is designed for Intel's NUC and Compute Stick miniature PCs, but should...