Office 365, Microsoft's new subscription-based version of Office, is about what you'd expect from a Microsoft product: some elegant features, a few baffling implementations, a couple technical hiccups, and a host of really neat features primarily for seriously heavy Office users.
Microsoft has several versions of Office 365. I've been using Office 365 Home Premium, the main consumer version, on my Sony Vaio touchscreen running Windows 8, since late January. Last week, I also began testing Office 365 Enterprise, the highest-end version for businesses, on a Samsung Smart PC Pro 700T -- a laptop with a detachable screen that works like a tablet -- which Microsoft loaned me.
The core productivity apps -- Word, Excel, PowerPoint, and OneNote -- look and feel pretty much the same in Home Premium and Enterprise. Outlook is a bit different on each version, and at work you'll have access to Lync and SharePoint.
But the most interesting part of Office 365 -- the part that makes it most stand out from past versions of Office -- is its link to online services. With On Demand, for the first time Microsoft is letting you run the latest Office programs from a computer that doesn't have them installed. That means when you're traveling, you can borrow a friend's computer or a machine in a business center, sign in to your Office 365 account, and within a couple minutes start using the apps.
Office 365 also has tighter integration with SkyDrive, Microsoft's online storage service, than previous versions of Office, making it easier to access your documents remotely.
The idea is that you can be working on a document in the office, go home and eat dinner, then log into Office 365 from your home computer and pick up exactly where you left off. If you're traveling, SkyDrive combined with On Demand means you can leave work and pick up from a new machine and get access to all your documents in an interface that looks identical to your primary machine.
It's a compelling vision. But does it actually work? Here's what I found out.
On Demand
The On Demand apps are so similar to the fully installed versions of the software that I planned to ask Microsoft why people shouldn't just use it instead of installing the full software. But I soon found out.
To check it out, I uninstalled Office 365 from my computer, and tried using On Demand by logging in from both my pro and consumer accounts.
The biggest problems with On Demand are: 
Knowing it exists
Figuring out how to find it
Needing to be online, with many associated Microsoft services operating properly.
If you're a longtime Office user, you're accustomed to downloading the software to your machine and that's that. There is no reference to On Demand in the animation that plays when you first download Office 365. (Instead, the animation references Office Web Apps, a very stripped-down way to access Office files from a browser.)
I had to search for a Q and A on Microsoft's site to figure out that you find On Demand by logging into your account on Office.com. Most people wouldn't stumble on that since most people wouldn't imagine that you'd find anything associated with your account at Office.com.
If you log in with corporate credentials, you find On Demand in possibly the least likely place – in the SkyDrive tab, under a heading in the left hand column. Why it's under the SkyDrive tab, I can't imagine.
On the Home Premium version, when you log into Office.com, you're presented with a list of recent documents. Under that is a heading that says "Office On Demand." If you click on one of the icons below it for Word, Excel, PowerPoint, Access, or Publisher, it starts "streaming" the app.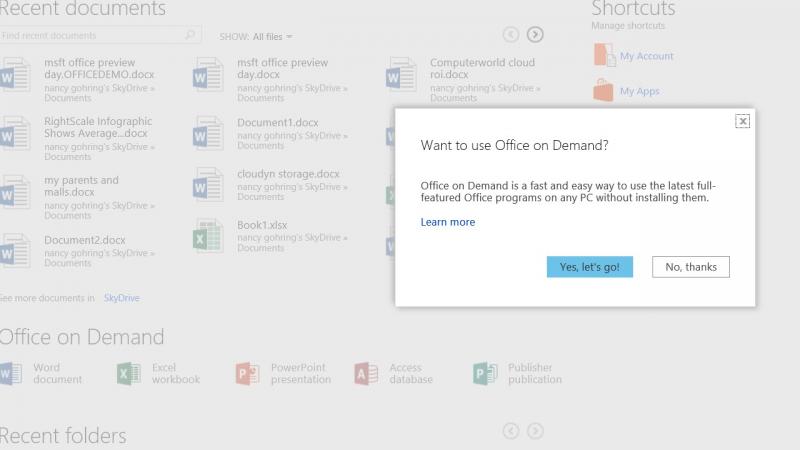 The problem affected both of my accounts. When attempting to launch On Demand with my corporate credentials, I saw a message saying "it seems like you don't have a subscription to the Office applications."
"We're about to delete this file because the original has been deleted from the server," a pop up read.
But it didn't always work as advertised. One time, I could only use documents in the corresponding Web App, a browser-based version of Word and Excel that looks and feels like a stripped down web app (hence, the name). I used a troubleshooting guide to run through a number of scenarios but still couldn't seem to get On Demand to launch.
Because Microsoft granted me admin rights on the Enterprise software, I was able to check a health dashboard for Office 365. For more than an hour it looked just fine but then it showed a service interruption with Rights Management. I suspect that I wasn't able to use On Demand because Microsoft wasn't able to check that I had rights to use Office 365.
Sharing docs is incredibly easy in Word. In the file tab, a share option lets you invite people via email to view or edit the doc. You can hit send without having to leave Word. From that same tab, you can also generate a URL to copy and send.
However, in my experience, the Bing Maps app only popped up when an address included a zip code. I very often trade addresses with people without including the zip code so suspect that the app wouldn't end up being used often.
The promise of Office 365's new subscription model is that users will pay every year and receive periodic updates. If Microsoft takes its side of the bargain seriously, and can soon harden the service so that the backend is reliable and the front end is a bit simpler, Office 365 will make sharing and collaborating easier and lets employees do their jobs when and where they want.
Overall, I like using Office 365. I'd recommend it for people who collaborate on documents, regularly use computers that aren't their own, and want to store files online.
Another significant limitation to On Demand is that it doesn't include all the Office apps, like Outlook or OneNote. Enterprise users can still get Outlook Web Access, but it's got a quite different feel. Home Premium users will have to revert to the web version of whatever email service they use.
SkyDrive integration
Still, when you need to use a computer that's not your own, On Demand is super useful. The alternative is to access SkyDrive through a browser and use an outdated version of Office Web Apps, which much fewer features. With On Demand, you get the exact look and feel of using Office 365 on your own machine.
For instance, the professional versions allow users to download
I asked Microsoft why they didn't just use On Demand in place of the older Office Web Apps. Microsoft explained that the On Demand version of the app launched in a virtual machine, meaning that other apps don't know it's there. In practice, that would mean if you tried to open a Word document attached to an email, the On Demand version of Word wouldn't launch because your email service wouldn't be able to detect it.
The Outlook software that comes with the Enterprise version has a couple of differences from the Home Premium version that users might notice.
The problem seemed to have additional repercussions. Although I had saved the document containing this story to SkyDrive numerous times, after a restart it reverted to an older version from days earlier. In a panic, I logged onto the other machine and opened the document, only to see it tagged as an "Offline Copy."
When On Demand works, it's great. There are no feature differences between the On Demand apps and the locally installed apps.
Read Write
There's another difference I noticed between Outlook at work and at home.  At work, users might notice the results of IT admins using tools designed to prevent people from sharing confidential documents via email. If you try to attach confidential docs, a notice pops up warning you not to. Depending on the admin setting, you might be prevented from sending it.
For starters, there are just a handful of apps available for Outlook and those that are available aren't always useful. (A Microsoft exec downplayed the paltry selection to
So will this thing fly?
Outlook differences
In practice, they're still promising -- but not yet delivering.
When that happened, I got the option to keep my version or keep the server version. I don't think it's easy to figure out what to do presented with those options, but I guessed that "my version" was the version I was looking at and chose it. Fortunately, I was correct.
The Office 365 integration with SkyDrive works really nicely. From a user interface perspective and the way it handles multiple simultaneous users, it beats Google Apps and Dropbox any day.
Occasionally, I got a message saying that my upload failed because someone else updated the server copy and it's not possible to upload my changes. This was worrisome and baffling, since I'm the only one with permission to modify the documents and I hadn't done so from another computer.
I also downloaded a Twitter app, which is supposed to let you direct message other Twitter users and follow them from within Outlook. I never managed to get that one to appear though, even after switching my email address on record at Twitter to receive alerts to the address attached to my corporate Office 365 Outlook account.
If you hit save, you get a pop up saying that you'll get updates made by other people and those updates will be indicated by a green overlay. Indeed, new content is highlighted green.
It's a sound vision. The execution, though, still needs work.
Another trivial annoyance: when opening a SkyDrive folder from the full Office 365 software, icons for Word and Excel are identical. It's convenient to be able to skim through the icons, narrowing in on the file type I'm looking for, but that's not possible now.
. I
third party apps
wrote previously about the apps
As is often the case, I think Microsoft would benefit from some simplicity. Its competitors like Google Docs and DropBox have fewer features and polish, but they're relatively easy to figure out. That's not always the case in Office 365, where I had to search for how to use On Demand and work to decipher cryptic pop ups.
The LinkedIn app is supposed to pop up to let you easily add people to your LinkedIn profile from within an email. But the only times I had the app appear was to link with the sender of an email. It would be nice if you could also make connections with people named in the body of an email.
Otherwise, Outlook, in both consumer and premium versions, has a number of neat new features. While in the Mail view, you can hover over the calendar icon and the calendar will pop up in a small box. Hovering over a date on the calendar displays appointments below the calendar. The idea is that you don't have to constantly switch between calendar, mail and contacts as much as you might otherwise.
Take the Bing Maps app. When an address appears in the body of an email, you can click on the app in the grey bar and a map drops down, plotting the address. It's a fully functioning map, so you can drag it around and zoom in and out.
and promised that more would come soon.)
Theoretically, the neat thing about apps in Outlook is that they will detect when they'll be useful and then appear in a grey bar at the top of a message. The problem is, most that I tried did a poor job of determining when they'd be useful.
Thus, I discovered a downside to the heavy reliance of Office 365 on online components. The online services have to be working well, and syncing everything accurately, or you could lose work -- or at least suffer a moment of panic.
Word adds green highlights when to indicate a collaborator's changes.
Still, it has its quirks.
The first time you try On Demand on a machine, you'll wait a few minutes, as it streams to your machine before you can start using an app. Subsequent times it's just a few seconds for the app to launch.
It also anticipates a lot of the conflicts that might pop up with multiple users accessing the same file. For instance, when two people are working on a document or spreadsheet at the same time, each sees a pop up message on the bottom left with the name of the other person working on it. The message instructs you to "click the status bar" for more details, although I never figured out what the status bar is.
Luckily, that wasn't accurate. I closed Word and opened the document from SkyDrive in a browser window, and was able to open the complete file.
Still, I had some problems with saving documents on SkyDrive. Quite often when I hit save, a bar popped up along the top of my document saying that Word needed to refresh my file and asking me to click save again.
now available in Office. At the time, I hadn't yet had a chance to try them out for Outlook because I didn't have access to the Enterprise version of Office 365. During a demo day on Microsoft's campus, those apps looked the most promising to me.
But new users should be prepared for the quirks, or should wait it out a bit in hopes that Microsoft will iron out some of the kinks. The scenarios I discovered -- like where On Demand inexplicably disappears or SkyDrive documents don't save properly -- aren't OK when you're working on important projects.