Andy Jassy, senior vice president for Amazon Web Services said that in most cases the 41 price cuts that AWS has announced over the past eight years haven't been the result of pressure from competitors. But it's hard not to think that the 42nd cut, announced today, isn't related to pressure from Google, which is emerging as one of the biggest threats to AWS yet.
Just yesterday Google unveiled price cuts ranging from 32 percent to 85 percent on various of its Compute Engine infrastructure-as-a-service offerings. This morning, AWS boss Andy Jassy announced a host of price cuts. Surely it didn't scramble to make the cuts overnight. However, AWS must be keeping a close eye on Google and is aware that it needs to remain competitive.  
The AWS cuts come across the board. On average, the cost of its S3 storage services will be reduced 51 percent. Prices for EC2 compute services will drop around 38 percent. RDS, the AWS relational database services, will get reductions on average of 28 percent and Elastic Map Reduce will get 27 percent to 61 percent cheaper, depending on the service. The new pricing comes into effect on April 1. 
Rightscale, which posted price comparison charts after Google's announcement yesterday, has updated those charts and shared them with CITEworld. Even with Amazon's latest cuts, Google remains cheaper for most on-demand pricing, but Amazon reclaimed its edge in most scenarios that involve Reserved Instance vs Sustained Use pricing. That said, Google promises Sustained Use pricing will decline over time for existing customers as Google continues to cut prices, while Amazon may not give existing Reserved Instance customers the benefit of future price cuts: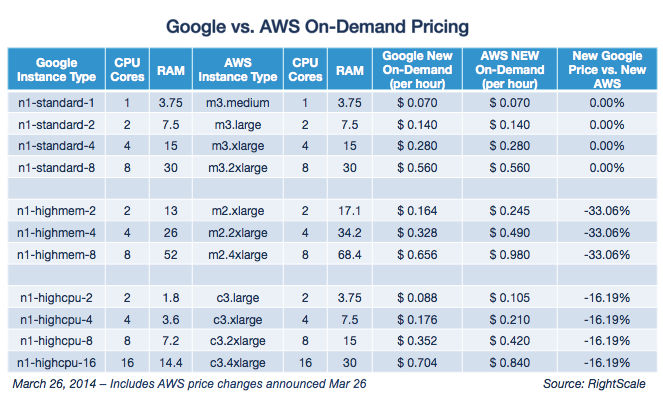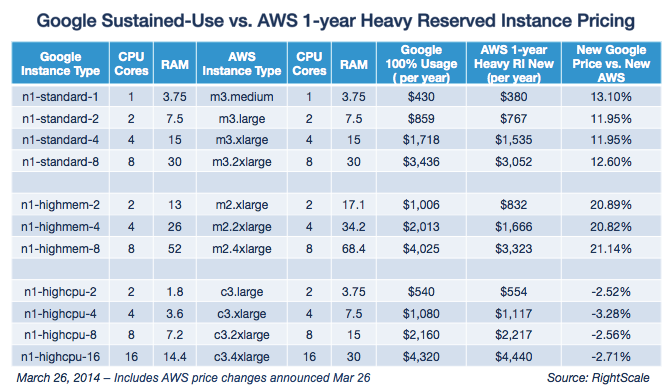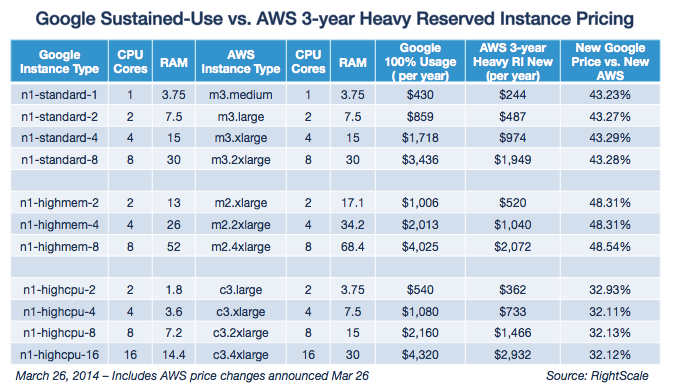 While AWS remains the undisputed leader of the cloud services industry, it has many challengers. Google is thought to be one with the best potential to offer real competition given its existing scale and based on the features and reliability of its cloud offerings.
Amazon is hosting a Summit today in San Francisco, where it made the price cuts along with a couple of other announcements. It is making its WorkSpaces desktop-as-a-service offering available to anyone and said that all four of its regions in the U.S. have achieved a new security level issued by the Department of Defense.