As 2012 comes to a close, it's human nature to look back at the year that was and to look ahead to 2013. That's exactly what the Enterprise Device Alliance did with its annual enterprise mobility survey. Now in its third year, the survey asks IT departments a range of about their current mobility policies, areas of concern, the tools and strategies that they are using to manage mobile solutions in their organizations, and their plans for next year.
One of the major themes uncovered by the survey this year is that many organizations have distinct concerns about mobile security, but haven't adopted a serious approach to mobile management. One reason is that many IT professionals are simply overwhelmed by sheer number of tools on the market.
Let's start with a quick recap of some of the key data points in this area.
86% of organizations surveyed say they support BYOD policies
Security and the prospect of lost/stolen devices are the top concerns when it comes mobile devices with 65% of organizations reporting security in general as a concern and 59% saying that lost devices are a major concern
Despite the fact that 93% of organizations report tablets being used, only 58% have those tablets under some type of mobile management system - a number that has stayed the same since last year's survey
About half of all organizations expect mobility to place greater demands on IT (see the graph below) while the vast majority expect IT staffing to remain unchanged - forcing their departments to work harder (and ideally smarter) to meet the additional workload.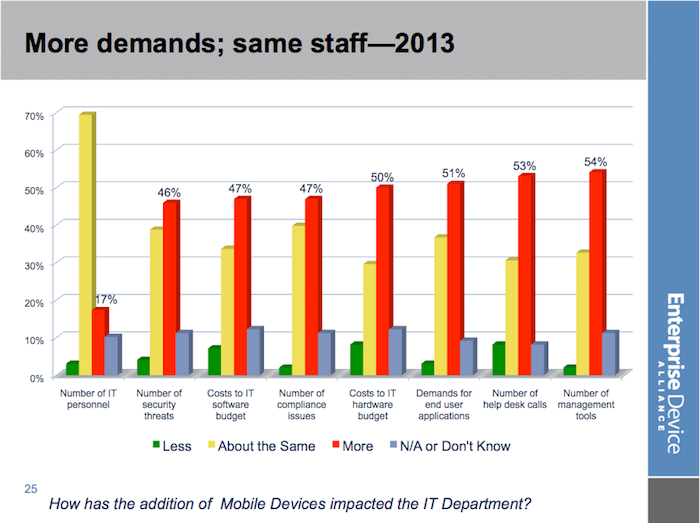 MDM solutions are used at only 38% or organizations - just an 11 point increase from last year despite the fact that last year 21% of organizations said they planned to implement MDM in 2012
22% say they expect to adopt MDM in 2013
18% have no plans to implement MDM and 21% are unsure if they will move towards MDM or not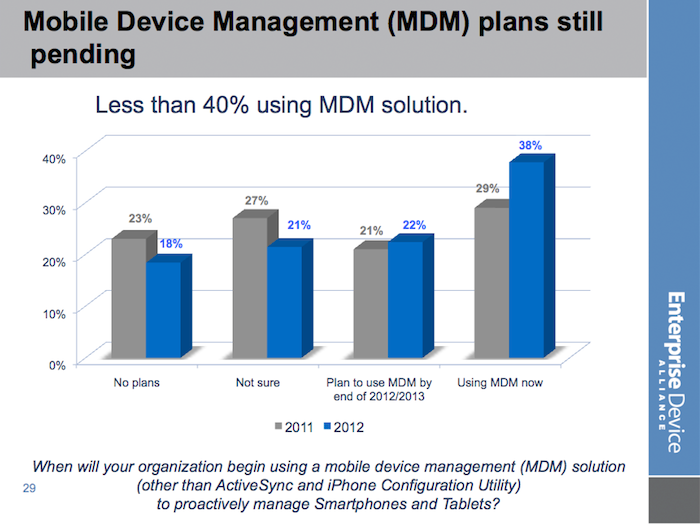 The majority of organizations are using multiple mobile management tools
40% use three different sets of tools
5% use six different sets of tools
The average organization uses at least two sets mobile management tools?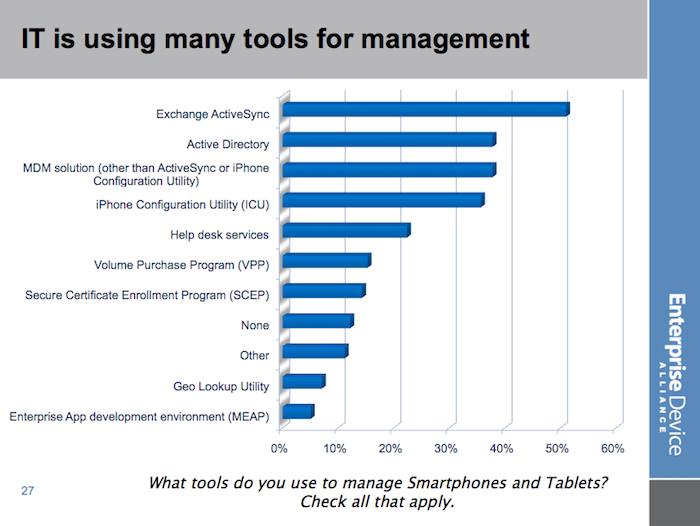 Exchange ActiveSync and tools that authenticate against Active Directory are the most common mobile management tools, with MDM ranking third. Free solutions like Apple's iPhone Configuration Utility that don't scale well and that are typically used by organizations as a stop-gap measure are used almost as frequently as MDM.
All of this data points to a couple of conclusions.
First, very few organizations feel that a single mobile management solution can meet their needs. That's extremely obvious by the number of organizations using multiple tools. It also matches up with the trend of larger players in the mobile management space purchasing smaller companies that offer complementary tools and feature sets - Good's purchase of App Central, the recent acquisition of Zenprise by Citrix, and Symantec's decision to purchase both Nukona and Odyssey early this year.
The second, is that a significant number of organizations aren't ready to make a solid decision. The fact that many large organizations - 75% of respondents were from companies 500 or more employees - still haven't gotten their arms around their needs and/or haven't been able to choose a solution that meets them. That's pretty obvious given the number using tools like the iPhone Configuration Utility, which cannot be easily automated or used in over-the-air workflows, and companies relying exclusively on Microsoft's Exchange and the ActiveSync protocol.
Although ActiveSync can enforce a range of policies, it only offers a limited number of policies and it is up to the companies that develop mobile platforms - like Apple and Google - to determine which policies are supported in each release of their mobile OS. Generally that support is rather limited and focuses on things like passcode policies and remote wipe options.
While the policy options are limited, the Exchange infrastructure in most organizations makes ActiveSync an easy choice from which to start. Everything that you need to get started is already in place - services, user accounts, groups and other organizational units - and there is no real learning curve. It's a stop-gap that can scale very well, even if it doesn't offer a significant level of management or security.
The expanding workload also points to the conclusion that IT may simply have not had the time or resources to research the number of solutions available to them. If you look at the list of iOS management solutions compiled by EnterpriseiOS.com, there are over three dozen companies listed. Several of those companies offer multiple products or multiple tiers of features and support, creating a dizzying array of choices. If additional vendors that focus on platforms other than iOS were included, we're easily talking about 50 companies or more. That's an overwhelming number of potential products to consider.
It's quite possible that many organizations are expecting the market to shake out somewhat over the coming months and are taking a wait-and-see approach to selecting a tool or mix of tools - or are waiting to see which companies broaden their capabilities through further acquisitions - before making a decision. Even though overall adoption of MDM products hasn't expanded as broadly as expected, there is still a large interest in those products. After all, only 18% of organizations say that have no MDM plans.
Given the general consensus in the mobile management space that MDM is now a portion of a much larger strategy rather than an end unto itself, you can argue that waiting a certain degree of sense. That position should, however, be balanced against the possibility of a mobile data breach while waiting for a market shake out or consolidation - particularly in light of the interoperability of most existing tools and the various cross-support partnerships between different companies.
Ultimately, the results of this survey, which I discussed with Enterprise Device Alliance president T. Reid Lewis during a recent webinar, remind us that we're still in the early stages of the enterprise mobility trend and that many organizations are still trying to work out the best approach to mobile security while balancing the needs of employees.