Enterproid was one of the companies that pioneered the concept of creating a dual-persona device in which business apps and data are stored in a secure container that separate from a user's personal apps and information. That concept is looking more and more like the future of mobile management and BYOD. Containerization appeals to IT because the container can be encrypted, set to require authentication with Active Directory credentials, support single sign-on across apps in the container, and can be wiped from a device while leaving user content intact.
The concept has been broadly adopted over the past year. BlackBerry 10's BlackBerry Balance feature and Samsung's KNOX are two examples of device manufacturers moving in this direction. In addition, a broad range of third-party companies are adopting this approach as part of their product range. All of them tend to work quite well, but they have a tendency to produce a somewhat generic and sometimes even confusing user experience. Done poorly, a user experience can lead to workers not being sure which apps are personal, which are business, and whether or not they'll need to authenticate with Active Directory (or other enterprise) credentials.
Alex Trewby, Enterproid's co-founder and COO, explained to me that this was the genesis of Divide Builder, an new extension to the company's Divide platform that provides Android and iOS management and containerization capabilities. Divide Builder lets an IT team customize the container environment by changing everything from device wallpaper to app icons to color schemes and fonts and even adding company logos -- over 1,000 user experience attributes in all can be customized. The result is a custom company-branded container experience. Builder even lets IT create multiple workspace designs for different types of users and/or devices.
Giving companies the ability to brand their secure environment -- their BYOD business persona -- may not sound like a killer feature, but it stands out in the market for a few key reasons. One is simply that it's the first solution to offer this incredibly detailed branding and customization.
Trewby pointed out to me that while Enterproid does ship its or MDM and related solutions, Divide and Divide Builder can also work alongside other mobile management products. As he put it, it's much like when buying a new TV where you have the option of using the speakers built into it or a separate surround sound system.
Another important point is that Builder adds level of clarity for BYOD users by making it obvious at a glance which of the two personas (personal or work) you're using.
Perhaps most important, however, is that it conveys a sense that a BYOD program has been completely thought out and designed around what the user wants from his or her personal device and what IT needs in order to secure corporate apps and content.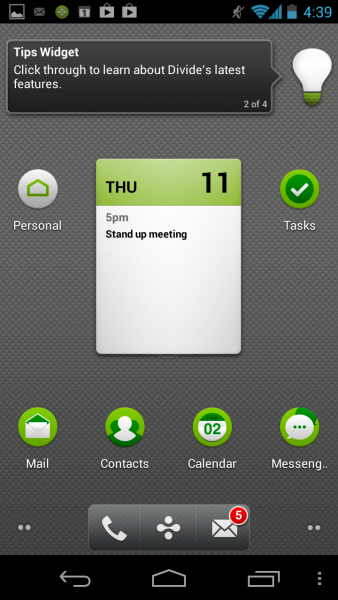 That last point may seem small from an IT or security point of view compared to the efforts required to manage and secure corporate data on personally owned devices without impinging on a user's ability to use such a device outside of the office. Think about it from the user's perspective, however, and it's somewhat different story. The average BYOD user doesn't see all the effort that goes into securing data on the smartphone or tablet. If they notice anything about security, it's usually that a policy or restriction is hampering what they need to do in order to accomplish specific tasks.
But users will notice right off the bat if you provide a secure workspace completely branded and designed around their needs, and most will appreciate that extra user experience effort, particularly if it is well designed. 
Branding can change how users approach an enterprise app
An analogy from my own IT career helps explain the potential that branding can have on user habits.
When I was managing IT for a health and human services agency, one of the projects that I took on was developing a case management system for an outpatient mental health program. The program had been through several solutions, including desktop apps and early cloud/SaaS solutions, but none quite fit. So we decided create an internal solution tailored to the program's unique requirements.
Taking on this project meant months of meetings, development, user experience testing, upgrading infrastructure to support on-premise servers and remote access, and crafting a solution to export all the data from the SaaS solution in place at that time and import it into the newly created enterprise app. The better part of a year went into building and implementing the new system.
Because the team had been through multiple products that ultimately didn't work, there was palpable tension bordering on outright hostility when we gathered every team member together for an initial training. That tension began to dissipate once I showed off the system's login screen and dissipated more as I showed off each component of the new tool. By the end of the half-day training, I had at least gotten everyone on board with trying it.
The program's director told me later that the primary thing that won her team over during that training wasn't how well the tool functioned or that it was designed around the needs of the team. It was the fact that every screen was consistently branded with the agency's logo, the name of the program, and with a link to report any problems. That won me and my team serious political capital.
Ironically, adding that branding was probably the only easy part of the project.
This is precisely the reason Enterproid created Divide Builder. You can argue that being able to customize and brand a user's professional workspace on a BYOD device is one of the least important aspects of a mobile strategy. From an IT perspective, you'd be right, but for any mobile security strategy (or any technology strategy) to be effective, it needs buy-in from the business users that will be relying on that strategy. Branding the work/professional experience in a way that is familiar is a way of telegraphing to users that you've got their back, that there has been an effort to understand and meet their needs. The dialog that begins with that can help with user education and adherence to policies because the people you've created an experience that says "I'm here to help you."