This is a guest post by Doug Neal and Jim Ginsburgh, researchers for CSC's Leading Edge Forum. It is adapted from their report, The Consumerization Workbook.
The job of IT is to create economic value. So it should not be surprising that developing a business case based on sound rationale is an essential part of any major consumerization project.
Typically we see two business cases developed during the life of a consumerization project. Right at the start you need a high level business case to justify the pilot.  
This has to be high level for two reasons.  First, at the beginning you don't have detailed data with which to make specific claims, especially around cost.  Second, you want to start with a focus on what the business really wants – such as profits, growth, or innovation. 
The trouble is that there are multiple determinants of profits, growth and innovation.  As the table above shows, there is no simple linkage between what IT does and business outcomes, and it can be hard to show what fraction is due to your project.
We see six sources of value that the business wants, and financial value is just one of them. However, a good statement of the financial value will help build support for a project.
The second business case is based on the data captured during the pilot. This means that your pilot needs to include a data capture protocol to ensure quality data for the second business case. A goal for an energy company that we interviewed is that the high level business case is accurate to plus or minus 30%, and the detailed business case is accurate to plus or minus 10%.
The chart below shows the general approach a consumer packaged goods firm used. Groups within the pilot were reviewed monthly on a variety of criteria including the successful use of web tools. The business activities of the participants, their experiences, their results, and their next steps were also tracked. They found it was necessary to define success differently for different segments of the population – as will often be the case, one size did not fit all.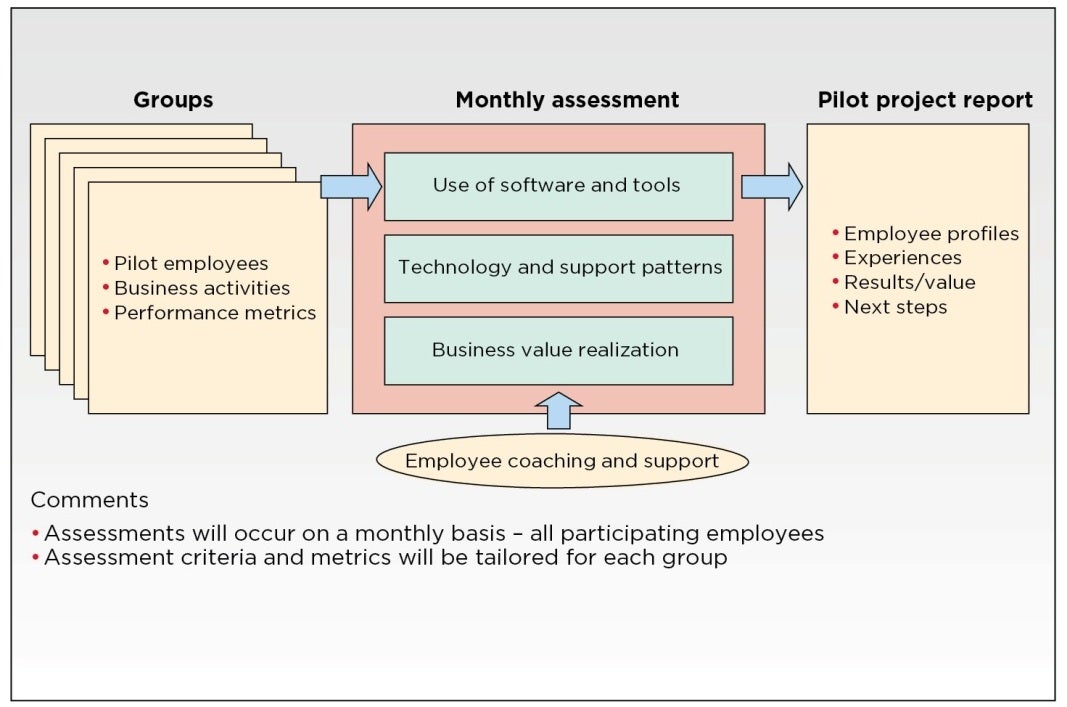 The Consumerization Workbook.
Is there a business or IT strategy document or an external event that you can connect with to show the broader benefits of your project?
How are you dealing with stranded costs?
Are there barriers that are better suited to workarounds than permanent fixes?
These tips on developing and carrying out a business case are the first in a series that are adapted from the
Does the business case treat different employees differently?
The Consumerization of IT
CSC's Leading Edge Forum
– a global research and advisory program for CIOs and Senior Executives that explores new thinking and develops next practice roadmaps that address the major challenges at the intersection of business, IT and management. Doug is responsible for research into
Business case perspectives
Implementation Issues
Is the business case built on real economics or charging economics?
The same organization used templates like the one shown in the next figure to collect data for the second business case. These templates ensured they collected a complete set of survey data, and made it easier for them to follow up new possibilities the test group found.
is a Research Associate for
An example of a template used for the monthly assessment of "use of software and tools."
Do you have a process in place that will measure actual costs and benefits?
is a Research Fellow for
Pilots regularly turn up new sources of value that could not have been imagined beforehand. For example, an aerospace firm piloted mobile communications in a number of activities that they thought would benefit.  During the pilot they discovered an unforeseen opportunity with potential for immediate payback.  It turned out that the cycle time for big contracts could be significantly reduced if contracts staff could make small changes to paragraphs in the contract regardless of their location or the time of day.
Business case example.
How will your vendors react to this project – will they come back with new price sheets?
. His focus is on the intersection of strategy, business operations and technology.
section of the LEF's report entitled,
For example, the next chart shows detailed calculations put together by an international management consulting company after a consumerization pilot. The first bar, Adjusted Baseline, shows the status before the pilot. The next bar, the Projected Reference Case, shows the same categories, but as they would be if all the currently planned initiatives had taken place. The third bar, Consumerization Top Down, shows what the costs would look like after incremental changes to the current environment. Column four, Consumerization Bottom-Up, shows the same costs after a 'greenfield' consumerization effort that did not have to worry about any legacy issues. The last bar, Best Practice, came from the consulting company's files.
How do you avoid getting stuck supporting the legacy architecture and staff over the long term?
Are you really being asked for a business case or are people just trying to slow you down?
We recommend that the detailed business case should be developed from the five different perspectives listed in the chart below:
As you look from left to right, two things stand out:  the drop in data network costs (black) by moving to consumer broadband, and the drop in support costs (red) driven by the newly capable and responsible employees. The benefits of consumerization are not just to the employees, but also, significantly, to the firm.
Finally, we suggest you consider these important questions when developing a business case for Consumerization:
Doug Neal
Will be the business case be evaluated strictly in terms of cost, or will other benefits be considered?
Jim Ginsburgh
. Jim's areas of expertise include leadership of a large IT organization and global business enterprise architecture. After a distinguished 36 year career with BP, Jim is now providing IT consulting services through his affiliation with SimplyBetterIT.com. As VP of Enterprise Architecture at BP, he was instrumental in leading an effort to move around one third of their PCs to a consumer model and also initiated a digital allowance program.
If it is based on charging economics, does it distort the evaluation process?