This is a guest post by Doug Neal and Jim Ginsburgh, researchers for CSC's Leading Edge Forum. They will be leading a Readiness Assessment Workshop at the CITE Conference & Expo on Sunday, June 2, in San Francisco.
The move to consumerization may be the biggest change project of your career – because it touches everyone in the firm.  With stakes like that, it is important for your career to get it right for the long term.
However, consumerization projects can suffer from a number of problems, from failure to launch to failure to stick. We think that the root cause is a failure to treat them as a change management effort. The standard project management steps – requirements analysis (where the client has to sign-off on the requirements so that there can be no complaints later), prototype development (again, we require a sign-off to protect us) and production rollout – don't address change. They don't build awareness of the need, nor desire for the solution, and, in particular, they do not foster the culture or budget change that will make the initiative stick even if management changes.
As part of your project plan, do more than lay out the tasks and timelines. In parallel with your development steps, build a series of explicit change management steps so that you do indeed build awareness, create desire, educate and build capabilities – and do what it takes to make it stick.
There are a number of change management models that you might consult. They include the five-step ADKAR  (see diagram) and the eight-step model from John Kotter of the Harvard Business School  (Kotter adds formation of a guiding coalition as one of the steps).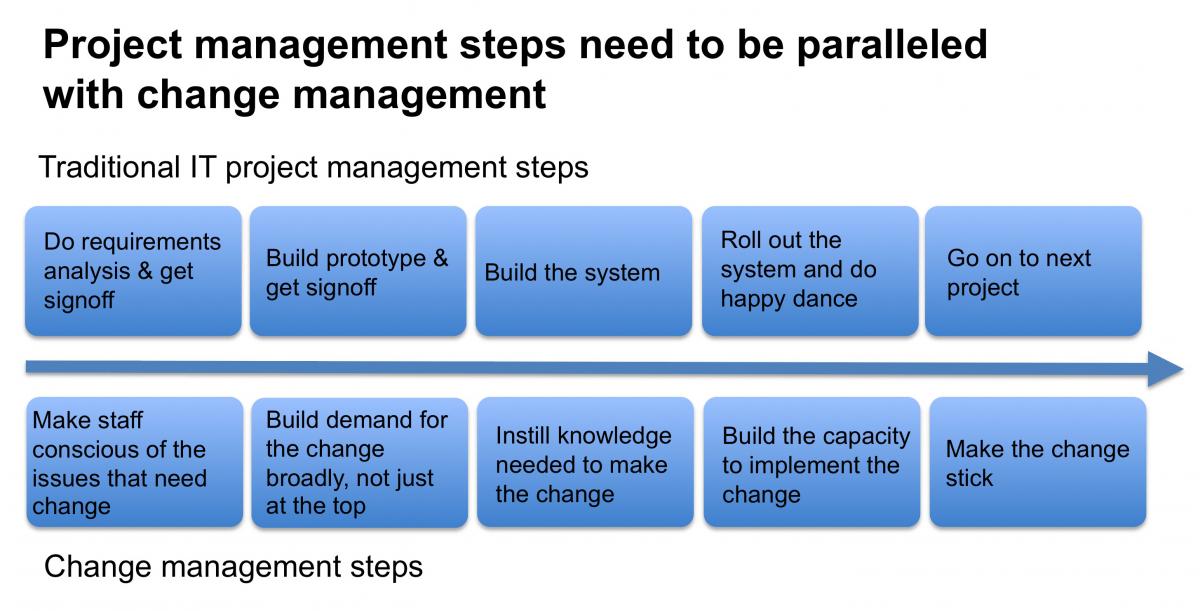 All change management programs advocate involving the leadership. From our experience, we would say that executive leadership is helpful, but the executive must publicly "walk the talk." Moreover, it is middle managers who wonder how their staff are spending their time who are also necessary for a successful rollout. There needs to be something of explicit value to the middle managers, or you will see resistance.
If you were starting a new company, you would embrace consumerization across the board on Day 1, but most firms do not have that luxury.  The question, therefore, is how to get from where you are, to where you want to be. Explicit change management is key and figuring out answers to the following questions will help:
Change and project management questions:
•        Is IT incentivized to tolerate the hassle and make big change(s)?
•        Do your plans include the broader aspects of change, not just the technology?
•        Does your change process recognize that the same technology and timing do not fit all types of employees?
•        If your employees fall into the common 20/60/20 distribution around change (20% are ready – just get out of their way, 60% looking to see what happens to the first 20%, and 20% who fight the change), does your project management accommodate this differentiation?
•        What are you doing to educate the 60/20?
•        Do your plans result in IT becoming more of an enabler as employees take on delivery responsibilities?
•        How will you help the vendors to change to work with the new model?
•        Is training (for example, on collaboration and security) an area where your vendors might help?
•        What do you do if your vendors are not the right ones to work with you on this journey?
•        How will others in the organization know what you are doing, what progress you have made, and how it will help them?
•        What policies and procedures for the Gatekeepers, such as procurement and legal, will need to change?
These tips on using change management to make your consumerization project stick are part of a series adapted from the Implementation Issues section of the LEF's report entitled The Consumerization Workbook.
Doug Neal is a Research Fellow for CSC's Leading Edge Forum – a global research and advisory programme for CIOs and Senior Executives that explores new thinking and develops next practice roadmaps that address the major challenges at the intersection of business, IT and management.  Doug is responsible for research into Consumerization and the Employee.  His focus is on the intersection of strategy, business operations and technology.
Jim Ginsburgh is a Research Associate for CSC's Leading Edge Forum.  Jim's areas of expertise include leadership of a large IT organization and global business enterprise architecture. After a distinguished 36 year career with BP, Jim is now providing IT consulting services through his affiliation with SimplyBetterIT.com.  As VP of Enterprise Architecture at BP, he was instrumental in leading an effort to move around one third of their PCs to a consumer model and also initiated a digital allowance programme.  For his leadership efforts, Jim was named an 'IT Agenda Setter' by Silicon.com.