Almost everybody uses consumer services at work, but half the time they're going around the back of the IT department.
That's one of the results in IDG Enterprise's 2013 survey on consumerization of IT in the enterprise. More than 1,600 IT purchasers answered the survey, which was posted on IDG Enterprise web sites in the last quarter of 2012.
The following slide was particularly interesting. It shows the tools that users are employing in organizations with and without IT approval. Almost 90% of companies reported that workers are using consumer tools such as Dropbox or Facebook to conduct business. Of those, 41% are not approved by IT.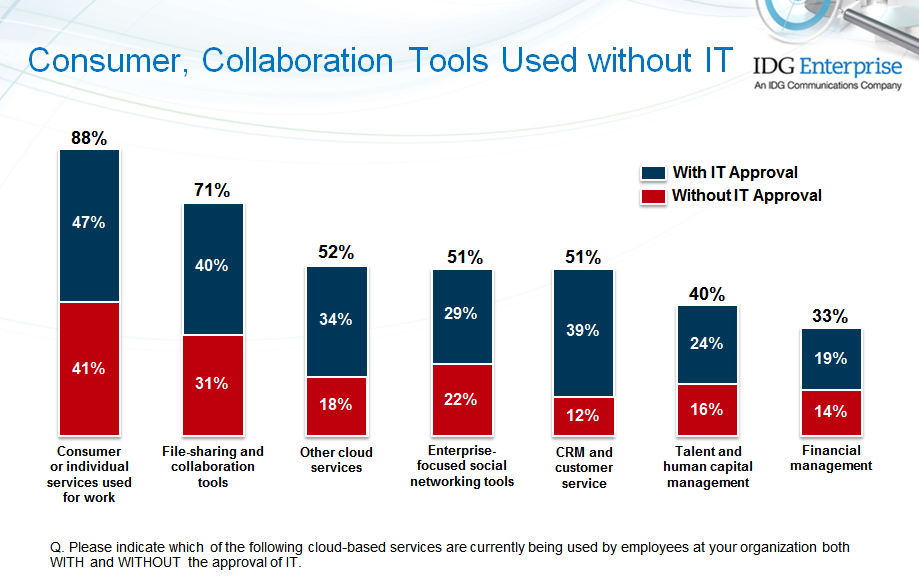 This reiterates how important it is for companies to provide easy-to-use online and mobile apps for basic job functions like sharing files or collaborating on documents. If you don't, your employees will find alternatives and use them anyway, potentially exposing your data.
Below is a sample of ten slides from the survey. There's a lot more in there, too, including who's creating enterprise mobile apps (mostly, it's done in-house), which new platforms have a chance (Windows 8 looks OK but BlackBerry 10, not so much), and the number-one concern about consumerization: security.
For instructions on how to get the full slide deck, see here.