Mobile salespeople spend most of their time in email, but it's not always the best way to keep track of customers and leads.
In particular, because the iOS email app organizes messages in chronological order, important messages from or about clients are often buried under irrelevant work messages or spam. Salespeople find themselves jumping back and forth between a mobile CRM app and their email inbox to figure out what's up with a particular client -- not a great workflow when you're on the road.
Tylr Mobile aims to fix that with a new app called WorkinBox, which debuts on Wednesday at DEMO Mobile.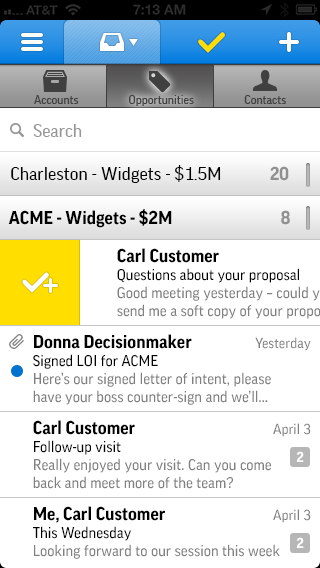 WorkinBox replaces the standard mail app on iOS and organizes messages based on information stored in a company's Salesforce system. For instance, all incoming mails related to a single client are automatically grouped together, whether they come directly from the client or were forwarded by somebody else, like a colleague or boss. Salespeople can sort their inbox by opportunity size, and low-priority messages not related to sales are automatically moved down on the list. (WorkinBox is meant to be a full replacement for iOS Mail, so it pulls in all email messages from the user's work account -- it simply displays them in a more organized fashion.)
WorkinBox can also sync updates back to Salesforce, send pre-set messages so users don't have to type a new email from scratch, and bring in attachments like sales invoices or marketing collateral so salespeople don't have to pick up their PC to respond to an urgent request.
There are lots of other companies trying to fix mobile CRM, like AppMesh and DoubleDutch Hive, but Tylr decided to start with a simple and pervasive problem: email.
Founder Ryan Nichols told us, "The challenge is that none of those guys are tackling the elephant in the room for mobile sales productivity, which is email."
Meanwhile, he says, companies like Mailbox (recently acquired by Dropbox), which propose to improve the email experience for consumers, have a much more difficult chore ahaed of them: "Prioritization is really really hard to handle in a general way."
It's an interesting start, but there's still a lot more to do. For instance, WorkinBox does not have a calendar function, which means that salespeople will still have to jump between apps to keep track of sales calls and meetings. At launch, the app is only available on iOS, and so far it only connects to Salesforce on the back end, although Nichols tells us he expects to connect to other enterprise apps as well.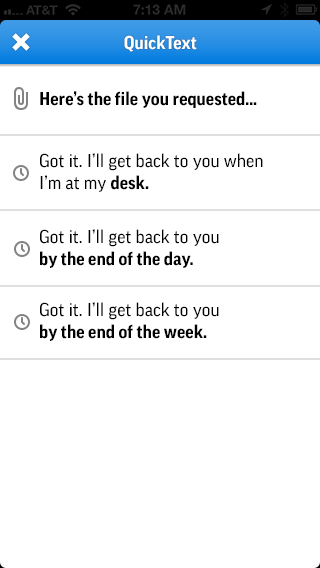 It also takes a very work-centric and email-centric view of the world. But as you probably know from your personal life, different contacts use different modes of communication depending on time of day and context, and the line between personal and work communication often blurs. At any given moment, personal email, work email, SMS, voicemail, company social networks like Yammer, Twitter direct messages, and Facebook messages are all competing for our attention, and the problem is getting worse, not better.
Nichols knows that Tylr will have to address these different forms of communication in some fashion. But Nichols is not sure if a unified inbox is the way to go.
"To us, email is just a feed of information. It's one feed as a filter against CRM. You can bring in other feeds. Whether they're all in one list, or separate lists, that's something we'll learn from users."
Indeed, there's a lot of learning ahead: WorkinBox is not yet available to the general public. Rather, it's being piloted by several companies, including marketing automation software company Marketo. Eventually, says Nichols, individual users will be able to download it for personal use (the proposed price is $5 per user per month), but the company sees its real revenue stream as selling to enterprises, who can will be able to customize the app based on Salesforce  for their teams.
You can hear from Nichols at DEMO Mobile, where the company will be on stage as part of the Mobile Work DEMOs session.