This afternoon, Microsoft reports earnings for the first quarter (Q3 of its 2013 fiscal year), and the picture looks pretty bleak.
IDC just said that traditional PCs had the worst year-over-year decline since the firm started tracking the PC market in 1994, and Microsoft is reportedly considering backtracking on some key elements of Windows 8 -- or at least making it easier for users to ignore them. 
But a couple recent incidents reminded me that Windows 8 is still very, very young, with plenty of time for a turnaround.
In particular, Microsoft has two deep pockets of support, and there's still a good chance that these pockets will eventually carry Windows 8 -- or a successor -- into homes and workplaces. 
First, developers.
Yesterday I had a good conversation with Matthew Carlson, the CEO of startup TouchMail, which demonstrated its email organizing app for tablets at the DEMO Mobile show. Carlson knows that he'll have to build an iOS app, and it's on the way, but he decided to debut with a Windows 8 app instead. 
Why?
First, the obvious reasons: he and his cofounder have worked at Microsoft, and are very familiar with Microsoft's development languages and platforms. "It was easy to use to start prototyping the ideas and concepts and get something working quickly," said Carlson. In addition, they have been participating in Microsoft's BizSpark program for startups for the last five months, so they have a natural reason to be favorably disposed toward the company.
But from a pure product perspective, he said that the visual design of Windows 8 -- all those active tiles -- matched the company's concept of how to organize information. TouchMail lets you group emails in certain categories, like by sender, and apply custom filters, like "only emails from business partners." The emails themselves are grouped in columns, with a little icon representing each sender: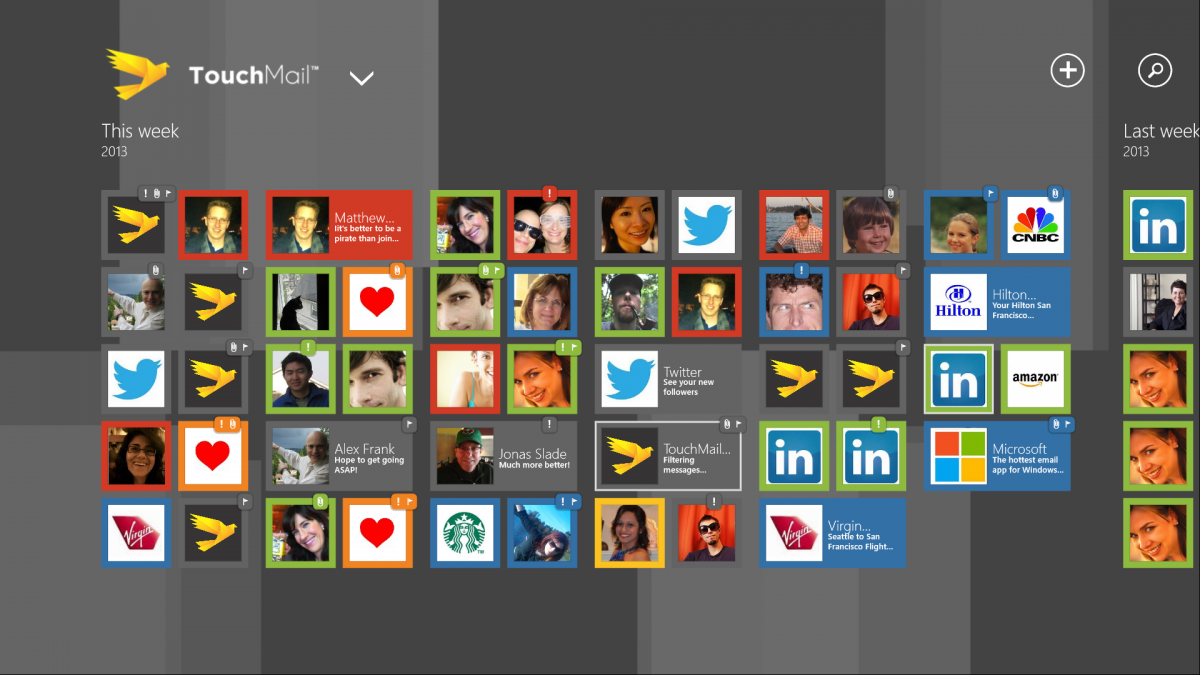 Carlson also thinks that Windows 8 is just a "really good operating system," and pointed to features like the ability to run apps side-by-side -- something you don't get on the iPad or Android tablets yet. 
I realize that Carlson is not representative of the app developer community today, who tend to think iOS first and desktop last. But the point is that Microsoft does have a base of millions of developers who are already familiar with its platforms, it does have a well-established and well-funded program to engage startups, and Windows 8 does offer some unique design concepts that other tablet platforms don't have. 
Microsoft hasn't done a good enough job explaining the value proposition of Windows 8 or the underlying WinRT platform (used to create modern-style apps). Pointing to big numbers of PC shipments and talking about the revenue-sharing model isn't good enough -- Microsoft has to explain in more detail how developers can really exploit the new features of Windows. But the company will keep pushing, including at its BUILD conference in San Francisco in June.
Second, IT departments.
A couple weeks ago, I spoke with Mike Giles, the CIO of Express Energy Services, an oilfield services company with about 2,000 employees. Most of our conversation was about the company's revamped BYOD program and how it was saving the company millions of dollars, but we also touched briefly on his pilots with Android tablets.
In short, he liked their low price, but didn't like the fact that they couldn't run the full version of Office. 
But he's really happy with the Windows 8 hybrid, the Dell XPS 12, that he's been trying out. "I love it. I haven't seen anything it can't do," he told me. "One thing we love about them is their solid-state drives. It moves from a cold start in 7 seconds."
Giles also thinks that the complaints about Windows 8 being hard to use areoverblown. He piloted some Dell hybrids among the executive and senior leadership staff -- a notoriously picky group in any company -- with the agreement that IT would not offer them any special support because they were still technically a Windows 7 shop. 
"We've had no problems whatsoever. Every now and then I get a call asking me a question like 'is there an easier way to shut the thing down?' .... I don't mind offering lessons I've learned."
He pointed out that most of the execs are operating with a dock and a big monitor, so they take the 12-inch screen on the hybrid and keep it set to the Windows 8 Start screen, and use the traditional desktop on their big monitor. But he also said that the hybrids could be very valuable for in the field training.
"We could send a supervisor out with something like this, they could flip it around, hold it up, train people, then have a forms app to have each person take a little test. Then we could store the results in our learning management system. There's cool functionality we can deliver with this platform."
Again, Giles is just one IT pro, and like most IT heads he's not going to rush to support the new platform. But like a lot of other IT pros I've spoken with, he runs a Microsoft shop, understands what Windows 8 was trying to accomplish, and thought the reported usability problems with it were way overblown.
This positive attitude will eventually carry Windows 8 into a lot of organizations.
Yes, the rise of BYOD and iPads and Android tablets in the enterprise are very real. We write about these cases every week. Yes, the traditional PC market is shrinking and non-Windows devices are growing like wildfire -- the Windows monopoly is truly dead and buried. And yes, Microsoft has a ton of work to do in order to make Windows 8 more palatable to a larger audience, and to get developers to build valuable apps for it. But to write Windows 8 off as a total failure this early is a mistake, and IT shouldn't be fooled into thinking they can ignore it forever.
[See also: Box and Evernote execs say "Don't ignore Microsoft's platforms."]