Earlier this year, Jive CEO Tony Zingale made some bold predictions about email, saying that usage would drop 50% in the next five years. 
But Jive doesn't want to replace email for the function it was originally designed for -- one to one communication. Instead, Jive wants to make its platform so attractive for group collaboration, that users will naturally be drawn to post items in Jive instead of sending massive group emails or hitting "reply all" on an important discussion string.
As Jive's product head Oudi Antebi explains, "We're not anti-email. Our goal is that people over time will see Jive as better, and revert to it naturally....Unless it has the right functionality to use this instead of email, forcing them to use it is not going to work."
To this end, Antebi has spent the last seven months working on some major new features that Jive is rolling out today as part of its latest quarterly update. 
Helping employees figure out what to use Jive for
Jive has a similar look and feel to other Facebook-for-the-enterprise contenders, such as Yammer (now part of Microsoft) and Salesforce Chatter, with a news feed and various ways to post and respond to messages.
But customers said they needed help getting people on board with the product -- users were often daunted with the blank screen, and weren't sure what exactly they could do with it.
To help with this onboarding, the spring update will feature a set of 25 pre-built templates called Purposeful Places for specific kinds of tasks -- there's a Deal Room template for closing a sale, a Campaign Room template for working on marketing materials, and so on. On the right side, each template has a set of modules known as Tiles, which contain links to information such as documents or information stored in other systems like Salesforce, and the news feed can also integrate with other sources such as Chatter. (Jive supports some of these integrations, such as with Box and Salesforce, but more often companies will have to build connectors to outside systems; the company hopes to have about 20 integration partners by the end of this year).
Users can also create their own templates and share them for future usage.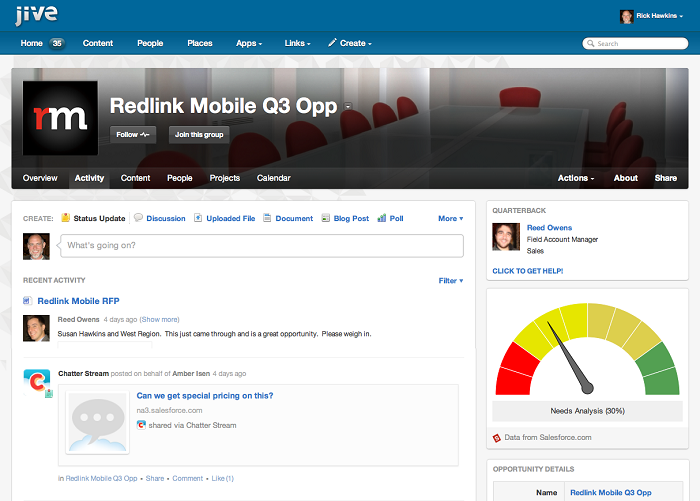 Jive also wants to encourage users to start discussions in the system by posting blog entries. To make blogging more appealing -- and to show bloggers what kind of impact they're having on the rest of the company -- Jive is adding a module with various kinds of analytics. After posting a blog, the author can see how many people read it, drill down to find out exactly who read it, and even send private messages to individuals to "remind" them that they should really read a particular post.
Antebi compares it to the early usage of "Read Receipt" when he worked at Microsoft back in the early 2000s -- executives used to secretly employ the feature to see who was reading their emails and who was deleting them, but the practice stopped after 2003 when Office started notifying recipients that their incoming emails had a "read receipt" attached to them. (It made the execs look desperate.)
Anybody can make decisions
Jive is also allowing users to tie their posts to concrete decision-making with a feature called Structured Outcomes. Here, users can add tags to posts to move the process along: "Needs Action" lets employees know that an action is required, "Decision" indicates a decision has been made, and "Helpful" lets employees chime in on particular comments to let others know that they agree -- similar to a "Like" on Facebook or an upvote on a message board like Reddit.
One interesting thing about Structured Actions is its lack of deference to authority -- anybody involved in a discussion can mark it with any available tag.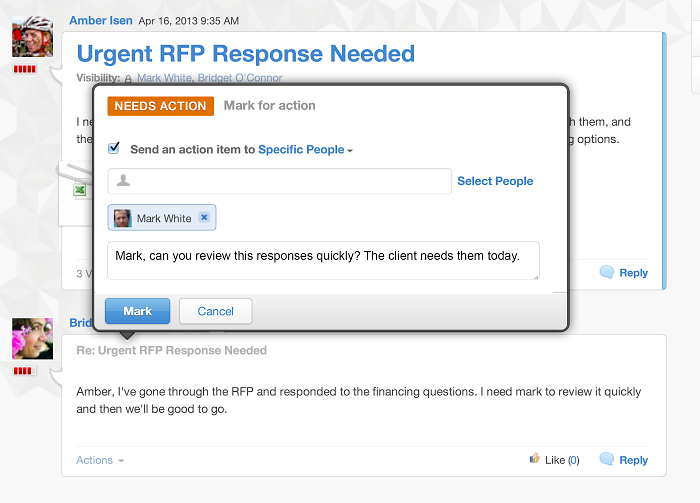 Antebi explains why. "This is not a project management system, where a boss has to approve everything." Instead, it's meant to create a traceable record of decision-making -- so, for instance, when employees come aboard later, they can see who made a particular decision and why. 
But won't this create annoying back-and-forth interactions, as one person keeps overriding decisions made by others?
According to Jive's internal testing, no.
"Because people are posting publicly, they won't engage in socially unacceptable behavior," says Antebi. He said that when Jive rolled out the system internally, people played with it for a couple of days, making marks to all kinds of decisions. But after about two days, the natural workplace pecking order was restored.
"It mimics what we do in a conference room." 
That's basically Jive's mission in a nutshell: Take the kind of collaborative brainstorming and decision-making that happens in person, and make it possible to do the same thing online -- even with workers who may be hundreds of miles away. It's an audacious vision, shared by quite a few other companies over the years, but whoever gets it right might finally be able to free the enterprise from its ever-growing email addiction.