Are tablets the same as PCs? 
As I argued last month, the people buying these devices don't seem to think so, as shown by Microsoft's performance with Windows 8 and Windows RT tablets so far. That might change -- I think there's going to be a market for laptops with tablet-like capabilities, like touch screens and easier app installation -- but for the time being, most people are buying tablets that run mobile operating systems (iOS and Android) and apps, and PCs that run PC operating systems (Windows and OS X) and apps. That suggests they see the devices differently, and use them differently. 
Measurement firms are split on the question. Canalys, which is best known for covering the mobile market, lumps tablets in with PCs. IDC, which has measured PC sales for almost two decades, does not. IDC treats all devices with a touch screen and a non-attached keyboard (like Microsoft Surface) as tablets. It treats all devices with connected keyboards as PCs, even touch-screen convertible devices. 
Angels on the head of a pin, perhaps. But whatever you call the market, demand for tablet form-factor devices is growing, while demand for traditional form-factor devices is shrinking. That means traditional PC companies need to make the transition to tablets to stay relevant.
So how are they doing?
Here's a chart showing Q2 sales of PCs and tablets by vendor, stacked to show total unit sales of both combined. (The data comes mostly from IDC; Dell and HP tablet sales were calculated using total device sales from Canalys, minus PC sales from IDC.)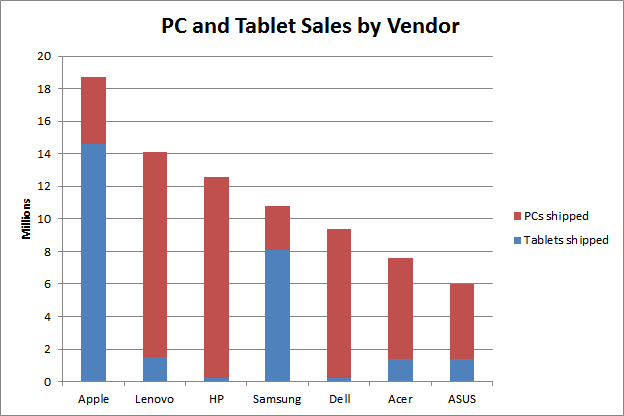 Apple sells more client computing devices than any other hardware vendor. That's been the case, on and off, since early 2012. (It's still true if you include smartphones, which I did not in this chart). (Incorrect -- Samsung sold 73 million smartphones in Q2, versus Apple's 31 million, according to IDC.)
The more interesting note is that Lenovo has surpassed HP as number two. It's not only the top PC maker in the world, but it also fits in at number four in pure tablet sales, according to IDC -- that's new since last quarter, when it was not in the top five. 
ASUS and Acer are also making the transition from PC to tablet fairly well. Samsung is also in very good shape, as its tablet business is growing fast and it never had much of a PC business in the first place.
HP and Dell, on the other hand, have almost no presence in tablets. That doesn't bode well.