Transmedia, makers of Glide, will be introducing an updated service next week which provides a way to access all of your devices regardless of operating system, as well as content stored in many popular cloud services -- all from a single interface.
Picture being able to connect all your devices and favorite services from a single place. Suppose you have an iPad, an Android phone and a Windows laptop and you use Facebook, Flickr and Dropbox. With the new Glide, you'll be able to conduct a single interface search across all of those devices and services, and publish to any supported service.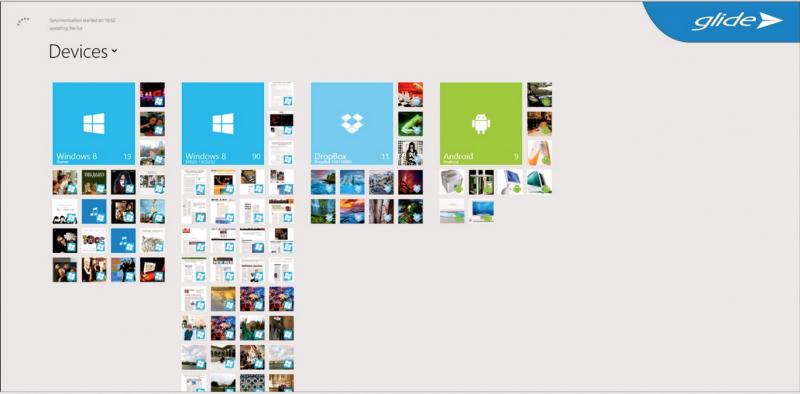 Glide has been around since 2005 and has gone through a number of iterations as a web-based operating environment, but Glide CEO Donald Leka says,"The market is ripe for a solution that connects people's fragmented digital lives."  He explained that it's a rare user who has the same operating environment across all of his or her devices, and no matter how hard Microsoft may be pushing a unified vision, it's not really realistic that most users are going to have a Windows phone, tablet, desktop/laptop, and also use SkyDrive and Office. 
Leka says that Glide's core value proposition has always been the ability to share files regardless of the format across devices, provide granular security at the document level, and provide a missing level of integration, but the way they did it was through a web-based front-end. That made sense in 2005 when Glide launched, but the way people interact with technology has changed.
Today, he says, it's clear that users have different requirements and they are not looking for a one-stop front-end that simply replaces tools they already have (and probably prefer to use). The approach his company is taking now not only takes advantage of more current user requirements, it has the added benefit of lowering his overhead costs: because all data is now stored in the external services, rather than as part of Glide, the company no longer needs to maintain data centers. What server space Glide does require they are now using Windows Azure and Amazon Web Services, drastically reducing the cost of doing business. 
What's more, Glide is no longer competing with bigger cloud-based services such as Dropbox or Google, and are actually providing a value add for them, making it much more attractive for them to partner with Glide.
And if you're wondering how they are going to monetize this, it's partly due to the lower overhead costs and partly through the surreptitious ads mixed in with the content as below.
The service will be rolled out for Windows 8 and Android next week and you can expect an iOS version to follow some time in January.
Glide is currently working to secure Series A funding. To date, the company has raised a total of $11 million in common stock equity financing -- seed funding. Leka reports the company has no debt. There are almost 3 million registered Glide users worldwide. Their goal with this new product is to have 10 million users registered by next year. 
Leka said running Glide has been a learning process for him. He says, he's learned that in order to succeed, a product, no matter how innovative it might be, has to fix something that's not working for people. To some extent, he feels Glide was ahead of the market when it first arrived, but with this new strategy, Glide is hitting a pain point that few if any are addressing right now.
And the new Glide app is in many ways, a consumerization fantasy app because it gives you the ability to maintain a heterogeneous computing environment inside a single app that pulls all of these disparate services together. There's a lot to like about that.