Mobile developers are about to have a lot more choices as HTML5 begins to mature and some newer challenges from Microsoft, BlackBerry and open source upstarts try to vie for developer affection. Still, it's going to be a huge challenge for these alternatives to break the stranglehold that iOS and Android have among developers and consumers alike.
We spoke to Todd Anglin, vice president for HTML5 Web and Mobile Tools at Telerik, a provider of productivity tools for software developers, to get his take on the current mobile development landscape. Here's what we found out.
HTML5 
HTML5 is doing particularly well, says Anglin, and a recent survey conducted by Vision Mobile really bears this out. While Android lead the way in pure numbers for developer affection with 72 percent developing for Android and 56 percent for iOS, HTML is right behind at at an impressive 50 percent.
It's not a coincidence, says Anglin.
"The past year was a major milestone for HTML5 and  web standards development. Not only did desktop browsers continue to race ahead adding support for emerging web standards, but the use of HTML5 for mobile development really gained traction as a mainstream idea," Anglin said.
Anglin explained that 2012 popularized the term "hybrid" development as the common way to refer to building apps for mobile devices using HTML and JavaScript, then deploying in a native app container. It's a way to give developers the best of both worlds and it began to attract the undecided to HTML5. 
"Developers sitting on the HTML5 fence in 2011 had much more incentive to take the plunge in 2012 with the rise of HTML5 on mobile devices, the arrival of Windows 8 (and its HTML/JS app model), and the solidification of many core HTML5 standards."
Anglin says it's not just Windows that's turning to HTML5. Lots of the newer operating environments are as well.
"There are no fewer than 6 operating systems (most targeting devices) that will put HTML5 at the center of their app strategies this year: Chrome OS, Firefox OS, BlackBerry 10, Tizen, Ubuntu Phone, and Windows 8. Combine that with even more progress in browsers and devices supporting HTML5 and you have the necessary ingredients to see developers take some big steps forward in developing software with web standards," he said.
Windows Phone 8
Microsoft has been working hard to win developer and consumer affection, but so far it hasn't had much impact. It's worth noting that Vision Mobile found in its survey that Windows Phone OS development was stuck at 21 percent in 2012 -- unchanged from the 2011 survey. So far, at least, developers are sticking to the most popular operating systems, and Anglin says it's going to be tough to break that cycle.
"This is a vicious cycle. Even when Microsoft has outright paid the top apps on other platforms to build a WinPhone version, the impact on Windows phone adoption has been minimal. For consumers, the problem, of course, is not the apps that we know and love today. It's the ones that we know will come tomorrow for iOS and then Android and then maybe, way down the line, Windows Phone. Few consumers want to be on the outside looking-in as their friends try the latest app sensation on iOS and Android."  
But Anglin says the best Microsoft may be able to hope for is that people get tired of iOS and Android and look for alternatives.
"If users do start to tire of the familiar iOS and Android devices, and if Microsoft can continue to seed the market with compelling hardware, they might just pick-up some share. Otherwise, Microsoft better focus on emerging and foreign markets. The battle for a premium, controlled mobile OS in North America may already be a two-horse race," he said.
BlackBerry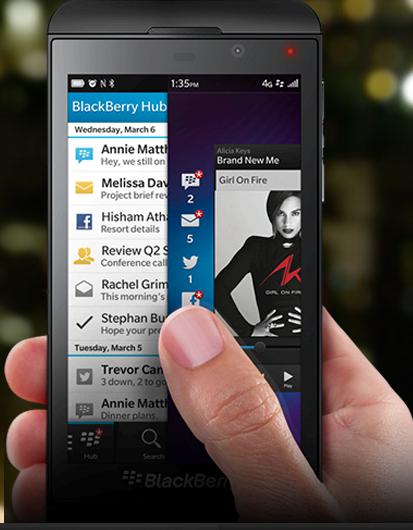 Last week BlackBerry announced its last best hope to stay relevant in the smartphone market after years of bleeding market share. But BlackBerry is having a hard time creating a deep developer ecosystem. The Vision Mobile survey had the platform stuck at 16 percent for the second straight year.
Anglin says BlackBerry has a similar problem to Microsoft.
"They're late. Their OS is good, but not particularly differentiated. And the BlackBerry brand has been pigeonholed in the eyes of consumers as the 'corporate phone.' All of these present a challenge to getting developers to care enough to build apps for yet another new platform," he said.
Still Anglin points to BlackBerry's 80 million loyal users as a starting point and he says there's still a chance for the company. "If RIM can show that BlackBerry users are ready to spend money on apps, and if they can make BlackBerry 10's new HTML5-based app model appealing to developers already embracing hybrid development (low effort platform to support), then they might stand a better chance than Microsoft to make BlackBerry the resurgent third horse in the North American smartphone race," he said.
Open Source Alternatives
A lot of open source alternatives to Android are arriving this year, including platforms from Ubuntu, Mozilla, and Tizen. Anglin believes open source in general might have an impact, especially for phone manufacturers tired of dealing with Apple and Google.
"It's clear with this wave of platforms that the market (meaning device makers and carriers) wants a mobile OS with fewer restrictions so more differentiation can be done with software and not just hardware."
Of the open source offerings, Anglin believes Tizen is in the best position to succeed.
"Backed by a 'who's who' of industry heavyweights (Samsung, Intel, Panasonic, NEC, Huawei, and Vodafone, to name a few) and incubated directly in the Linux Foundation, Tizen is well positioned to fill the gap left by Android and iOS for device makers that want to deliver a more custom experience," aid Anglin. "It's the 'more open' open source alternative to Android. It's hard to see Ubuntu differentiating and finding adequate industry support in Tizen's shadow."
Attracting New Developers
Anglin says developers tend follow the money, and as long as iOS and Android sell the most handsets, that's where developers will tend to put their resources. But believes there is hope for alternatives.
"Any platform that hopes to break the duopoly must both A) prove to developers that there is new money to be made, and B) make it easy enough for developers to enter that ecosystem while still developing for iOS and Android."
He says that's what makes the emerging HTML5 mobile platforms so compelling.
"They don't have to necessarily convince developers to stop developing for iOS and Android. They simply have to speak to hybrid developers already targeting iOS and Android and add a convenient new option that reuses their development effort to reach an expanded audience."
He points out that there are also going to be opportunities for these alternatives in markets outside of the U.S. For instance, Mozilla hopes to launch phones running its OS in Brazil first with the thinking that brands are less important in developing markets where consumers are simply looking for the best phone for the money, regardless of the name. These companies will also try develop the large Asian markets where cheaper Android phones have done particularly well.
Anglin believes that for the foreseeable future, developers will move toward developing using a hybrid HTML5-app model because consumers have indicated they want apps, and this lets developers have the best of both worlds.