The latest comScore US market share figures came out this week and one thing was apparent: The two companies-- BlackBerry and Microsoft -- that want to be your corporate phones are doing badly in the US, and both are on a downward trend neither appears to be able to reverse.
It got me thinking that perhaps the whole notion of a corporate phone, one that gets handed out to each employee as part of the orientation package, is just a dead concept -- at least in the US.
Phones running Windows Phone 7 were first released in the US in May 2011. Windows Phone 8 was released in October 2012. In spite of having promoted these phones intensely and offering a decent choice of hardware, especially the Nokia Lumia line, Microsoft's US market share numbers remain abysmal. It's stuck at around 3 percent and dropping slightly every month.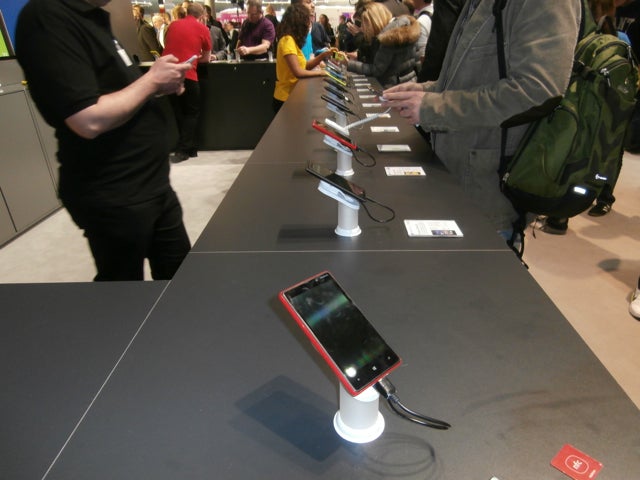 This is in spite of the fact that the Nokia booth at Mobile World Congress was hopping (partly because of the free food, mind you), Yet in spite of some apparent interest in Europe -- the numbers from one study had Nokia at 6.2 percent in Europe, double the US numbers -- Nokia doesn't seem to be gaining significant traction in the United States.
Then we have BlackBerry, a company that in spite of its dire straits (or maybe because of them) didn't even have a booth at Mobile World Congress, although it did demonstrate its phones at a couple of press events before the conference began. I got a chance to see and try the Z10 and I was impressed with what I saw, but it doesn't appear to be enough.
In the most recent comScore numbers, which (to be fair) cover the period just prior to the release of the new Z10 and Q10 phones, BlackBerry continued its downward trend that started in 2009 when BlackBerry controlled 40 percent of the US smartphone market. Since then it has been like the old Bruce Springsteen song, a rider on a down bound train, losing market share steadily every single quarter, bleeding away until this most recent report when it dropped from 7.8 to 5.9 percent.
Worse yet, the top-level IT staff who BlackBerry formerly counted as its main customers seem to have lost interest in the platform. Last week, Matt Hamblen from Computerworld did an informal poll of about 30 CIOs and senior VPs of IT at the Computerworld Premier conference in Tucson. He found that only one of them was interested in the new platform -- and only because his boss required him to use BlackBerry. A lot of them cited a 2011 service outage and the slow rollout of BlackBerry 10 as reasons.
What these two companies have in common is that they have always represented the corporate alternative. But  when employees get a choice, they are not choosing BlackBerry or Windows Phone 8 in significant numbers in the US.
They are choosing Apple, which increased 3.5 percent in the most recent numbers, and Android -- more specifically Samsung's Android phones. Everyone else is just picking up the scraps left at the bottom of the market share graphs.
BlackBerry did get some good news at the recent CeBIT conference when it announced it has an open contract with the German government to sell BlackBerry Z10s equipped with the Secusmart encryption chip for increased security, but it's not clear how big the deal is.
Microsoft also seems to have a bit better traction in Europe, although as I attended Mobile World Congress and CeBIT the past two weeks I didn't see many Windows phones. I saw a lot of iPhones, Samsung Galaxy S3s, and Samsung Galaxy Notes, with a smattering of other Android devices. I also saw a surprising number of older BlackBerries in Germany, which appears to the corporate phone of choice for the moment at least in that country.
The two companies which have put their stakes in the enterprise seem to be doing worse with each passing month. I'm left to the conclude that the corporate phone is dead. BYOD killed it and users dug the grave.