At the recent CeBIT technology fair in Hannover, Germany I had the opportunity to sit down with the Frank Sonder, CEO at Foresee, a company that has produced a full-scale social hardware and software solution that scales from table to tablet.
You have to see the table hardware component to truly understand how big it is. Notice it's built into the table these folks are sitting at.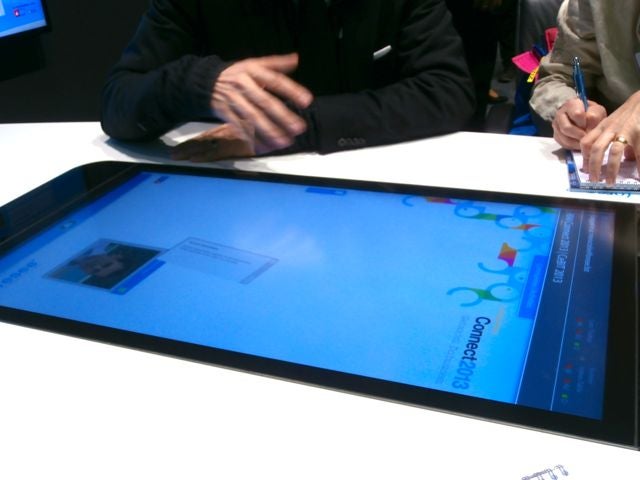 Open floor plan file on forsee table
The hardware also includes a video conferencing component.
Before a meeting, the person in charge of the meeting uploads relevant files and then opens them on the table and can work with them:
He told me that the idea was to have users socialize using whatever devices they choose from wherever they happen to be -- whether they are in the room or not.
Sonder explained the challenge for the company was how to support collaboration, usability, and user experience in a hardware and software combination. Foresee was in the IBM pavilion as a partner company because it uses IBM's Sametime and Connections social software.
The hardware component also has a dual video screen that hangs on the wall. You can see one of the screens here with the video camera attached.
As the file is worked on, someone on an iPad in another location can follow along:
A person working offsite on an iPad could see the file as you work on it in real time:
Sonder explained while it was possible to run the software from mobile devices, the table itself runs 40,000 euro ($51,916). So it's not for small startups, but for the right corporation spread out across the world it could be a worthwhile investment. So far they have a reference client, Continental Tire, running in 3 locations: Moscow, Madrid and Hannover. 
Sonder offered one final use case: A bank where the person could ask a series of questions and based on the information find the right product. It was quite remarkable because in spite of being a large table, as I watched him work, I almost forgot I was sitting at this enormous computer. When I mentioned this, Sonder replied that the most profound technology is that which disappears. Indeed.