Box and GoodData have been like cousins for a while. Both have taken functions that were traditionally done with on-premises software -- file storage and collaboration for Box, analytics for GoodData -- and moved them to the cloud. Both have dynamic CEOs who frequently preach the cloud vision. And both were funded early on by Andreessen-Horowitz, the VC firm that is perhaps most bullish about cloud-based services replacing the old IT world.
Today, the companies announced an extension of their partnership -- instead of simply connecting to one another via their APIs, GoodData is now providing an analytics solution that sits on top of Box.
GoodData now supplies several metrics, reports and dashboards designed to measure engagement and adoption, along with security and monitoring, all within Box. Users select what metric they want to report on, such as the number of active users, and then how they want to report -- for example, by quarter--all by checking some check boxes and generating a report. Once the reporting is generated you can see it in spreadsheet report view or you can choose from a variety of charts and graphs.
GoodData CEO Roman Stanek told me that the customization was the where the real power came in to play, "The beauty of this is that it's a starting point. We like to say, it doesn't give people answers. It creates more questions."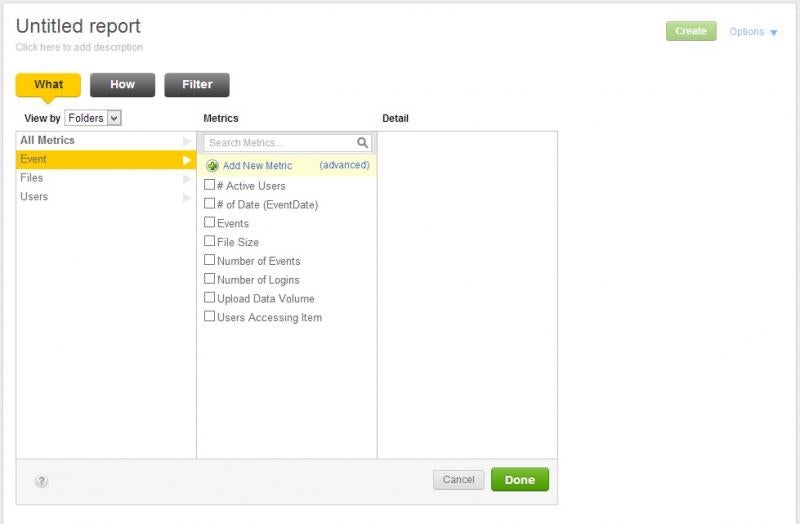 He added that prior to this product, customers had access to the APIs and they could produce something similar on their own, but they had to set it up, configure it and connect it themselves. This gives them a product to work with so it's much easier, he explained.
Stanek said the company's mission is to organize data, but as a cloud service he sees his organization as part of a larger ecosystem of cloud solutions with open APIs, that can work together in a similar fashion to the way that Box and GoodData are.
Stanek said he could see a day when there are networks of cloud services working together. He said he would call the current situation silos necessarily because the existing APIs do allow the companies work together, but he said it would be more accurate to say that the services are "fragmented" today and his goal is to get make it easy to use data sources across a variety of products and services.
Box Enterprise GM Whitney Bouck agrees: "Our collaboration with GoodData and other leading cloud services represents the massive shift that's happening in the enterprise. Ten years ago, companies were buying solutions from a single vendor that locked them into a proprietary, vertically integrated stack. These solutions lacked innovation and were expensive. Open APIs and standards have allowed Box to build a platform that connects with other best of breed IT products and applications in a variety of categories, with little-to-no integration work for the customer."
Certainly, one of the benefits we often hear about cloud services is how easily you can integrate them with other services and enterprise applications inside and outside the firewall. The thought of an integrated network of cloud services is certainly an intriguing one and one that would provide the means to more easily mix and match services to create custom solutions, not unlike the one cloudPWR provided for Washington State to handle its Pot Tzar RFP, which combined Box, Google Docs, WordPress and EchoSign into a simple, unified cloud solution.
While this partnership only represents one step in that kind of unified cloud vision, it's one that could give Box community managers and administrators more detailed insight into the usage at their companies and that could prove very useful in determining usage patterns and maintaining security across the system.