HP Chromebook 11: Pretty, cheap, and incredibly frustrating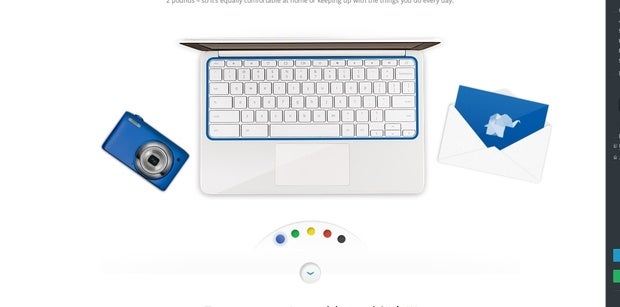 The HP Chromebook 11 offers an attractive Chromebook option, and at $279 it's a decent deal, so long as you understand it still has limitations.
If you care about looks, this is your machine. But if you want performance I would go with the $249 Samsung I reviewed earlier this year.
First of all, HP made this baby extremely attractive and there's something to be said for that in a low-end notebook. It's made from white plastic with rounded edges, and reminds me a bit of the old white MacBooks. There's a color border along the keyboard edge you can customize and matching skid pads on the bottom. Mine came in an attractive blue which looked great against the white background.
It comes fitted with an 11.6 inch HD LED backlit screen, which provides decent resolution, especially for a machine in this price range. It also comes with a 16GB eMMC drive, which combines the Flash memory and controller in one. It has 2 GB of RAM.
The keyboard is decent for the money and I found I could rest my hands comfortably on it in spite of the small size. It also had a nice clicky feel. Unfortunately, at this price you don't get a backlit keyboard.
As for the trackpad, the bane of these low end Chromebooks since the original prototype CR48 came out, it's no better than the Samsung -- which is to say it's highly imprecise and difficult to control. I'm still not clear why everyone chooses this as a place to cut corners, but it seems like the weak link across all the low-end Chromebook models I've looked at.
Frustratingly slow
The closer you look, the more warts you see -- and that's because what's under the hood leaves a lot to be desired, at least in practice. The CPU is a Samsung Exynos 5 Dual 5250 (1.7 GHz) and this is where the weak link could be, because the performance is fairly dismal.
For those of you aren't familiar with Chromebooks, they run ChromeOS, which is basically an operating system inside the Chrome browser. You perform all of your computing inside that browser, and that means you need the resources to keep a lot of tabs open.
The advantage here is you can sign onto the machine using your Google credentials and you can then access all of your Google services. You can also access any service that runs in a browser, although doing all work from a browser takes some getting used to.
But with the Chromebook 11, I found that everything took a long time to open. You might think this was a connection issue, but I didn't have any similar problem with any of the devices in my house, including a Samsung Chromebook or my first-generation iPad, which is getting long in the tooth at this point.
The same delay hampered everything I tried, whether Google Drive, GMail or other Google services, which you would think would be tuned to work swiftly on a Chromebook, or non-Google services like Facebook. No matter the site, it was an exercise in frustration waiting for the pages to open.
I realize this a matter of getting what you pay for, and from a fashion statement point of view, the HP Chromebook 11 is a good-looking machine. But looks are only skin deep and it doesn't have a lot of substance underneath, which is too bad.
I feel as though if you could combine this machine's looks with the Samsung's performance, you would have a perfect low-end Chromebook.
Unfortunately you have to choose between the two, and if it were me I would stick with the dowdy looking Samsung and save a few bucks. 
View Comments
Top News
Yahoo's share gains since November from a deal with Mozilla may be a clue about whether the search...
The unveiling of SharePoint Server 2016 the Microsoft Ignite Conference put an end to speculation about...
It's reportedly seeking $200 million in its next round of funding