In a session at South by Southwest this morning, Box CEO Aaron Levie predicted that within five years, the important part of the Box business won't be the Box app itself, but whatever people build on top of that platform.
In an interview with Jessi Hempel, a writer at Time's Brainstorm Tech, Levie covered a lot of ground, explaining the roots of the company, why he pivoted from a consumer-facing business to an enterprise-facing one, and even his funding trials and tribulations.
Putting Box in context, especially as it relates to Dropbox, he said, "Our differentiation is core to our DNA. Build end user software that meets or exceeds the experience you get in a consumer app, but it lets you do this in business context at scale."
He actually joked that his company was around for three years before Dropbox, so he had dibs on the name box.
Levie said that the company began in 2004 with the goal of answering a simple problem of how to share files online. At the time, the landscape didn't offer many options and he and his co-founder, childhood friend Dylan Smith, whom he claims to have played with in middle school band, were simply trying to solve a personal problem. By 2006 they realized the consumer market could get crowded very quickly, especially with rumors of the so-called Google G-Drive flying around. Scared they would be marginalized, they decided to focus on business requirements.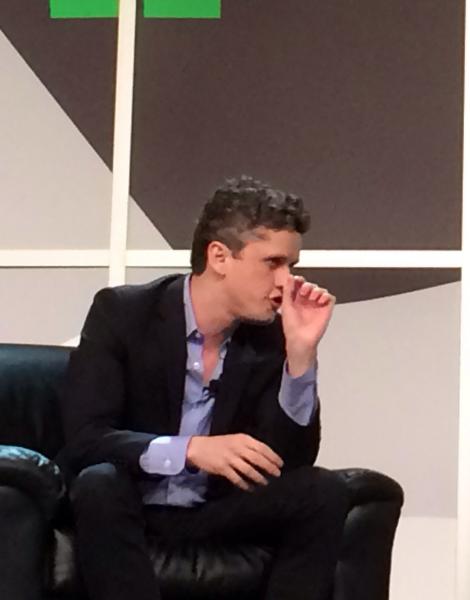 Today, Levie says they are ready to pivot again, and this involves using Box as a platform, something they've been trying to push for a couple of years. Now Levie says he sees this ability to build on top of the Box platform as the real future of the company.
Box is running a developer conference later this month called Box Dev 2014, where Levie says they will be announcing new APIs that will make available the different parts of Box as a service.* Developers will be able to build apps that meet the needs of a particular vertical or specific company using the guts of Box, without using the publicly available generic Box app.
Levie says when you put that kind of platform out there, people will use it in ways he never imagined. As an example, he told a story that he was having a debate about drones on Twitter last week and he learned a drone company had actually used the Box API to build an application to store the images that the drone was capturing. 
Box also announced new deals with Hollywood studios to store digital assets in Box, and Levie sees more of these vertical applications as they move forward. In fact, when Beyonce released her album at the end of last year, the record company used Box to organize the digital marketing content around that release. 
He said that healthcare is their fastest-growing vertical -- a bit of a surprise when you consider the regulatory challenges healthcare companies face in the cloud. 
Levie says whatever happens, the cloud is changing the way IT operates. "If you are no longer in the business of managing data centers and software but instead finding software better suited to a problem and using it to drive business results, it changes the role of CIO and IT organization."
He adds, "We have to be sure we aren't delivering systems, but delivering results and platform to build solutions."
*Correction: This article originally misstated the APIs that Box will announce next week. Security, identity, and storage are important aspects of the already-announced Content API, not new APIs.