If you believe the latest Appcelerator/IDC survey results, poor security, explosive growth in malware threats, and device fragmentation is costing Google's Android a place in the mobile enterprise, with Apple scooping up believers in this space.
Times are changing
Appcelerator and IDC surveyed 3,632 Appcelerator Titanium developers in May, asking them about their development priorities. They found that Apple now holds a 16 percent lead over Android when it comes to OS deployment among enterprise users: a huge hike since Q3 2011 when both mobile operating systems were tied. Fifty-three percent of developers say iOS will win in the enterprise, while just 37.5 percent side with Android.
The reasons? According to the survey, these include:
The popularity of the iPad
Frequent reports of Android malware
Enterprise challenges in dealing with Android fragmentation
Reports of enterprises re-evaluating widespread Android deployment outside of particular business vertical implementations like Machine-to-Machine (M2M).
When it comes to mobile at least, this is translating into an Apple-dominated ecosystem. "Apple iOS device activations still account for more than twice the number of Android activations in the enterprise when it comes to overall platform activations," says the latest report from Good Technology. iOS accounted for 70.8 percent, Android was 28.3 percent and Windows Phone 7 was 0.9 percent, the research claims.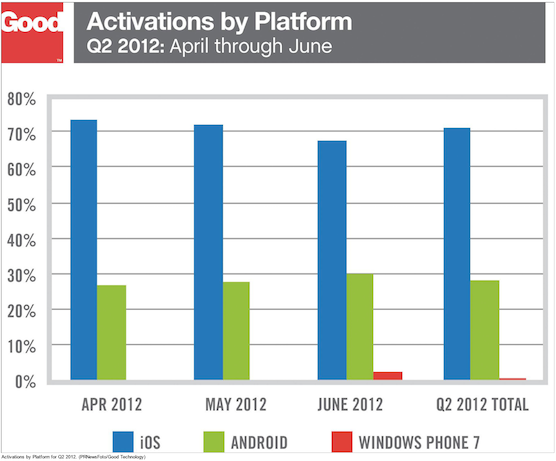 ABOVE: Enterprise deployment is consistent for iOS above other mobile platforms, says Good Technology.
Apple has never achieved much in the enterprise, but this really changed with iPhone and the iPad.
A UK YouGov survey recently claimed iPad usage in business has doubled in the last year.
A 2011 Aberdeen Group survey claimed 96 percent of businesses have at least one iPad in use.
A March 2012 Changewave survey revealed that 18.48 percent of enterprises intended purchasing an iPad.
Speaking during the company's most recent financial results call, company CFO Peter Oppenheimer confirmed this. "Enterprises across the globe continue to choose iPhone as the standard device for their employees. We estimate that the number of iPhones in the Fortune 500 has more than doubled in the past year," he said.
Are doors closing or opening for Windows?
In the future, Microsoft's Windows 8 plans are creating some cautious optimism among developers, and could emerge as the clear runner-up to Apple in the space, the survey results suggest. That's poor news for Android, but represents a huge shift in the way enterprises regard Apple's solutions within that space. One-third (33.3 percent) of developers are "very interested" in Windows 8 tablets, according to the Appclerator/IDC report.
Still, this momentum toward new players in the enterprise space means tomorrow's business systems will emanate from a range of sources, signaling the end of the Windows monopoly on the enterprise, and suggesting the next big fight will be between a more security-conscious Windows and Android for the bragging rights to being Apple's biggest enterprise competitor.