Evernote gets streamlined with a big makeover
Evernote, the gold standard in web clipping and note-taking tools, just got a huge iOS facelift—and it makes the Evernote app even more useful for busy professionals who use the tool to catalogue information and share it.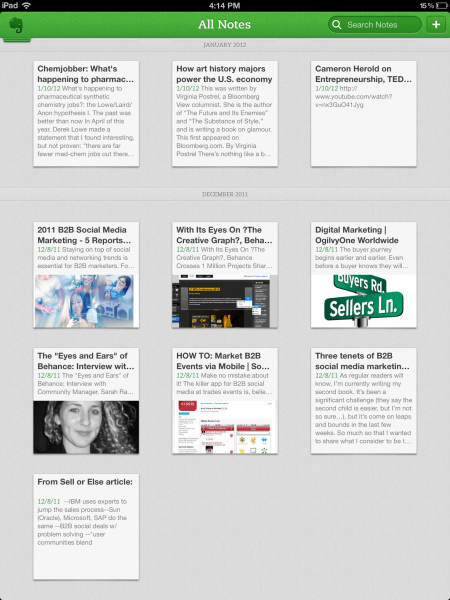 The first change you'll notice is that the entire user interface has been streamlined. When I fired up the app, I found a completely redesigned home screen. Now, all your information is organized in a series of Views tabs with a separate Quick Notes bar sharing the main screen. The Views tabs can be expanded with a single finger swipe to display your notes in a variety of ways, including by tags, notebooks, or places. The Quick Notes panel is an especially welcome addition for veteran Evernote users: it allows you to create a new note, take a snapshot, or turn physical notes into digital ones using a document capture function—and you can do all of that with one tap of the screen. That's a huge asset. Creating notes now takes as little time as sorting them does.
The new format works beautifully: simply swipe a Views tab upwards and the screen expands to display your chosen view. Swipe down to return to the main menu. There's a lot here to like. In the Notebooks view, you can see all of your notebooks on one page, as well as bundle notebooks together into stacks. On the All Notes tab, the thumbnails for each note are clear and crisp, making sorting through all your notes incredibly easy. You can also one-tap create a new note from this menu, which is another nice touch.
Using the Evernote app for iPad, you'll also gain access to a Recent Notes menu on the main dashboard that displays your most recent clippings. It's a great addition for the tablet's bigger screen.
While Evernote updates its tool pretty frequently, this latest iOS redesign is major. As a long time Evernote user, I found the entire experience of creating and organizing notes to be redefined. The tool has always been slick, but now it feels seamless. That's largely due to the new interface: being able to take full advantage of all Evernote features using only two screens is an inspired design decision.  Also, the one-tap document capture function, new note button, and snapshot feature all add incredible value.
In short, this is one of the smartest redesigns I've ever seen in a mobile app—and it makes Evernote even more indispensible. 
Want to try the new Evernote iOS app? Get it here. 
View Comments
Top News
Yahoo's share gains since November from a deal with Mozilla may be a clue about whether the search...
Samsung denied it had blocked a Windows update on its hardware but acknowledged that it was...
The new Remote Keyboard app is designed for Intel's NUC and Compute Stick miniature PCs, but should...