Ignition mobile app lets you access your PC from anywhere - for a price
For business owners and mobile professionals, apps might be the order of the day, but chances are you're still using a desktop or laptop computer for many business activities. And if you've got sensitive or mission-critical information on those machines, you might be hesitant to put your faith in a solely cloud-based solution for document and file sharing.
Enter Ignition, an app from LogMeIn that gives you the ability to remotely access registered computers from a smartphone or mobile device. Forgot an important file on the office computer? Need to delete sensitive information from a desktop or laptop? Ignition comes to the rescue, and it performs remote access functions well.
The first point of order when talking about Ignition is its price tag. You might think someone misplaced a decimal point when you see the $129.99 price tag in Apple's App Store. It's not a mistake, but it does bear some explaining.
According to reps at LogMeIn, the company transitioned Ignition's functionality to newer LogMeIn Free and LogMeIn Pro apps.
LogMeIn Free allows users to remotely access one machine to view files. LogMeIn Pro is a subscription-based app that adds the ability to run applications and transfer files, as well as access more than one machine. (The company prices out yearly subscriptions when users want to add more machines.)
Ignition has functionality identical to LogMeIn Pro: you'll be able to remotely access PCs, transfer files and run applications. 
There's no word on when or if the company will phase out Ignition, but for the time being, they're offering Ignition and unlimited usage for a one-time fee of $129.99, whereas LogMeIn Pro users will pay yearly for remote access services.
It's a strange situation, but it shouldn't distract users from the powerful remote access functionality here. As a bit of a newbie to remote access apps, I was prepared to be daunted by setting up and connecting machines to my LogMeIn account.
Turns out the process couldn't be easier when using Ignition and a LogMeIn account. Within two minutes, I was set up with an account and connected a computer to the app. Once I typed in an access code to remotely work on my machine, I was ready to go. My computer's screen appeared and I began working on documents and manipulating files with ease.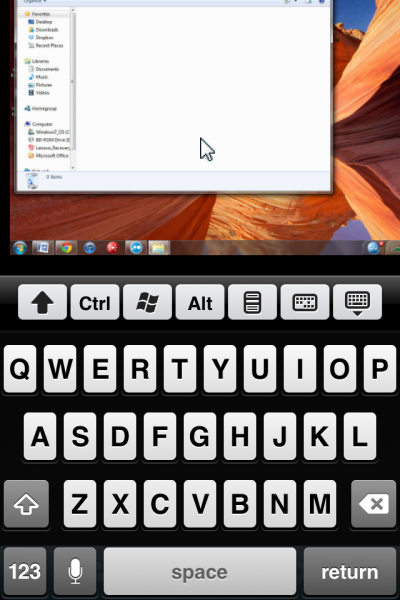 Ignition provides some welcome nods to mobile consumerization. You pinch the screen to zoom in and out, slide your finger across the screen to move around the remote access screen, double tap to double click, single tap to single click, and use a two-finger tap to right click. These screen gestures work exceptionally well: within minutes I was smartly navigating my desktop from my phone. This is good news for mobile professionals: if you're using remote access, chances are you need critical files quick. There's not a lot of room for error and Ignition doesn't disappoint.
If you have the luxury, I would advise using Ignition with a tablet. While the smartphone functionality is great, viewing a whole desktop on your phone's screen can be a challenge. Thankfully, the minds behind Ignition have nice resolution functionality: you can alter the screen size to dimensions that are a little easier on the eyes.
All in all, Ignition is a worthy remote access app. It works with PCs and Macs and the app is available for iOS and Android, covering all the user bases. Setting up is a breeze. Accessing, transferring and manipulating files and applications couldn't be simpler, thanks to the app's built-in screen gestures.
And that $129.99 price tag? It actually makes financial sense: a LogMeIn subscription for 5 computers for a year costs $249.00, whereas Ignition's price gives you unlimited functionality.
There are several other remote access apps on the market, as well. Two notable competitors are Splashtop 2 and GoToMyPC. Both offer similar features, including remote access to PCs and Macs, and a touch interface to navigate remote desktops. However, the pricing between the apps varies wildly. Splashtop 2 gives up to 25 users the ability to remotely access machines for a whopping $2,400 a year. GoToMyPC, however, charges one user remotely accessing one computer $9.95 a month or $99.00 a year for the service. (Though that price rises dramatically if one user is remotely accessing multiple computers.)
If you need to access multiple computers remotely, that actually makes Ignition a smart buy compared to recurring monthly fees. While LogMeIn needs to streamline its pricing strategy and the confusion surrounding the two apps, users should definitely take advantage of its services: you'll never lose access to important files again.
Want to try Ignition or LogMeIn? Get it here.
View Comments
Top News
Yahoo's share gains since November from a deal with Mozilla may be a clue about whether the search...
Samsung denied it had blocked a Windows update on its hardware but acknowledged that it was...
The new Remote Keyboard app is designed for Intel's NUC and Compute Stick miniature PCs, but should...