Google Drive for iOS has become one of my go-to apps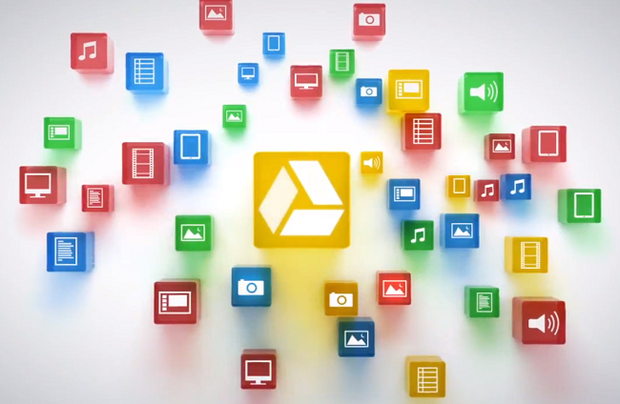 The Google Drive app for iPad and iPhone lets you access, review and even edit documents you have stored in Google Drive -- and it's incredibly handy.
If you go into the App Store and search for Google, you'll find a lot of apps. That's why you'll have to forgive me if I just discovered the Google Drive app for iOS, but in a short time, it's become one of my go-to apps.
Up until I discovered the Drive app, I had been using the Google app, which is basically an iOS container with links to all of my Google services, including Google Docs.
You would think that Google would have the same functionality in Google Docs as Google Drive since they are essentially the same service. But as it turns out, Google let Google Docs go to seed, while it provides fairly advanced editing functionality in Google Drive.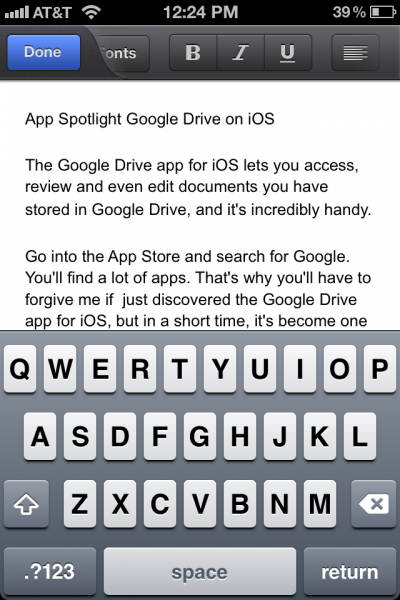 The great thing about Google Drive is that it provides a mirror of your Google Drive contents on a mobile device. The only missing element at the moment for some odd reason is Trash, and Google has said that should be coming at some point in a future update.
You can work with your existing content, but can also upload new content from your iPhone or iPad, including photos and videos, and you can mark documents or photos to make them available offline, so you can work on them when you don't have a good phone connection. You can also start an entirely new document from Drive.
Accessing your existing content is a breeze. You tap My Drive to see everything in there, or as I like to do, click Recent to see just the files you've worked on most recently. And of course, you can search for documents based on text included in them -- one of Google's special strengths.
Once you find an existing document, you can check information about it by tapping the right arrow adjacent to the document name. This provides the date it was last modified and anyone who can also access or edit the document. You can add people to the Share list directly from this screen if you wish. Finally, you can edit the document by tapping the Edit Document button.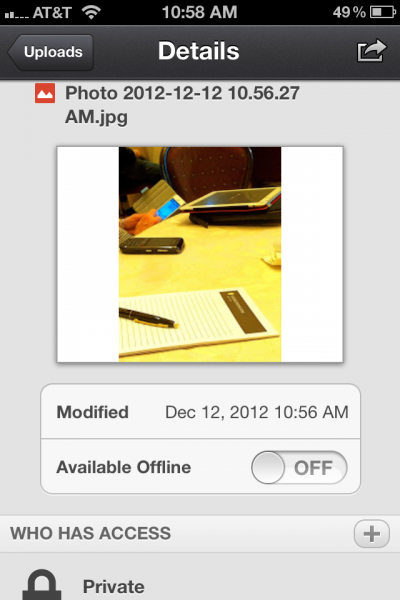 Tapping a document name from the Document list lets you read it, but the default font is very small and makes it difficult (if not impossible) to read in this view. I've found that selecting Edit makes the document much more readable -- and you can make changes to the document if you wish.
Being able to make edits is great, but there are limitations.
The biggest one in my view is that you can't add a link, something as a journalist I'm going to need to do quite frequently. Also, you don't have access to styles or undo/redo, and you can't add an image.
There are also useful collaboration features: when you're in a document, you can see who else is online in that document by tapping the Sharing icon at the top of the screen. Then you can both edit the file together.
If you're looking to edit a spreadsheet, Google will let you do it, but it opens in the browser, rather than being available for editing in the native iOS app. This limits what you can do in terms of edits, but Google promises that native editing support is on the way.
Overall, Google Drive for iOS gives you access to your entire Google Drive from your iPhone  or iPad, and gives you the ability to create new documents along with some rudimentary editing tools. It's not perfect by any means, but it does make it much simpler to work with content in Google Drive from a small-screened device like an iPhone -- and it's a huge step ahead of the old Google Docs app I had been using.
View Comments
Top News
Yahoo's share gains since November from a deal with Mozilla may be a clue about whether the search...
The unveiling of SharePoint Server 2016 the Microsoft Ignite Conference put an end to speculation about...
The company has just like its competitors partnered with app packaging company Bitnami