When your company's founder boasts a resume that includes hot air ballooning across the Pacific, signing the Sex Pistols to their first third* record deal, and starting one of the very first space tourism businesses in history, style is definitely a core value. 
Such is the case at Virgin America, the airline that's earned the praise of frequent flyers across the country for its in-flight entertainment selection, comfortable seats, and overall luxurious flight experience. Virgin America's mission is to "make flying good again," and that means a rock star experience for customers. 
But for Virgin America's employees, that showmanship didn't always translate to the behind-the-scenes intranet experience. It took VXConnect, a custom employee portal built by systems integrator Appirio on top of the Salesforce.com Chatter social platform, to unify the airline's cross-continental workforce under the company's banner, says Amy Cisneroz, Program Manager at Virgin America. 
Most of Virgin America's 2,700 employees operate remotely from the airline's Burlingame, CA headquarters -- working as gate agents, pilots and flight attendants all over the country (and beyond). Getting documentation, company resources, or essentially any information to this remote workforce required the use of an ugly, eight-year-old content management system (CMS) that only pushed data out, never pulled it in, and which was a pain to use besides, Cisneroz says.
Worst of all, there wasn't even a rudimentary mobile version of this intranet, meaning that Virgin America employees couldn't so much as log in from their smartphones and tablets. 
Cisneroz's background in acting as a liaison between IT and management made her the natural choice to oversee the modernization of Virgin America's intranet -- which meant getting a full-immersion course in the cloud. When Cisneroz first joined Virgin America in mid-2011, she jokes that all she knew about the matter was that "clouds were in the sky." 
She consulted both executives and employees alike, trying to get a sense for what they expected from an employee portal. Even Verizon, a Virgin America business partner, had some input on how best to go about it. Predictably, the major theme was that everybody wanted access from their iPhones and Android phones, in addition to a generally more user-friendly experience.
The company audited solutions from social business provider Jive and human resources management solution developer Saba Systems, but Virgin America executives eventually decided to purchase licenses for Salesforce.com Chatter, the SaaS giant's much-touted social enterprise platform (perhaps not a huge surprise, given Sir Richard Branson's friendly relationship with Salesforce.com CEO Marc Benioff). 
Interestingly, Microsoft SharePoint was barely even considered for this undertaking. Cisneroz says that the team was looking for something really new and cool -- tapping Microsoft for this project would hardly be worth the effort of replacing the legacy CMS.
"Everything we do is big and over the top," Cisneroz says, and going with the established marketplace leader for internal collaboration would be too much like following the herd for Virgin America's taste.
By October 2012, the VXConnect project was ready to start in earnest. Cisneroz and her team solicited sales pitches from third-party Salesforce.com ISV ClearTask and Salesforce.com itself, but it was high-profile cloud integrator and Salesforce.com reseller Appirio that got the nod. 
Working with Appirio was less like employing an outside firm and more like engaging with an extremely enthusiastic business partner, Cisneroz says. Virgin America's vision for their employee portal and Appirio's precisely aligned, Cisneroz says.
The integrator helped guide Virgin America away from making merely cosmetic tweaks to the existing Chatter experience and towards the development of a new application built on the Chatter API and hosted on the Force.com platform-as-a-service (PaaS). A GUI designer from Appirio created a new, flashy look  for VXConnect (pictured) that matched the airline's über-chic aesthetic. The entire experience with Appirio was like "sitting down with the architect of your $1 million home," Cisneroz says.
The first version of the platform was released only about three weeks ago, according to Cisneroz, and the response has been tremendous. The airline opted to forgo formal training, and instead released some documentation and manual and went over some basics at already-scheduled weekly "Refresh" meetings. Even with that hands-off approach, 80% of employees have already signed on. The full rollout should complete by April of this year. 
The old CMS has to stay up for an extremely small segment of Virgin America employees who require very specific functions, but the new, Chatter-powered portal has already supplanted it as the touch point of choice. Even the older segment of Virgin America's workforce was "shocked" at how easy they found VXConnect to use.
And while mobility may have been the driver for this project, Cisneroz says that the social features have been a huge hit with unanticipated benefits. What would be long e-mail threads are supplanted by a short @reply conversation to the right person. Appirio-provided page templates make it easy for management to build out on VXConnect.
A key feature enables Virgin America employees in- and out-of-office to find exactly the person with the specialty they need to get the job done, by way of an employee profile section similar to what you might find on Facebook. And like with Facebook, Virgin America employees recognize who they're looking for in person thanks to their social media presence.
Above all, this new employee portal makes what's in essence a huge corporation that mainly consists of many small branch offices across the country feel like a cohesive whole in a way it never had before. 
This marriage of style and substance has so impressed Salesforce.com itself that Marc Benioff has actually reached out to Virgin America and Appirio to congratulate them on the product. And Cisneroz hears tell that Salesforce.com will be using VXConnect as an example for its internal sales teams -- and it wouldn't at all be surprising if it made a cameo at this summer's Dreamforce 2013 conference.  
For Cisneroz, who knew nothing about the cloud going in, this project has been a dream come true. But despite her delight with Salesforce.com and Appirio, she says that the key here was that initial round of feedback from Virgin America's workforce.
"You need to deliver what [employees] need," Cisneroz says. "Not what you think they need."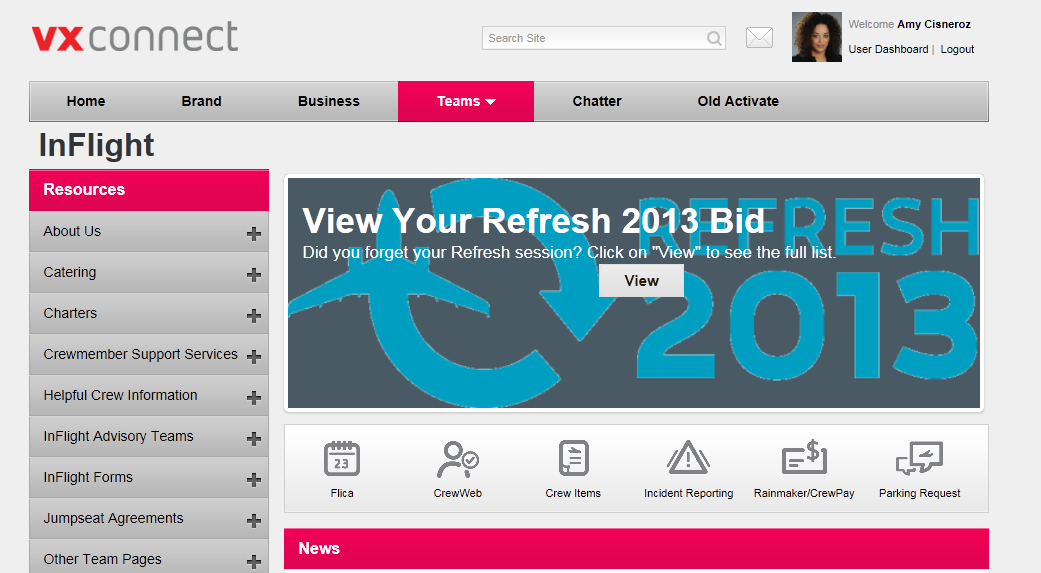 *Reader Pat Patterson correctly reminded us that the Sex Pistols were signed to EMI and A&M before Branson signed them to Virgin. Their first widely released LP, Never Mind The Bollocks, was released on Virgin, however.