One of the big stories of the next decade or so will be what's being called "The Internet Of Things," tomorrow's world where machine-to-machine and machine-to-person communications out number person-to-person interactions. It's one where radios in every device let us know where they are and how they're operating, giving us real-time access to information that used to be impossible to get – and where it was accessible, it was always after the fact.
M2M can be complex. It's all about adding smarts to our environment, with sensors and wireless networks. It how oil companies can monitor tankers as they crawl across the empty spaces of Utah and Nevada, how parcel companies can track time (and temperature) sensitive emergency medical deliveries. With M2M modules we can extend the reach of our sensors relatively cheaply.
At CES we met one company that was mixing M2M and basic sensors to produce a low cost baggage tracking system. Hardware modules were used to detect cellular signals, get cell tower ID, and then transmit them to a server – and the results finally texted to you as the location of your luggage. If you're in London, and your luggage is in Shanghai you'll know before the airline, and you'll also know when it's on its way back to you. It's relatively simple hardware like this, built using standard modules, that's an example of how code and hardware go together - hardware hacking turned into a product.
But most of the hardware we have isn't smart – and doesn't need to be that smart. But as it stands, no smarts at all make it impossible to make a desk or a wall, or even a powered-down phone, part of our new smart world. That's starting to change, as technologies built into the latest generation of mobile devices are giving us a new our relationship with world around us. The key to this new world is NFC, Near Field Communications.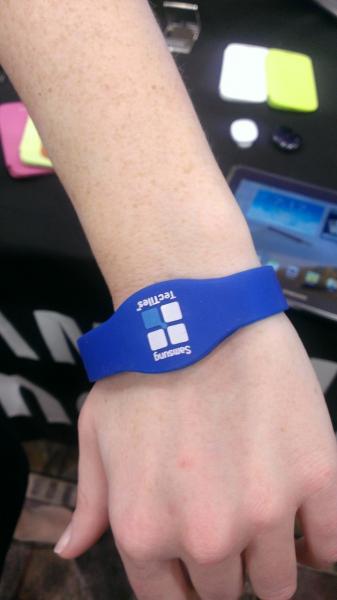 NFC is perhaps best known as the technology behind the tap and pay systems that are starting to roll out using NFC tags in credit cards and phones as a way of quickly paying for low-value items.
But that's not the only use for NFC – and low cost NFC tags that can be programmed from a mobile phone are a way of adding the very minimum of smarts to a dumb object. With NFC, items can contain commands that drive apps, share information, or direct you to an appropriate web page.
I recently rented a car that had a QR code in the driver's side window. When scanned, the code would send me to a web site where I'd find a manual and hints and tips about the car. Unfortunately, in the handful of weeks the car had been in use, the QR code had faded and was now unusable. If the car had had a NFC tag instead, I'd have been able to tap, accept a prompt, and be taken straight to the relevant web page. If the site hosting the page changed in the meantime, an engineer would be able to quickly update the information stored on a car as they came back for post-rental inspection.
While there's very little difference between a basic NFC tag and a QR code on a sticker, there's one crucial point of divergence: an NFC tag can be reprogrammed in situ. That's a huge benefit, as it means you can attach an NFC tag to an object, and then update it as needed. All you need is an app to handle to programming. With a modern smartphone, like a Google Nexus 4 or a Nokia Lumia 920, it's not hard to find a tool that lets you analyze existing NFC tags and then re-program them.
Using an app like NFC Interactor you can add a large selection of actions to a tag. Some let you publish a URI, letting you trigger actions in a browser or an application that subscribes to a specific URI type (like FTP, or email). Others handle more complex tasks, such as providing the information behind a smart poster. Once a poster has an embedded NFC tag, it can be used to deliver additional information to a user with a NFC-enabled smartphone or tablet.
Programming a smart poster is easy enough. You need to give it a title – which can be in several different languages – and a URI for the information that's about to be delivered. You can use this approach to deliver links to new apps, or new services. If you've created a departmental app, a smart poster on a notice board with a NFC tag is a useful tool to quickly get users. A simple "tap here" message gets a link into a phone, ready for use.
Smart posters are powerful tools – and they're easy to update or reuse. A tag can be reprogrammed by any NFC-enabled phone (so make sure that no-one has reprogrammed yours on the fly!), and as it's unpowered, lifespan is virtually unlimited. With prices dropping rapidly, NFC tags are about to become consumer items, used for security and for delivering contact details when added to business cards. Several vendors were showing off tags at CES, and suggesting that they could be used to quickly add asset identifiers to hardware, as well as delivering links to instructions (perhaps adding WiFi connection details to a router).
We're still in the early days of NFC, and not all devices support all the NFC tag commands – and some are tied to specific applications and specific hardware. That means you'll need to experiment if you're creating something more complex than a smart poster. With NFC APIs in most mobile operating systems, you can also start to write your own NFC applications, either to write tags, or to respond to instructions delivered from a tag. One app, the Windows Phone 8 NearSpeak will read aloud a message prefixed by its custom URI – so if you want to use NFC in your own apps, it's worth considering using your own private URI schema.
The future for NFC is fascinating, and, in the words of Tom Petty, wide open. Nokia uses an NFC tag in its Bluetooth speakers to handle pairing with devices, and another in its upright wireless charger to identify the charger, so a phone can run a specific application. Your tags won't be this sophisticated – but they will be able to deliver the information you need to your colleagues, whether you're using smart posters or sticking a tag with contact details onto your desk. Adding out of office details on an NFC tag to your desk may not be what the original designers thought of, but it's one way to make sure that information is accessible anywhere, any time.