There are plenty of consumer tools that jump to mind as useful for boosting productivity at work. Smartphones, tablets, and apps like Evernote and DropBox.
How about fitness monitors? Appirio thinks so.
It has issued Jawbone UP monitors to 200 employees as part of an internal fitness and wellness program and said that benefits include increased productivity and employee satisfaction as well as the more tangible insurance savings. 
Appirio is working with Jawbone on new features that will let it aggregate user data as well as tie corporate information into the Jawbone dashboard. In about a month it expects to have completed integration that will feed Jawbone data into Salesforce and Chatter, also.
The roots of the initiative go back to the very start of the company.
"We've always had an athletic and competitive culture," said Chris Barbin, co-founder and CEO of Appirio, a seven-year-old business with around 700 employees who help enterprises migrate to public cloud services. From the start, the company would coordinate activities like working toward marathons.
Earlier this year, however, the company decided to formalize its fitness activities into a new program. Dubbed CloudFit, it includes offering employees Jawbone UP fitness monitors and hiring a "virtual trainer" who uses Chatter to set workouts, offer advice on nutrition and offer encouragement.
"It's been fascinating to watch," Barbin said. "The combination of a social network on Chatter plus the virtual trainer plus the data we're getting out of the UP band has driven some very cool results in a short period of time."
Appirio considered the Nike FuelBand but settled on the Jawbone UP because of its longer battery life and because it collects sleep data. "For me, that's important because I don't sleep well," he said. "My personal goal this year is to sleep more. It drives more productivity."
Appirio also picked the UP because Jawbone was willing to work with it on aggregating data and integrating with corporate systems.
For now, workers can monitor their activity and sleep data through the standard Jawbone dashboard. There, they can create teams and comment on each other's progress. They can sort data about their team to look at who logged the most activity or had the best sleep.
"There's a little competitive vibe that kicks in," Barbin said. "I get grief from people because my sleep patterns generally stink. And one of my cofounders, Glenn [Weinstein], says if he has to walk his dog at the end of the night he'll do that to one-up me" in terms of total activity for the day.
Appirio is working on integrating corporate data into the dashboards so that it can organize teams around the company's structure. That would allow it to set up competitions between work groups or between offices in different regions of the world.
In addition, Appirio is working on automating ways to aggregate data. Currently, it's doing that manually by exporting the data to Google Docs where it can manipulate it. By doing so, it learned that one-third of employee Jawbone UP users have lost 10 pounds since they've had the monitors – a little more than two months. Barbin also discovered that his UP team, which includes 75 members, has walked more than 10,000 miles since the program started.
Appirio is developing a way to automatically feed the Jawbone UP data into Salesforce where it can more easily aggregate the data.
Appirio has been careful about giving users privacy controls so that the program feels like a benefit for them and not a tool that the company uses to keep an eye on them. Users opt in to many aspects, including getting the UP band to begin with, joining a team, and joining the Chatter group.
They can also decide what data to share. For instance, some people on Barbin's team don't share their sleep data. "Some people believe, 'hey, I sleep a lot and I don't want my boss to know,'" he said.
That's fine with him.
"We're not trying to be big brother. We don't want people to think, 'this is a collar. The CEO is watching me to see if I'm exercising today,'" he said.
The data collected from the UP bands isn't automatically fed into Chatter yet but even so, the level of activity in the Chatter group has been a surprise to Barbin. There are 275 people in the group. The trainer posts workouts to the group and employees respond with messages about their experiences.
On Thursday, one member of the Chatter group had posted a poll to find out how many people would be willing to contribute recipes to create a CloudFit ebook cookbook. Sixty people had said yes.
The trainer posted a question on Wednesday, followed by a poll, about what kind of running shoe people preferred. A day later, 50 people had weighed in.
"There's a ton of activity on it, way more than I would have expected when we launched," Barbin said.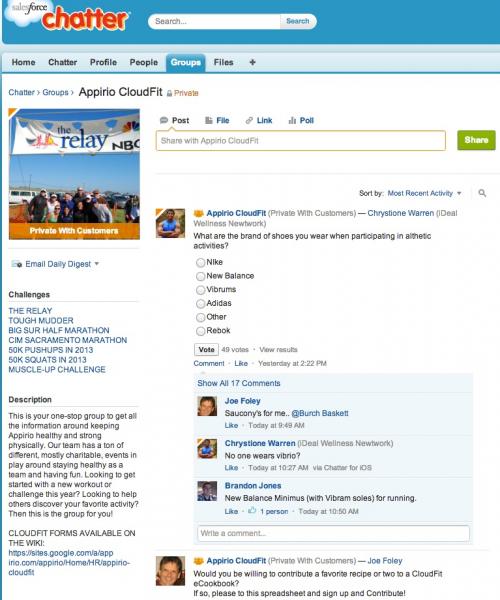 In just over a month, he expects the work to be done so that employees will be able to start feeding data from their UP bands directly into Chatter.
Right now, two employees are authorized to use a part of their time developing the various integrations. Once they're done, Appirio expects to share their work, for free, either on Salesforce App Exchange or via Jawbone, so that other companies can implement a similar program.
Barbin expects several kinds of improvements in the future. "I think the data itself will get more accurate," he said.
He'd also like to be able to integrate additional social networks into the program so that users can share the data collected by their UP monitors with friends on Facebook.
Plus, he's hopeful that the devices themselves will come in a greater variety of form factors and that they'll include more data collecting capabilities. For instance, he'd like to see a fitness monitor that includes GPS and a heart rate monitor.
There are direct financial benefits to the program. By implementing a wellness program, Appirio got a credit from its insurance company that covered the cost of the UP bands as well as the personal trainer.
That covered 200 UP bands, which meant 75 people who wanted them couldn't get them. In the future, Appirio plans to offer the devices to anyone who wants them.
Also, Barbin thinks that having aggregate data from the UP bands will lead to further insurance savings. "I think that having this data will allow us at the end of the year to go back to our insurance company and negotiate better discounts," he said.