SkyDrive app on Windows 8.1: An exercise in frustration
With the release of Microsoft's Windows 8.1 Preview, I figured it was a good time to revisit Microsoft's SkyDrive cloud storage service and app. Windows 8.1 touts better integration between SkyDrive and the Windows Desktop, and an improved Windows 8.1 "Modern" (or Metro-style) app. While I found the former definitely true, I found the SkyDrive app itself a mixed experience that which left me more frustrated than satisfied. 
SkyDrive is Microsoft's cloud storage service, an equivalent to the likes of Dropbox and Google Drive. It's free up to 7GB, with additional storage available in tiers up to $50 per year for 100GB. As we've all become more mobile, such cloud storage services are becoming indispensible. Recently, Microsoft said it had some 250 million SkyDrive users, and counting. 
However, Microsoft has set its sights higher than simply offering storage. Or offering additional collaboration tools. Microsoft seems to be setting up SkyDrive as the primary repository for all of your files. That direction was never quite as clear as it is now, with Windows 8.1's deeper integration of the SkyDrive Metro app and service.
[See also: How we used SkyDrive to write a book.]
In Windows 8.1, SkyDrive is the focal point of your files. In 8.1, SkyDrive syncs up at sign-in, and is intended to let you, in Microsoft's own words, "access all your files without worrying about hard drive size."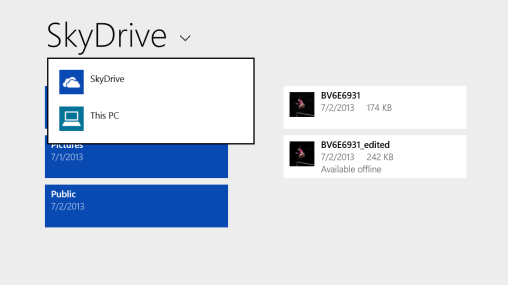 Blurring The Line Between Desktop And Cloud
One of my early complaints about Windows 8 was the lack of a file browser in the new Metro app environment. Well, in Windows 8.1, Microsoft rectifies this -- but in the most unintuitive manner possible.
The new SkyDrive app for 8.1 opens directly into your SkyDrive folders. And now, through a drop-down option, you can choose to look at the files stored in SkyDrive in the cloud -- or on your local drive, through a view called This PC. The "This PC" option yields a relatively familiar folder structure, showing tiles for Documents, Music, Pictures, Videos, Desktop, Downloads, and Devices and drives.
The saving grace of this approach is that the same file interface greets you in Metro apps, too. For example, when I went to open an image in Adobe Photoshop Express, it took me to an interface that looked very similar, complete with the drop-down to change my drive and picture folder from my local PC to SkyDrive. I could easily grab an image from my SkyDrive, edit it, and save it back to my device, or to my SkyDrive. Slick. Cloud integration at work.
Better still: All of this integration required no intervention from me. No additional software required. Admittedly, installing software isn't hard; I loaded up the Metro app for Dropbox, and could do the same exact thing (in Metro apps, at least, but not desktop apps).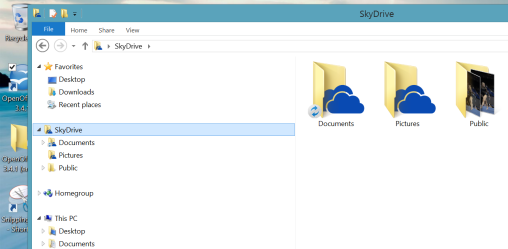 Moreover, the new level of integration in the Windows 8.1 desktop does Spock proud with its logical design. Open the familiar Windows File Explorer, and your SkyDrive shows as a mapped volume -- a move that eliminates the need to install a desktop app (as I did on my Windows 7 laptop), and that makes saving to a SkyDrive folder seamless, and no different than saving to your local device, from any app. Meanwhile, local files appear separately in the Explorer folder tree, under This PC, the same metaphor as in the Windows 8 SkyDrive app.
In the desktop, I can even tap and hold a file, and drag it over to another folder, be it in SkyDrive or on my PC's local storage. This is the kind of facile file handling I'm accustomed to, and expect, in a Microsoft operating system.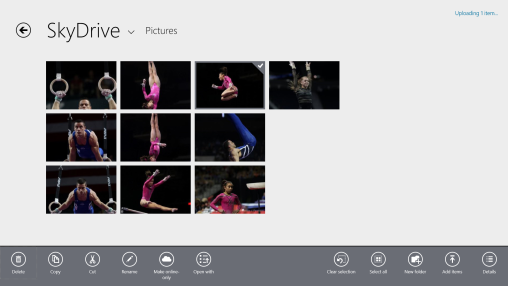 And Then I Went Back To Metro
When I moved back into the Metro universe, though, I found the SkyDrive app's behavior perplexing. Here, don't bother trying to tap and drag to select a cluster of icons, or dragging multiple selected icons over to a folder. The SkyDrive app on 8.1 doesn't support this maneuver -- even though it's a common UI trick that works in the desktop, and works via the vastly improved and more functional Web-based SkyDrive portal.
The more I tried to do do something with my files, the more SkyDrive put up roadblocks. I could select all files, or select individual files by long-tapping and dragging the tile down to select the file. But I couldn't select an entire folder of files to copy or move; nor could I select a large cluster of files -- say 50 images at a clip -- and do something with them. I could copy, delete, or make a file(s) available offline, but I couldn't add the file(s) directly to a new or existing folder, or simply move the files from one location to another. SkyDrive and its large tiles look pretty and readable in Metro, but they quickly became impractical in a world of with hundreds of images and files to maneuver through.
Microsoft's SkyDrive has other improvements coming in 8.1, including better synchronization options, to join SkyDrive's already strong file-viewing support, remote access, and collaboration capabilities.
Sadly, SkyDrive's snazzier abilities loose their appeal in light of the app's basic file management weaknesses. The SkyDrive app simply lacks the flexibility I expect from file handling in SkyDrive's own Web app, and in the Windows OS in general.
This is all the more disappointing given that the SkyDrive app now doubles as Microsoft's Metro file manager. Direct, native file-handling has long been an advantage of the Windows operating system, and it could have been a distinct advantage for Windows tablets. But it won't be an advantage if Microsoft's own interface prevents you from handling files your way. This is something basic that should be built into Windows 8.1, and Microsoft has fumbled the play.
View Comments
Top News
Yahoo's share gains since November from a deal with Mozilla may be a clue about whether the search...
The unveiling of SharePoint Server 2016 the Microsoft Ignite Conference put an end to speculation about...
The company has just like its competitors partnered with app packaging company Bitnami