Hooray for Quip: A fresh, cloud-centric take on the word processor
The mobile app revolution has changed a lot of how we do things, but not all of our apps have caught up to the finger-friendly, always-connected tools we use today. While some apps have been reinvented to match the phone and tablet platforms we're using them on, the venerable office productivity category has seen little true innovation.
Until Quip.
Quip aims to change how we create and use documents on any device—smartphone, tablet, and desktop. The brains behind this cloud-based service and its iPhone, iPad, and Android apps are Bret Taylor and Kevin Gibbs, one-time collaborators at Google. (The preview version of Android is read-only at launch; a fully functional Android version may be a few months out, though Quip wouldn't commit to a timeframe.) Taylor's previous roles were as the CTO of Facebook and the cofounder of FriendFeed, so he's no stranger to the social sharing mindset.
That social mindset informs everything about how Quip revisits the twin concepts of document creation and collaboration.
The Quip approach: Always Be Sharing
In a blog post introducing the company on Tuesday, Taylor and Gibbs were right to note that how we do things in our office productivity apps hasn't changed a whole lot in the past 30 years. 
Fundamentally, our existing tools -- from the granddaddy of them all, Microsoft Word, to newer device-based document editors like Quickoffice HD Pro -- start with a document type, a blank canvas, and the assumption that you'll then either invite others to have access to the document, or you'll simply email that document around for any necessary input and collaboration. It's this paradigm that makes Microsoft's "track changes" feature so indispensable in business.
But this approach also requires you to track the flurry of emails. Or, in the case of cloud-based editors like Google Docs, you have to sacrifice any record of what's changed, when, and by whom.
With Quip, the assumption is you're online everywhere -- and so is everyone else: You'll set up your account with your name and email address, and that info identifies you through your use of the service, tracking changes you make and what you've read. (Using Quip offline? No problem: The app saves your doc locally, and syncs with the cloud as soon as you regain a cloud connection.)
Whether you log in using the iOS app (I tested the iPad version) or using your Web browser on the desktop, Quip looks and behaves the same. This is by design, according to Quip: The company's goal was to create a familiar environment regardless of the device you're using, and to automatically resize the document for your device's screen size. That right there is a fundamental shift in thinking, and something that the apparently sleeping giant in Redmond has yet to master for its most core part of its Office suite, Microsoft Word.
Some subtle behavior shifts were required -- on my laptop, I had to mouse over a folder to change folder settings like the color or the folder name, while on iPad I simply long-tapped to get the same option -- but the look and intent follow the same vein. That familiarity is a boon for users; why should you have to deal with interface vagaries just because the device you're using is different?
Quip's reimagination of the word processor goes far beyond its clean aesthetics, though. The whole idea is that Quip marries document review and editing with instant messaging, be it within the service, or via text so someone outside the service can view a document via a Web browser. From the Home screen, you'll see two panes. At left, an inbox view that shows your activity—including documents you've viewed or edited, and messages you've sent or received. At right you see your Desktop view, with documents and folders organized however you like; or message threads.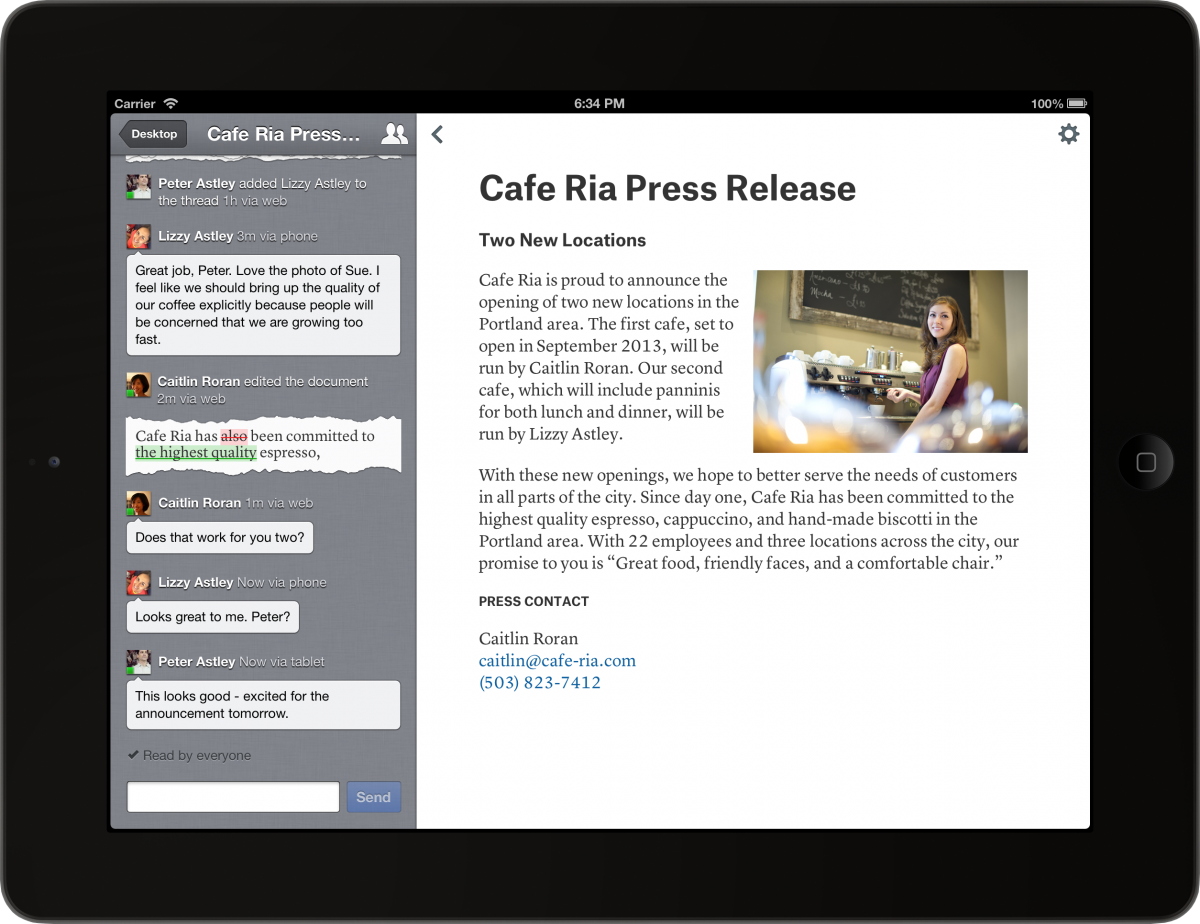 It's useful having the related messages right there with the documents you're working on. In a workgroup setting, all of your collaborators would, in theory, have Quip and at the least get a notification of a message.
However, this approach isn't as interactive as it could be. In Google Docs, for example, you can chat about a document and see the changes to the document in real time simultaneously. On Quip's Web version, you can see a pop-up chat window over the document you're editing. But on the iPad version, you can only view the chat in one window view, and the document in a separate view; the twain cannot be on the display at the same time. (This is one of the few noteworthy functional differences between the two versions. Another is that on the Web, you can change the size of imported images.)
Does not play well with others
Quip is intended solely for newly created documents, and to be the primary vessel where you view and work with documents. That means you can't import existing Word or text documents into the service, nor can you export your creations to Word -- a deal-breaker in many work environments.
Quip lets you export documents to PDF to preserve formatting, but copy and paste out of Quip proved a mixed bag when I tried it (I got the text, but not the formatting). If you must have a physical copy, you can print a document when it's in Web browser. 
The company says that it is looking at adding support for importing and exporting to other formats, but offered no commitment to doing so, noting it is weighing a number of future features that its users request against Quip's core mission of providing a simple document editing and collaboration platform.
Also, since Quip stores the documents in its service, sharing a document is as simple as sharing a link to the document stored in the Quip cloud. But that also means that for now, there's no need to for integration with other cloud services like Dropbox or Google Docs, although that is one of the many things that Quip says it is exploring for the future.
There were other glitches as well. You're supposed to be able to use Quip's built-in message pane to track changes, but this feature didn't work for me when I made changes to a table on the Web version, and tried to see those changes in the iPad version. I could initiate a message from the iPad app, but not from my Chrome Web browser on my Windows laptop. There's an Insert function that lets you insert an image, a table, a mention of a person, or a link to another Quip document or folder -- but, bizarrely, adding a hypertext link is not an option. Instead, you have to manually paste a URL, then type the link label is in the middle of the URL and delete the rest of the URL from around your label. Awkward, and very counter to Quip's general make-it-easy mantra.
Quip says it's working on a round-the-clock schedule to fix bloopers such as the ones I encountered.
A great first step...on a long journey
Ultimately, the company does have its work cut out for it -- not the least because of the big guns it's going after by trying to reinvent word processing.
Quip allows for up to five users, all of whom can share folders. Quip for Business is coming, but the company says it's still working out the extra features you'll get for $12 per month per user, beyond the fact that you can have up to 250 users on the business version.
I like what I see so far, though. If Quip can step up its interoperability with standard file formats (read: Word), I'd like it even better. Tablet apps, in particular, need to step up design to make creation as easy as consumption. Quip is a step in the right direction.
View Comments
Top News
Yahoo's share gains since November from a deal with Mozilla may be a clue about whether the search...
The unveiling of SharePoint Server 2016 the Microsoft Ignite Conference put an end to speculation about...
It's reportedly seeking $200 million in its next round of funding