Parallels Access for iPad does for Windows what Microsoft didn't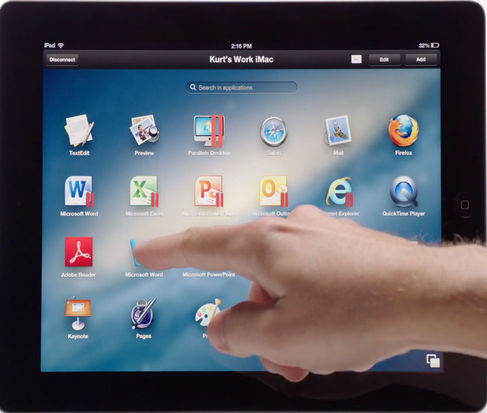 It's rare for an app to come along and re-imagine computing as we know it. But not only has Parallels' new Access app for iPad done just that, but it's also accomplished what Microsoft didn't do with Windows 8 -- make Windows desktop apps more viable on a touch screen interface.
Parallels Access isn't perfect, nor can it accomplish the impossible, namely transforming a desktop app -- with its tiny text and icons and compact spacing that's optimized for mouse, not finger -- into a touch-centric experience.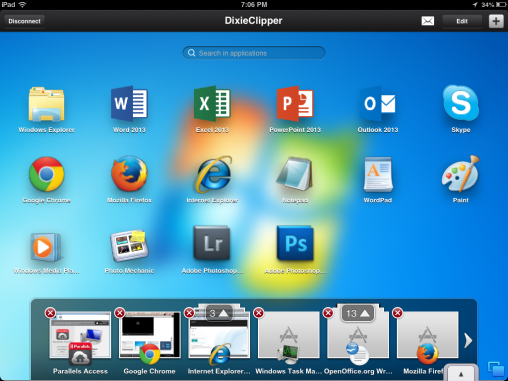 However, what Parallels accomplishes is a refreshing surprise, especially in light of the design mess that is Windows 8. Redmond failed to focus on bringing the desktop into the modern touch age. With Windows 8 and its soon-to-be-released 8.1 successor, moving between the desktop and "Metro" interfaces remains a jarring experience that lacks vision and integration, and desktop apps remain a nightmare to use on all but the largest touch-screen all-in-one PCs.
By contrast, Parallels Access successfully bridges the design divide between the mobile, touch-centric iOS and the traditional Mac and PC desktop.
That Parallels should be the one to do so is less surprising when you consider the company's virtualization heritage -- Parallels Desktop has long been the best way to access your PC from a Mac. Now, the company takes that expertise to transform how you can access your desktop apps.
Parallels Access for iPad is a free app, but requires a $79.99 annual subscription fee. You'll need a separate subscription for each Mac or PC you want to access. Each computer requires an Agent app download to enable the service. The Mac Agent is available now with a 14-day free trial; the Windows Agent is available as a free beta now with a 90-day trial. I tested the beta for Windows, since there's a strong chance you're toting a PC supplied by your IT department.
Windows on iOS: Practical yet elegant
Setting up Parallels Access is simple. I installed the iPad app, set up an account, then installed the Windows beta software. I could initiate the connection via my PC, or I could initiate connection from the iPad simply by selecting my PC.
Remote access on iPad is not new: Splashtop and Dell's Wyse PocketCloud are among the many to get there first. And PocketCloud even has a mutli-option navigation wheel to simplify moving through Windows on an iPad, similar to one of the navigation tools in Parallels Access.
But the competing apps all mirror what's on your Windows desktop, in all of its small text-and-icon glory. By contrast, Parallels Access reinterprets your desktop for touch, representing your Windows software with app icons that resemble those in iOS. The result is the App Launcher, a new home screen for your computer that more closely looks and feels like the iOS home screen. You can even reorder apps by by tapping and holding to get the wiggle effect, same as in iOS (though you can't stack icons together to create a folder of like apps).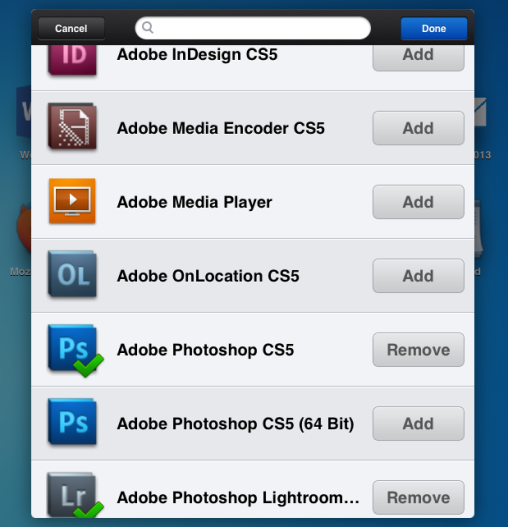 The Windows beta I installed automatically added a selection of a dozen or so standard Windows and Microsoft apps. I then added additional app icons by tapping a button and scrolling through the options of .exe files on my Windows laptop. I was pleased to see some favorites pop up, like Photo Mechanic and Adobe Photoshop Lightroom; I could also simply search for an app and find it, without manually adding the icon.
This App Launcher acts as a visual bridge between the old-school reality of the Windows desktop and simple visual beauty of iOS. Every desktop app is shown in full screen mode, just like an iPad app, unlike in other apps that are mimicking how a Windows desktop works.
The other notable element here is how Parallels handles multitasking. Just as iOS has the pop-up element that shows open apps, so too does Parallels have a multitasking tray for open apps on your dekstop. Scroll left-to-right for accessing apps, with additional windows within an app (for example, multiple open Word or OpenOffice Windows) stack above each other.
Not all of the magic lies in Parallel's design, though. Parallels also succeeds in mimicking the gesture behavior of iOS in the desktop. Two fingers serves as a double click (though I had inconsistent luck getting that to work); use a single finger to drag and scroll through a document; pinch and zoom just as you would on the iPad; and tap and hold to magnify text, or hold longer to initiate drag and drop. You can also double tap a word to select, and use the native iPad context-sensitive buttons to select text and copy and paste, for example.
Bugs mar the experience
While I really liked what Parallels does for accessing the Windows desktop with my fingers, the beta Windows Agent was very buggy. It routinely had to reconnect to my laptop, and froze while accessing my PC (I'd get a message saying Windows Explorer wasn't responding). The presentation was glitchy when I kept my Windows toolbar to the right side of my screen, as I tend to do.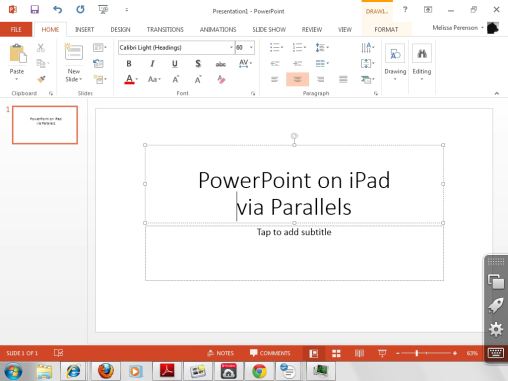 Peformance was laggy, too -- particularly when using image editing apps like Adobe Lightroom or Photo Mechanic, or working in PowerPoint. (I've asked Parallels about these issues, but haven't had any response yet.) While I focused my testing on the Windows Agent, the Mac Agent -- which will work with the virtual machine Parallels Desktop if you have that, too (at a separate cost) -- has its own funky display issues, as other reviewers have noted.
In the end, the value of a remote access app remains mixed. For starters, as with any remote access app, your computer has to be awake at all times for Parallels Access to work. Moreover, what's done in the desktop stays in the desktop--which means if I create a PowerPoint presentation, the only ways to access it on my iPad are to run it in Parallels Access, via the desktop--or email it to myself from within the desktop, so then it appears in my email on the iPad. Good in a pinch for apps you can't get on iPad, but not the most efficient approach. Personally, I'd rather tote a lightweight laptop in addition to the iPad for those just-in-case moments.
And considering the mixed value of the app, paying $79.99 annually, per computer feels awfully steep for Parallels interface niceties. Competing apps offer a better value, albeit without the snazzy visuals.  
View Comments
Top News
Google took a final step in its years-long scheme to aggressively lock down Chrome by crippling all...
Interview with Alberto Escarlate, CEO of Filechat, at Techcrunch Disrupt.
Interview with Roy Schwartz, Founder of Ridemetric, at Techcrunch Disrupt.