Managing independent developers inside an organization is always going to be a trial. It's too easy for them to go outside the firewall to a cloud service to build and deploy their apps. What's needed is a way of making things inside the data center as easy to use, and as attractive to developers as those external services.
At TechEd North America back in June, Microsoft took the wraps off its Blue wave of servers, including its answer to the question of how to build and run applications on your own private cloud that run on the public Platform as a Service cloud: the Azure Pack. With the same portal UI as the cloud Azure services, the Azure Pack means you can build and run your code locally, or migrate it to the public cloud – and back again. It's also a free download, making it easy to justify deploying.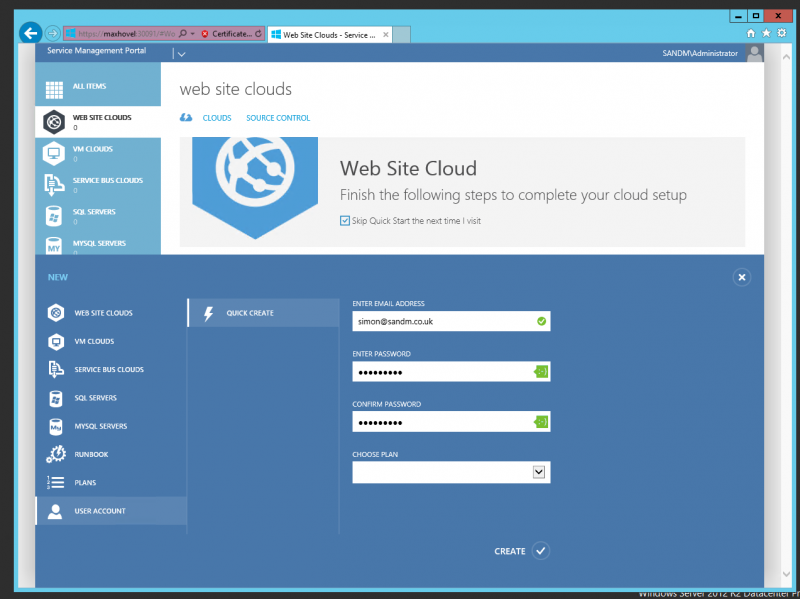 We spoke to Brad Anderson, Microsoft's Corporate Vice President Windows Server and System Center, recently about the Azure Pack. He described it as "The work we have been doing to deliver consistency across the cloud, giving developers the ability to write an app and run it hosted in the public cloud." He also pointed out that the two-way nature of the Azure Pack gave it flexibility that customers were finding important. "That there's no cloud lock-in has resonated well, it differentiates us from anybody we're competing with in the cloud space."
Where things get interesting for businesses wanting to explore letting users build their own apps, is with the upcoming Azure Pack's support for high density web sites. In the past, if you needed an isolated web server for a developer you need to configure a new server, or at the very least spin up a virtual machine. But the growing demand for departmental web and mobile apps means that it's getting harder and harder for IT teams to provide the resources those users and developers need. With 500 or 1,000 departmental web sites, an enterprise would have needed 500 or 1,000 servers, virtual or physical that needed patching and managing. That's led to staff unofficially moving their development to the cloud, and out of the purview of IT departments – risking regulatory compliance and exposing corporate data to security breaches.
What the Azure Pack does is bring the technology used to host web apps in the cloud into your data center, no matter how big, with the same level of automation, and the same support for self service. It's your own Platform as a Service (PaaS) in your own network, with what Anderson calls a "promise of consistency" as a foundation, something that seems to be catching the attention of CIOs. Anderson referred to a conversation with one financial services CIO, who told him, "I have always assumed that by developing a PaaS app I am locked into the cloud, something I have been resisting.".But the Azure pack has changed that CIO's thinking. As Anderson concluded, "With flexibility I know I can take advantage of the PaaS capability to take all benefits PaaS offers and not be locked in."
This then is what the hybrid cloud is all about: the ability to work inside and outside your data center, with no need to change code as sites and services migrate from one to the other, and back again. It's what Anderson describes as Microsoft "delivering and executing on a promise of consistency. […] Now things we pioneered in Azure, like flexible, secure, high-density web sites, we've brought that capability to servers and to data centers."
Taking it for a spin
Installing the preview of the Azure Pack is easy enough, as it's downloaded through Microsoft's Web Platform Installer – and you can even run a limited version of the tools on a Windows 8 desktop. The Web Platform Installer automates installation, quickly setting up the service and the various prerequisites (including the open source MySQL database). We were up and running in just a few minutes on our test server, once we'd configured the appropriate databases.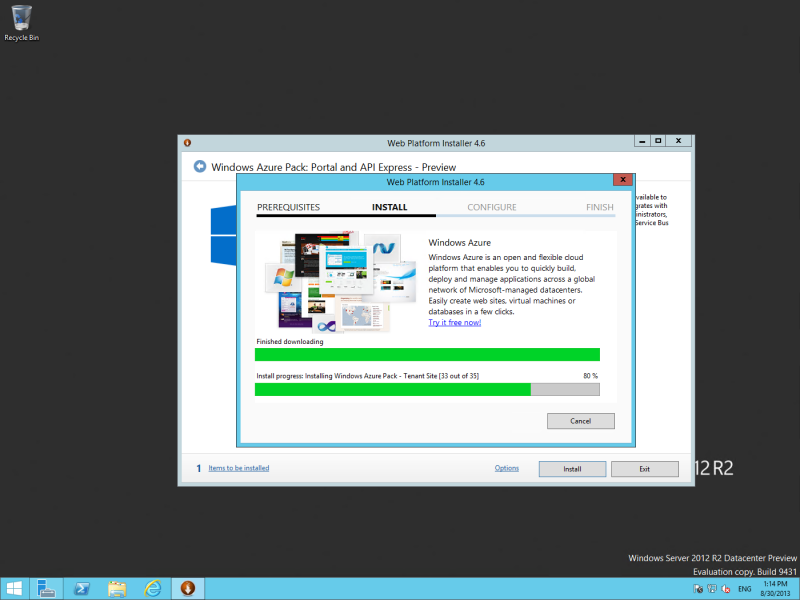 Once you install the Azure Pack on a server (or several servers, as you can spread features across multiple machines), you're able to use the Web Sites service in the portal to quickly deploy hundreds of servers for your own apps, or for ready-packaged apps. Need a Wordpress install for a departmental blog? It's just a click or two away. There's also support for more complex scenarios, such as setting up a Git repository for your code which can be used to deploy code quickly to other web sites, even to servers running in the public cloud.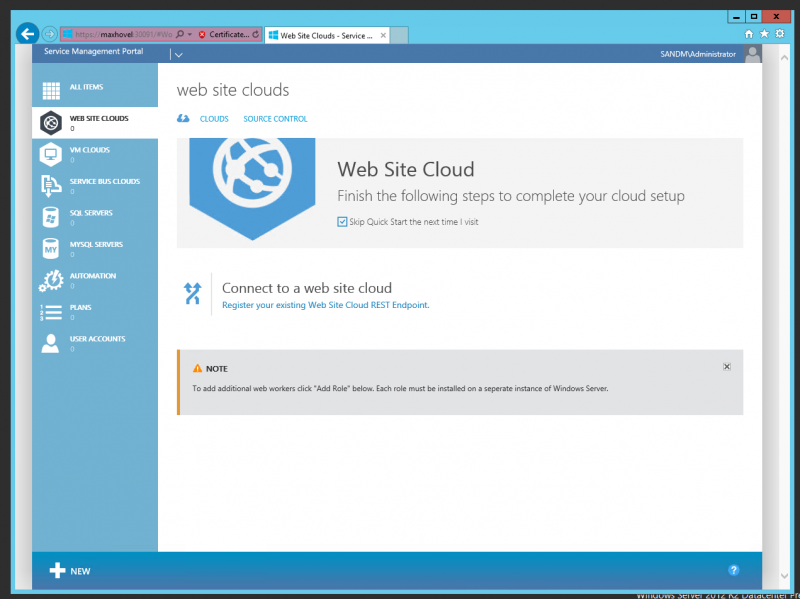 It's interesting to see how Microsoft is adopting both open source code and open ways of working around its private cloud services. There's also tight integration with its development tools, so you can use free tools like Web Matrix to build basic web apps, or use Visual Studio to develop more complex tools and services (and for the more ambitious there are other options, including the popular node.js tools). If you're using the free Web Matrix web application development tool you'll find working with Azure Pack sites easy. They support Microsoft's web deployment end point, so code can be pushed to a server with a single click, and the portal gives you tools for editing live sites – ideal when you're prototyping a new service and want to make changes quickly.
Anderson is happy with the reception the Azure Pack is getting, "The conversations I had used to be 'I love the idea of Platform as a Service, but if it's only running in a Microsoft data center, I'm not sure I want to commit to that.' Now the tone has changed." It's not surprising that there's increased acceptance for PaaS development on these terms, as a hybrid cloud with no lock-in is the BYODev Holy Grail.
With the Azure Pack you can move apps from a single servers to a private cloud to a public cloud, and from host to host, with no worries about resources or changing a single line of code. With hundreds of web sites able to run on a single server, it's a useful tool for business that want to reap the benefits of BYODev, while wanting to control access to their data – and where code runs. It's a framework that gives users the self-service they want, while requiring very little in the way of IT resources. That's a win for everyone.