REVIEW: BBM for Android, BlackBerry's last gasp at relevance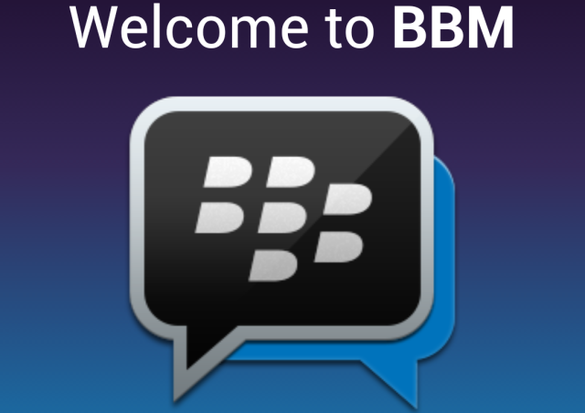 I'm using BlackBerry Messenger. On an Android phone.
There's something almost unholy about saying that, about mixing BlackBerry's flagship messaging app experience with the Appleverse and Googleverse. And yet, today the twain become intertwined. BlackBerry's cross-platform BBM -- available today on Android and iOS for phones only -- is the company's long-awaited Hail Mary, a last chance for showing BlackBerry can indeed be relevant in the modern smartphone world.
In my usage so far, BlackBerry has indeed delivered an Android experience that's consistent with BBM on BlackBerry Z10 phone. And iOS looks the same, too. So is there an advantage to BBM's approach to messaging? I'd say yes -- and not necessarily for the reasons you expect.
To say that BBM will be able to save BlackBerry puts a lot of weight on the shoulders of a single software experience, which has plenty of competition already on the floor. But BBM stands out because of the very same design elegance and fluidity that made us reviewers and early users sit up and take notice of the BlackBerry Hub on the BlackBerry 10 OS and BlackBerry Z10 phone. (There, BBM was one component of the BlackBerry Hub, which pulls BBMs, text messages, calls, e-mails, and notifications under a single roof.) While the Hub and the smooth design of apps like BBM alone were not compelling enough to sway the masses over to the Z10, it's great to see BBM freed from being tethered solely to BlackBerry's hardware.
It's a gutsy move on BlackBerry's part to make BBM an open platform. However, this move was shrewd and necessary for the company's survival. Gutsy because BBM has long been an only-on-BlackBerry experience, and an incentive for staying with BlackBerry. Necessary because BlackBerry was so late to the modern smartphone party that many BBM fans had long since defected, and clearly the Z10 hardware wasn't getting the company the attention or market share it needed to reclaim its crown. Rebooting BBM -- which BlackBerry says still has 60 million active monthly users -- is the company's last salvo at remaining relevant and showing its mettle in an already crowded and commoditized market.
Hands-on with BBM
Today's BBM launch is BlackBerry's second attempt to get BBM for everyone off-the-ground. After the first attempt, the app was pulled from the store because of demand was high, and a glitch needed to be fixed. In the interim, BBM amassed some 6 million sign-ups pre-registered at BBM.com.
To download the app, I went to BBM.com, and entered the e-mail address I'd pre-registered with. And from there, I signed up for a BlackBerry ID, received an eight digit PIN, and I was off and running. (Pre-registered addresses and existing BlackBerry IDs get to move to the head of the line for the new apps.)
What works about BBM is that it returns to the basics of what a messaging app should do, and it does so with an unpretentious clarity that understands the kinds of actions you'd expect around a group messaging chat. It's not about liking posts (see: the Facebook effect), or sending links, or emailing a chat message (though you can copy a single chat message or the entire chat -- very handy for reference purposes). It's all about messaging, and doing so in a way that's integrated with your existing environment. Schedule an event tied to a Group chat? That event is automatically added to your phone's calendar.
I used BBM on a Galaxy S4 Android phone and on a BlackBerry Z10 for the native experience. Each phone was I was admittedly talking with myself here in these early hours -- no one I knew I had a BBM account. And even once I got started chatting with a colleague, it was still very much tumbleweeds blowing through my contacts account.
That's because you have to manually invite contacts to join you on BBM. There's no auto-population or auto-discovery based on the 10 trillion names in your address book. BBM touts its security by assigning you a PIN number when you first register for a BlackBerry ID, and that PIN is one of several ways you can invite someone to chat. You can invite a new person to BBM chat via PIN, email message, or SMS message -- or, if you're standing next to one-another, via barcode scan or NFC. Those last two will come in handy at the next conference or networking cocktail hour. 
During chats, you can clearly see when someone is typing a message, and you can clearly see who's chatting at a given time. But the messages don't take up too much room on screen, which means you can typically view more than one volley of messages at any given time. Among the options available to you: You can attach a photo (new from the camera or from the Gallery) or a voice note (a la WhatsApp) to a message. And you can add someone to an existing chat, or start a multiperson chart or send a broadcast message.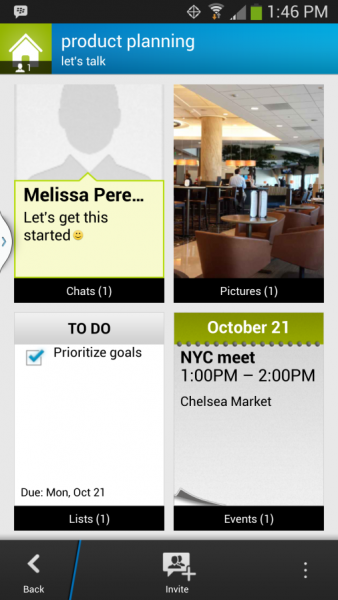 The other way to do multiperson chats is to establish a Group, with up to 30 BBM contacts. The group chat feature is the most powerful, and most relevant for business (though I can see it coming in handy as way to coordinate with friends where you'll meet up after the first game of the World Series).
Once you create a group, you get a clean quadrant of options -- one of which is the actual chat itself. Add images from your image gallery or directly from the camera; schedule a meeting, or create a Task List with custom name, items, categories for those items, assign to someone in the chat, give a due date, and provide a priority. This goes above and beyond what many of the other group messaging apps I've seen do. And more importantly, perhaps, is that BlackBerry does so with a stylish, attractive interface that's intuitive, finger friendly, and uses its available screen real estate wisely.
BBM's biggest weakness is that there's currently no desktop client. For workplace scenarios, a Web-based desktop varietal is crucial to success in the office. The company has this will happen by the end of this year. Also missing: Video chat, though that's something BlackBerry promises just with no timeline attached.
Can BBM alone save BlackBerry? Probably not, especially considering the app is free to all users. However, BBM is a critical component to BlackBerry future. The app clearly shows that BlackBerry still knows how to execute on a plan, and it knows how to deliver something that fills a void. If people start turning to BlackBerry again, the struggling company can only benefit from the accompanying halo effect.
View Comments
Top News
Yahoo's share gains since November from a deal with Mozilla may be a clue about whether the search...
These five Android and iOS apps, for creating compelling media, scanning and digitizing documents,...
Samsung denied it had blocked a Windows update on its hardware but acknowledged that it was...