Latest Kindle Fire HDX update makes it ready for work
As part of the latest Kindle Fire platform update, Amazon has rolled out features that will make the tablets fit better into a work environment. These features alone will not elevate the Kindle Fire HDX to a serious business tool, but they do mean you can now use the device for more than just catching up on your reading and playing Angry Birds at home.
The big news is that the Kindle Fire HDX now has a native VPN client app. While you could download a VPN client, the integration makes things simpler. And that's what Kindle Fire is all about. Like everything Amazon does with its Kindle HDX series, setting up a VPN is simple. For each profile, you'll enter a name for the profile, choose from a selection of VPN security protocols, and select whether you want PPP encryption.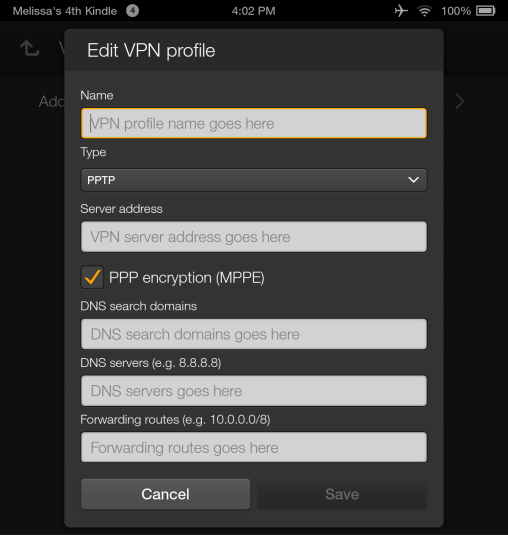 Amazon tries to take some of the mystery out of the setup process by putting natural language examples of what goes into the fields -- for example, it says "VPN server address goes here" in the field for server address. This approach is a step better than a box with no guidance, and if need be, you can always bug the cheery folks at Amazon's Mayday live 24/7 on-screen tech support to help you walk through the configuration.
Once connected via the VPN, you can do all the normal things you'd expect over a VPN connection, including accessing a corporate intranet web Web, including resources such as SharePoint.
Less obvious from the outside is the inclusion of a native SCEP (Simple Certificate Exchange Protocol) client so the device can retrieve digital certificates for secure resources. And Amazon has also added Kerberos authentication, which allows you to browse intranet sites from the native Amazon Silk Web browser.
If you show up with a Kindle Fire HDX, your IT department will be happier than had you opted for an earlier model: The HDX tablets also integrate device management APIs that will work with mobile device management (MDM) systems.
I've had the chance to use both the 7-inch and the 8.9-inch Kindle Fire HDX models, and have found that these are far more competitive for use at work than you might anticipate.
In fact, the biggest deterrent to using the Amazon Kindle Fire HDX at work is the way its Home Screen carousel is set up to show your most recently opened apps. This could get downright embarrassing if you're caught at the conference room table swiping among screens and suddenly there's a big icon heralding a last movie, TV show, or book that you never intended everyone around you to see. While Amazon does let you long-tap on these icons to choose to remove them from the carousel, you'll have to remember before you walk into that meeting.
Both the 7-inch and 8.9-inch models have a sharp display with great color reproduction and minimal reflectivity (I prefer how the 8.9 looks to the slightly warmer, more yellow cast of the 7-inch). Both pack in the pixels for smooth, sharp rendering: The 7-inch has 1,920 x 1,200 pixels resolution at 323 pixels per inch, while the 8.9-inch model carries 2,560 x 1,600 pixel resolution at 339 ppi. And both models have 2.2-GHz Snapdragon 800 quad-core processors, and strong, all-day mixed use battery life ratings. With prices starting at $229 and $379, respectively for 16GB tablets, the reality is that either of these could make for a reasonably priced companion that works well at home and at the office.
Amazon has also dramatically reduced the physical size and footprint of these tablets over their predecessors. Indeed, I could hold the 7-inch tablet in-hand very comfortably in portrait mode, and I typed smoothly on the much-improved keyboard (with better-than-ever word recognition).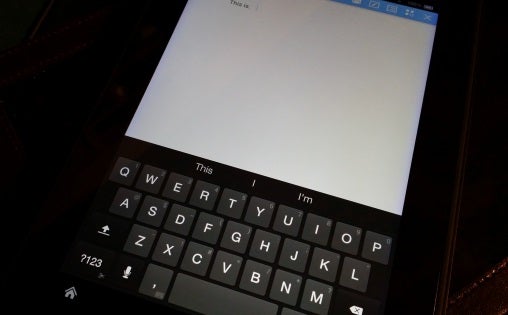 Both tablets are now among the lightest in their size class, coming in at 0.67 and 0.82 pounds respectively. It's especially nice to have such a light weight on the 8.9-inch version -- I could even span my small hands across the tablet in portrait mode, and managed to type comfortably. I used Kingsoft Office and OfficeSuite Professional for spreadsheet and document chores, checked e-mail, and reviewed my synced calendar to see what was coming up. All before catching the latest episode of "Covert Affairs."
Kindle Fire HDX tablets really strong choices for those who already have a growing library in the Amazon digital media ecosystem, or those who want a simpler, more guided tablet experience. But they aren't the tablets you'll consider if you want the latest-to-market software, nor would I recommend one if you plan to use your tablet around-the-clock. But if you want a tablet for reading by the fire or watching movies on airplanes, and checking in at the office when necessary, either of the Kindle Fire HDX models are a good fit.
View Comments
Top News
Yahoo's share gains since November from a deal with Mozilla may be a clue about whether the search...
These five Android and iOS apps, for creating compelling media, scanning and digitizing documents,...
Samsung denied it had blocked a Windows update on its hardware but acknowledged that it was...