Four months after Quip launched on iOS, the company delivers on its promise of an Android app for its eponymous word processor. Today's release comes on the heels of a major update to its Web and iOS apps that finally lets you import Microsoft Word files, a feature the Android version lacks for now. Still, with these two updates, Quip edges closer to its ideal of being a collaborative cross-platform word processor. It's not there yet, but of the apps I've seen, it has a lot of potential of getting there.
Android was always part of the plan for Quip, but when the company first launched its iOS and Web word processors, it couldn't commit to a timeline then. But when I spoke with Bret Taylor, a founder of Quip and former CTO at Facebook, it became clear that cross-platform and device-agnostic support is critical to Quip's mission, and that the company meant what it said when at launch it promised an Android version.
As he names the stats -- some 81 percent of the world's smartphones are on Android, and 50 percent of the smartphones in the U.S. -- it's clear that heading to Android was a foregone conclusion. "Our goal has been to make a word processor that works seamlessly across devices -- PC, tablet, and smartphone. We believe that is the new normal. And when we've designed these collaborative features, that's been our focus," Taylor says. "We always thought that it was really important to integrate messaging into the experience, so you can talk about the document while you're in the document. Everyone can then see the meeting notes at the same time, and it makes the document come alive and become a part of the company's workflow."
Since its launch, Quip has developed an enthusiastic user base (the company declines to give numbers), ranging from individual users to teams in education and corporate markets. The free service is designed for individuals and smaller groups of up to five people. Quip for Business costs $12 per month, per user, up to 250 users (larger installations may have different pricing). And since the beginning, everything about Quip was designed to zero in on collaboration.
I can see why: I liked a lot about how Quip worked on iOS when I first reviewed it. And since then, the company has fixed some but not all of the issues I had (you still can't resize images, for example).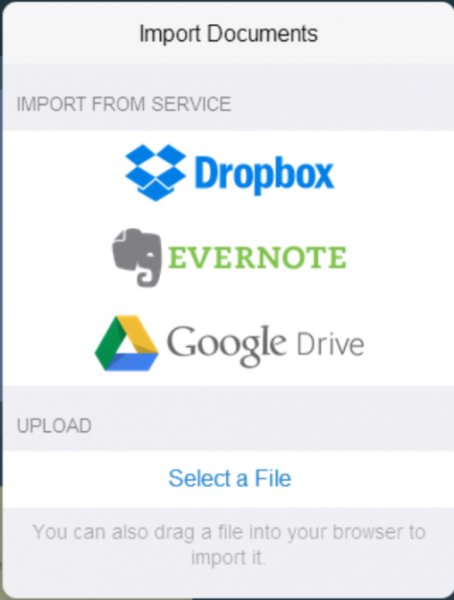 The recent iOS and Web update enabled importing files -- Word documents (both .doc and .docx files), as well as RTF and text files -- from Google Drive, Dropbox, and Evernote, or directly from your PC (Web version only). You can import all documents, or individual documents, but you can't do a mass export yet. Once files are in Quip, they live in the Quip cloud, and can only be exported as PDF files. You can easily invite users to a folder, or to a specific document; if to a folder, then it will be shared with all members of that folder -- a feature that is particularly useful for teams.
While file import is critical to Quip becoming a full-fledged word processor that's interoperable with the outside world, I had some issues with the import process when I tried it (I used the Web version). Many Word documents failed to import entirely, or they threw up an error code when I tried to import them via my PC, or via Dropbox. Granted, some of my documents were saved as Word files in OpenOffice, but others were native Word files. One existing .doc file on my PC imported, but it wasn't particularly useful: I lost all deletions made using track changes, and all highlights, with only basic formatting, like bold characters, surviving the transfer.
The file import is missing from the Android version at launch, but perhaps that extra time will allow Quip to work out the import kinks across all platforms. Taylor promises Android will get this feature early next year, but the company wanted to get the Android version out before year's end. 
The collaboration angle, of course, is the main reason Quip exists in the first place. Cloud enhances that. And the new native Android app takes advantage of Android's strengths.
"We're leveraging the Google account," explains Taylor. "When you open Quip, it shows you your Google account name, and you just need to tap your name to sign on with that account. No need to reauthorize with Google. It's a really fluid experience that enables you to integrate with your address book, too, so when you want to share a document, it's all right there."
Indeed, I found it simple to just sign in with my Google account, and then share a document. The Android version looks very similar to the iOS version. You still can't resize imported images, though. And in spite of the massive screen real estate available to a 10-inch class Android tablet, you still can't have your changes screen visible at the same time as looking at the document -- you have to swipe out from the left to reveal the too-hidden (there's no visual cue to do this) comments and changes pane.
While you can import a file from Google Drive, you won't be storing files on Google Drive; rather, all saved documents live in the Quip cloud, and there's no limit to how many documents or the size of the documents.
Also new to Android is Quip's ability to stack notifications that someone has made a change to a document. This approach keeps your notifications view from being cluttered with all Quip, all-the-time, for example. Quip uses servers run by Amazon.
Quip for Android supports the wide variety of third-party keyboards available for Android, including keyboards specific to manufacturers like Asus and Samsung and keyboards by companies like SwiftKey and Swype.
As with the iOS and Web versions, you can have multiple people in a document at once, commenting and making changes. The first time someone opens a document, you get a push notification. The idea, says Taylor, is that you can hop into the document and respond to queries interactively. This is a more effective way of communicating than, say, cutting and pasting a passage from the document into an instant message app so the other party can answer the question, as I've often done during the editing process.
Quip's innovative take on collaborative editing comes out of the company's complete rethinking of what defines "a document." For iOS and Android users, every document is available for offline use. You can read and write everything offline, and your documents are always synchronized. But what, exactly, gets synchronized? And how, exactly, does Quip sidestep the pitfalls of simultaneously editing that plague other document editors or online content management tools, where often your changes might get overwritten by someone else?
The trick, explains Taylor, is that "we've abandoned the concept of a file. We think of a document as a collection of completely independent paragraphs. We don't re-download the entire document when one thing changes, which is how multiple people can change parts at different places at different times. It's about understanding the semantics of the document in a different way. Every paragraph in a document, every item in a bulleted list, every cell in a table, is discrete. "
In talking with Taylor, I found it refreshing to hear him acknowledge the elephant that's always in the room during any discussion of cloud services: Offline access.
"We did all of this because we understand that people don't always have a reliable Internet connection," says Taylor. He gives the example of one company that has half its employees on-site all-day with an iPad, and the availability of an Internet connection, let alone a reliable Internet connection, was spotty.
Web: A strength, and weakness
The cross-platform chain has one weak link in the Quip universe, though, and that's on the PC. Right now, the PC is served directly via the HTML 5 Web app, and this app is indeed as easy to use on my laptop's touchscreen as it is with the keyboard (the app supports shortcuts like using ctrl-b for bold and shift-arrow to highlight). And the app does have some benefits, like the pop-up commentary on-screen, the commentary pane sharing your document's space, and the ability to adjust the size and appearance of images (even though this and other "insert" features are buried under the obtusely labeled "@" symbol).
The weak link here, though, is that the Web app lacks the full offline capabilities of the iOS and Android versions. Taylor himself describes them as remedial; if you turn off the computer, or the battery dies at an inopportune time, you'll lose your changes. For Quip to truly be cross-platform -- and for me to consider using Quip instead of my local version of Microsoft Office or OpenOffice -- Quip needs to be fully off-line compliant in the future.
For now, there's no native Windows 8 tablet version. "We will make a native app at some point, but we're not sure if it will be desktop or native Windows 8," says Taylor. "It's unsure where the market is going."
So what is next for Quip? Broadening beyond its current, highly basic design would seem in order. In addition to pondering a desktop app, Quip's roadmap possibilities include adding revisions tracking and acceptance modes. "It's something we've talked about. There's no timeframe for that now, but it's something we've thought about," says Taylor. "As the product grows more mature, revisions is the kind of feature we'd like to add."