Office for iPad: Word & Excel are major victories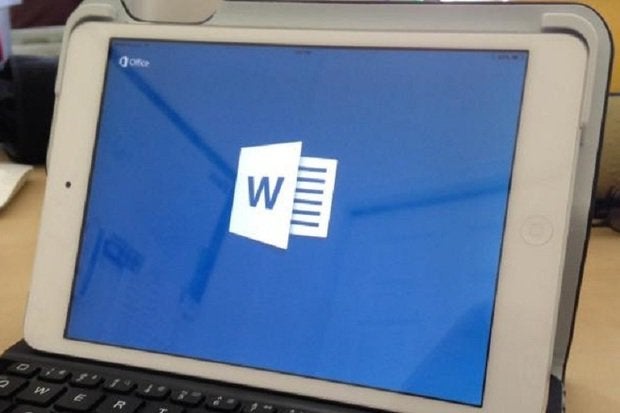 Where it's good, it shines. Where it's bad, it really suffers.
In the lead up to Microsoft's release of Office for iPad last week, there was a lot of buzz about whether or not Microsoft had waited too long to release the suite, as the delay allowed an ecosystem of Office alternatives to form and thrive. In some cases, those alternatives have been acquired by larger organizations with their own mobile and cloud service strategies (Google's purchase of QuickOffice is a prime example).
The debate on this point, along with the question of how functional Office for iPad might be compared to its competitors, has been going on for years and every rumor of Office coming to the iPad has fueled added fuel to the fire.
Apple's overhaul of iWork (for iPhone, iPad, Mac, and iCloud) last fall and the move to make the suite free with the purchase of a new iPad, iPhone, or Mac set the bar high for iOS productivity suites in terms of user interface, consistency across devices, and support for a range of file formats. iWork for iOS can open, edit, save, and export all of the native Office file formats and it does a good job of rendering content and integrating with key Office features like Word's track changes.
Last summer's release of the anemic Office for iPhone hinted that Office for iPad would be a lackluster product that wouldn't be a game changer for business users, schools, or consumers.
But in fact, those fears were ungrounded, and two of the apps -- Word and Excel -- are major victories for Microsoft.
The Apps
Office for iPad includes three apps -- Word, Excel, and PowerPoint. The apps themselves are free, but if you want to edit documents, spreadsheets, or presentations with them, you'll need an Office 365 account. You can use and existing account or register a new account via the web or from within any one of the three apps using Apple's in-app purchase and subscription features. (As has been noted elsewhere, Apple will take its standard 30% cut of of the subscription if you register from within one of the apps).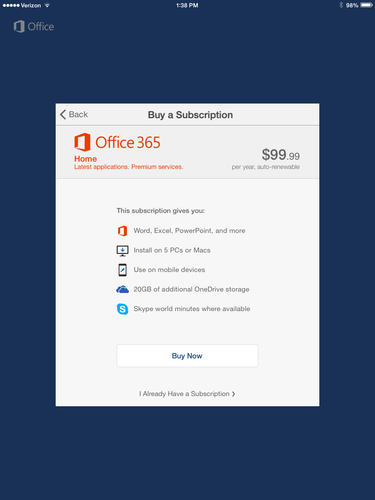 Only an annual subscription is available when purchasing within the app, though you can register for a month-to-month subscription through Microsoft's site. Other than that, there really isn't much to the setup process.
Word
Word is the most commonly used of the three core Office apps. It also faces the widest range of competition, since there many apps that can be used to create or edit text-based content. The biggest competitor at this point is Apple's Pages, which supports a full range of fonts, style elements, image and media support, layout capabilities, and support for a wide range of file types.
Despite a crowded field, Word for iPad is a home run and, for me, it's more than worth the annual cost of an Office 365 subscription. Probably the biggest thing that Word has going for it, particularly in the business or enterprise markets, is that it looks, feels, and behaves like Word.
Anyone who uses Word for Windows or Mac will instantly feel at home with Word for iPad. For even moderately experienced Word users there is virtually no learning curve when using Word for iPad. The desktop version of the ribbon has been stripped down a bit to fit a smaller screen and touch interface, but the core features are still there and they're where you would expect to find them. In bringing the ribbon concept to the iPad, Microsoft has made more intuitive and arguable more valuable than it ever was on the desktop.
The similarity to its desktop counterpart doesn't end with the ribbon. Track changes, one of the most important features of Word business users, is virtually identical to desktop version of Word including the ability to review, accept, or reject changes to a document as well as to add comments. The same look and feel is evident in the the various text styling and layout tools that mirror their desktop counterparts.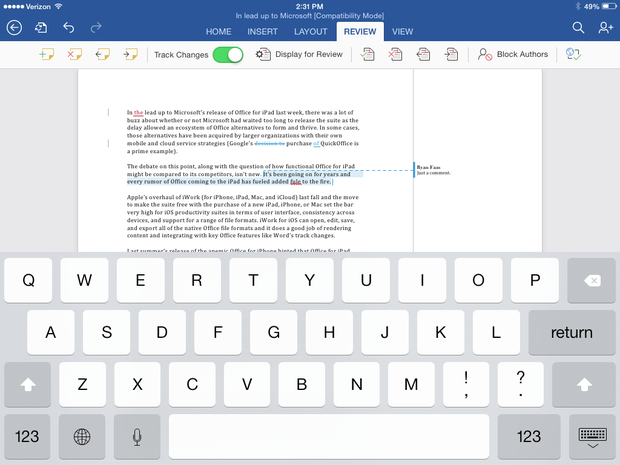 Microsoft's real success here and throughout Office for iPad was creating a very functional version of Word, an app designed completely for a desktop paradigm, that also feels like an iOS app. Word for iPad doesn't feel like something designed for another platform and then ported to iOS. Most important, Word functions well as a touch-based app. The design of the ribbon and limited local file management options definitely reflect a touch-focused design process. The addition of undo and redo buttons is a godsend considering Apple has not really implemented that functionality all that well in iOS.
There are some features that Word is missing like the ability to create new styles. Right now, you're limited to Word's generic style options or those included in a document or template that was initially created using the desktop version of Word. There is also no support for printing directly from Word using Apple's AirPrint. I suspect we'll see improvements like that in future releases. In the meantime, there are imperfect workarounds for these gaps -- either rely on a desktop version of Office to fill them in or even use Pages on the same iPad to fill them it.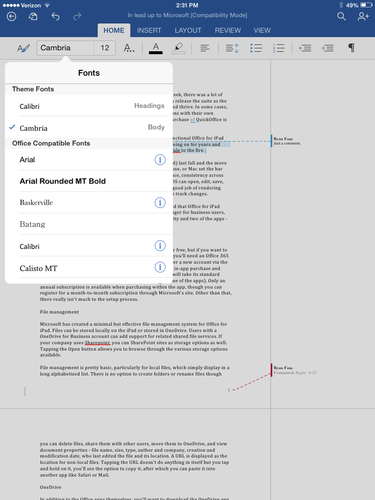 It's only natural to compare Word and Pages. While pages has a bit of a broader and more polished feature set (it has been on the market for four years as an iOS app), I find that I definitely prefer Word over it. One of my biggest pet peeves about Pages on iPad is that are few visual cues on the screen indicating specific functions or features. This is an advantage for Pages on an iPhone because the very limited screen real estate, but it can be confusing or even irritating on the larger screen of an iPad, particularly for people used to working in Word. Apple's desire to deliver such an identical experience for iWork across devices seems to me to have backfired a bit here, though others might not share view. I've also never been a fan of how track changes and some formatting features are implemented in Pages (both Mac and iOS versions).
For me, Word is the first word processing app available for iPad that has made me feel comfortable replacing a laptop and a keyboard case (and is the reason I bought a keyboard case for me iPad on Saturday). That largely comes down to the user experience that Microsoft created and I think that user experience is extremely important for many business users that want to switch between an iPad and a PC (and it's far better than the version of Word that Microsoft included on its Surface tablets). That said, not everyone is going to appreciate that Word-like experience, Mac users that work mostly or solely with Pages will most likely prefer Pages over Word.
Excel
Like Word, Excel for iPad's greatest advantage is in its similarity to its desktop cousin. This is even more important for people who live in Excel all day every day. Familiarity and the ability to understand how to accomplish tasks is extremely important when it comes to entering, manipulating, and presenting spreadsheet data. Excel for iPad delivers that familiar experience and makes it very accessible to Excel veterans -- again the modified ribbon is done very thoughtfully and presents the key functionality of the app in a very intuitive manner.
One of the big challenges to developing any touch-based spreadsheet solution is that most spreadsheets contain a lot of data that needs to entered, viewed, and adjusted -- the more screen real estate the better. That poses a design issue for developing an app for any smartphone or tablet, particularly if the user needs to work without a keyboard, since the onscreen keyboard will obscure much of the screen while the user enters information. Microsoft has achieved a very nice balance for issues like this and the experience is at once touch-centric and very similar to working with Excel on the desktop.
Microsoft also made numeric data entry and navigation more efficient and effective by including a special keyboard option in addition the to standard iOS alphanumeric keyboard. This optional keyboard includes a standard numeric keypad, arrow keys, common symbols, and a dedicated tab key. The keyboard is well designed and it allows you to enter and navigate data in a very desktop-like fashion (it's worth noting that Apple's Numbers also offers a numeric onscreen keyboard), though a hardware keyboard with a numeric keypad would deliver a better solution overall as it would allow for touch typing while entering data.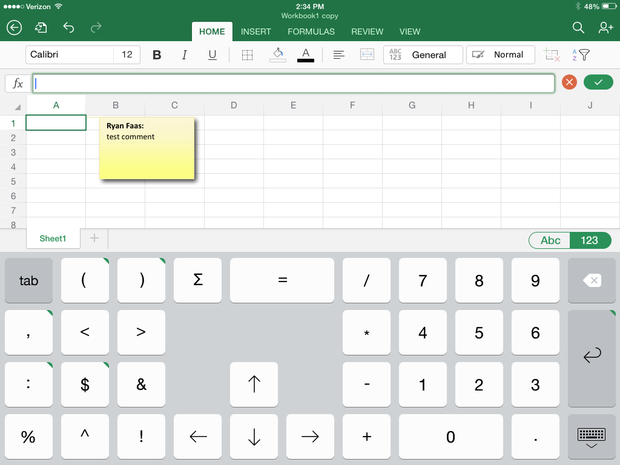 While the user experience is key for Excel for iPad's success, the absolute most important feature is access to functions and formulas and the ability to consistently manipulate data exactly like you could on a desktop. Microsoft has generally done a good job in this respect, though more advanced features like pivot tables and macros aren't supported. The app also includes a range of common chart options for visualizing data and a fair number of formatting and style choices, though they represent a subset of what's available in the desktop version of Excel. Unlike Word, track changes isn't available in Excel. Comments are partially supported -- Excel for iPad will let you view and delete comments but not to create new or edit existing comments.
It's rather difficult to contrast Excel and Numbers on the iPad (or on a Mac) because the user experience is radically different. Although many functions are duplicated and Numbers can import and export Excel files, the user experience of Numbers is much more consumer-focused and its layout and display options function more like a page layout app than a spreadsheet app. The two products spring from very different underlying concepts. Most experienced Excel users balk at Numbers and vice versa.
Despite the fact that Excel for iPad is a stripped down version of Excel for Windows or Mac, the product is successful across a range of common business and personal use cases. Some of its shortcomings, like full comment support, are likely to be resolved in future updates, but others like the inclusion of macros may stay desktop-only features.
PowerPoint
Like Word and Excel, PowerPoint sports a user interface rather similar to its desktop counterpart. The stripped-down ribbon makes it easy to create or edit basic presentations, but a good deal of the polish that's available when using PowerPoint for Windows or Mac is obviously missing.
PowerPoint for iPad includes far fewer templates than its desktop counterpart, all of which are more basic or utilitarian by comparison, though all of the templates are available in standard (4:3) and widescreen (16:9) formats. There is also a more limited selection of pre-fab color schemes and style options. Despite those drawbacks, the standard set of slide transitions is available.
Text editing, both of slides themselves and of presenter notes, is easy and intuitive, though there are far fewer text formatting or special effects options. The app includes the ability to insert pictures, shapes, and tables, but not animations or video content. Formatting and editing/styling options for images and shapes are available feel rather limited compared to the desktop version of PowerPoint. Adjusting images imported from an iPad's Photos app seems particularly clunky.
Adding charts to a presentation is possible by copying and pasting a chart from Excel, at which point you're able to adjust the type and styling of the chart, but there appears to be no direct way of creating or inserting one from within PowerPoint itself, though this will likely be addressed in upcoming versions.
Like Excel, PowerPoint offers the ability to review comments entered from the desktop versions of PowerPoint, but doesn't include the ability to create or edit comments. Unlike Excel, it also lacks the ability to delete existing comments. Overall, PowerPoint feels much more like a work in progress than Word or Excel.
PowerPoint also faces stiff competition from its iWork counterpart Keynote, which is a much better-designed solution. Keynote was the first iWork app to be released and it was originally designed as a presentation solution for Steve Jobs, so  the time and attention to detail is obvious throughout the app in a way that blows PowerPoint out of the water. It includes a broader range of higher caliber templates, text and image styles, and transitions. It also includes support for advanced animations, charts, links, audio tracks, and comments as well as intuitive editing tools for text, presenter notes, and visual elements. Given that it fully supports exporting presentations as PowerPoint files, it's a far better option for creating presentations on an iPad.
Working with files
Microsoft has created a minimal but effective file management system for Office for iPad. Files can be stored locally on the iPad or stored in OneDrive. Users with a OneDrive for Business account can add support for related shared file services. If your company uses Sharepoint, you can SharePoint sites as storage options as well. Tapping the Open button allows you to browse through the various storage options available.
File management is pretty basic, particularly for local files, which simply display in a long alphabetized list. There is no option to create folders or rename files though you can delete files, share them with other users, move them to OneDrive, or view document properties such as file name, size, type, author and company, creation and modification date, who last edited the file and its location. A URL is displayed as the location for non-local files. Tapping the URL doesn't do anything in itself but you tap and hold on it, you'll see the option to copy it, after which you can paste it into another app like Safari or Mail.
You'll really want OneDrive, too
In addition to the Office apps themselves, you'll want to download the OneDrive app. This app gives you the ability to create folders, select and move files, and to rename them. You can create a nested hierarchy of folders and files pretty easily (the process is somewhat similar to creating multiple albums in the iOS Photos app) and your folder structure will be displayed and is browseable within each of the Office apps, though each app will only display the files that it can open.
Speaking of file types, it's worth noting that, although the Office apps can open and allow you to view older Office file formats like .doc, editing them requires you to convert them into the current formats introduced with Office 2007 like .docx.
Integrating with other apps and cloud services
The OneDrive app also offers a crucial capability missing from the Office apps themselves -- the ability to Open files in other iOS apps.
This is a major feature and it isn't intuitively obvious that it even exists, which is probably by design since its obscurity fosters a sense of separation between Office and other apps as well as a tendency to use OneDrive or SharePoint to store and share files.
To use this feature, Launch the OneDrive app and tap on a file to open in it the document viewer that's built into the app. In the toolbar at the bottom of the screen, tap the ellipsis icon (the right-most button) and you'll see a menu that allows you to move or rename the file as well as to open it in another app. Select the Open In Another App option and you'll see a standard iOS share sheet that allows you to send the file to another user's device using AirDrop as well as a list of the all the apps on your iPad that can open that type file.
The open in list includes the related Office app as well as the related iWork app (if iWorks installed) as well as other alternate Office-type apps. Equally important, if not more so, the list includes apps for cloud services installed on your iPad including Box, Dropbox, and Google Drive.
There a few hoops to jump thought to make this work, but it does work fairly well. It's also worth mentioning that you can send files to Word, Excel, and PowerPoint from other apps, including iWork and cloud service apps, though these apps will require you to save a separate copy of any document that send to them before it will let you edit them.
Transferring files using iTunes
My final note on file management is that you can transfer files between your iPad and your Mac or PC using iTunes file sharing. The process works the same as any other app. Open iTunes and select your iPad (you can do this with your iPad connected by USB or wirelessly if you have it set to sync over Wi-Fi), click on the Apps tab and scroll down to the File Sharing section. Select Word, Excel, or PowerPoint and drag and drop files to and from your desktop.
Overall impressions
The one thing that's clear about Office for iPad is that Microsoft really focused on thinking out the best ways to deliver an experience that is both quintessentially Office and adheres to the best touch-first experiences possible on an iPad.
Word is clearly the standout star of the suite and the most well executed. Excel is also well executed but not as powerful as it is on a PC or Mac. PowerPoint is simply not up to par with either the other Office apps or its primary competition.
Overall, however, I was much more impressed than I expected. There is room for improvement and Office isn't going to be the ideal option for everyone, particularly since it requires an Office 365 subscription while Apple's iWork comes free with new devices (and each app only costs $9.99 for existing devices). That said, for business users and others with an existing Office 365 subscription, it is a welcome option.
View Comments
Top News
Yahoo's share gains since November from a deal with Mozilla may be a clue about whether the search...
Samsung denied it had blocked a Windows update on its hardware but acknowledged that it was...
The new Remote Keyboard app is designed for Intel's NUC and Compute Stick miniature PCs, but should...