When Andy Byrne was an executive at the last startup he worked for, an electronic legal discovery software maker called Clearwell, he kept running into two big problems on sales calls.
First, it was a pain for reps to enter information about sales calls into the CRM system, so many of them entered incomplete data, or sat down at the end of the day or week and entered a bunch of stuff at once. As a result, their managers didn't know the actual status of their sales calls, and ended up scheduling Sunday night phone calls to catch up with everybody's real status -- defeating the purpose of CRM in the first place.
Second, while some sales reps and managers did pretty well at forecasting sales, it was more of an art than a science. In theory, there should have been plenty of data about past sales calls available to help predict deal progress. In reality, that data wasn't being collected or used properly.
"That's just wrong," Byrne told CITEworld. "It's time-consuming, they're not leveraging mobile, not leveraging big data."
So after Symantec bought Clearwell for $390 million in 2011, Byrne began looking around for his next challenge and thought back to how he could address the pain his salespeople were feeling.
The result is Clari, which emerges from stealth today after about 18 months of development. 
Clari is a mobile app that takes data from a salesperson's calendar, email, CRM system, and other data sources, like documents stored in Box, then uses this data to provide useful information before, during, and after sales calls. Then, it provides a simple quiz-like questionnaire for reps to answer so that valuable information about the sales call is captured and sent back to the CRM system. Over time, the app learns more about all the individuals using it, and uses that information to create a "business interest graph," which improves the quality of the information provided to users and managers.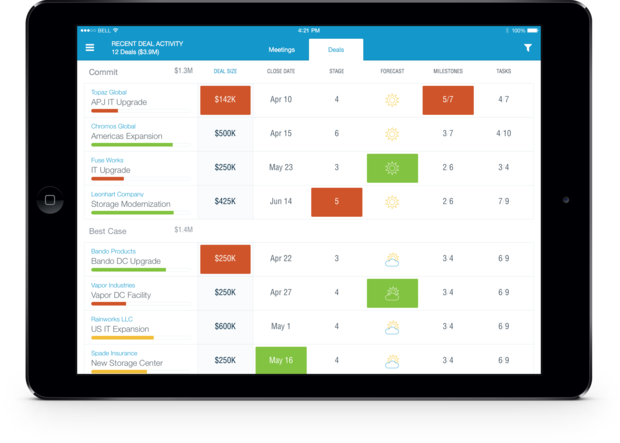 "We're proactively curating and pushing content to the mobile edge," says Byrne, "based on the context of the rep -- who they're meeting with, what relationships they're developing, who the next call on their calendar is with." 
Byrne emphasizes that the app is designed to see what users are actually trying to accomplish at any given time based on their actual workflow, and adjusts accordingly. "We designed the mobile experience to map to how salesperson lives their life. If you do that, you get incredible adoption. You also get great data."
This appealing vision is backed up by some complicated technology, and does require a bit of work on the part of both users and administrators. Users must enter passwords for all the systems they want the app to connect to. They can start by just connecting it to the CRM system, but over time Clari will prompt them to connect to other sources like their email, calendar, and LinkedIn profiles. 
On the back end, Clari uses "accelerators" to connect back to CRM systems. This can create problems as companies change the data models of their CRM systems -- one vendor who proposed a similar system told me confidentially they later had to abandon it because it was too hard to maintain the proper connections to the back-end systems.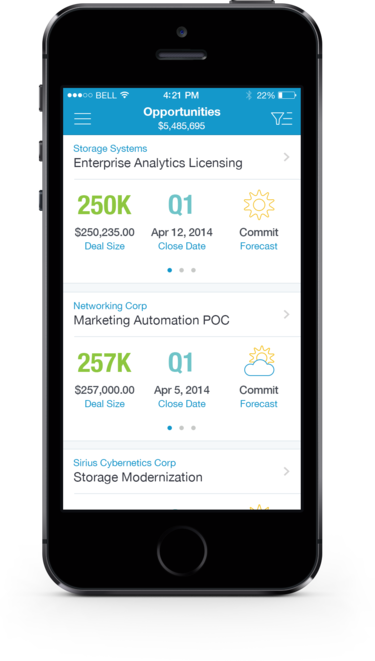 But Byrne believes that managers who employ Clari will use it differently -- instead of forcing it to adapt to an ever-changing (and ever more complex) data model, they will use Clari to drive (and simplify) that data model. 
"Look at the opportunity record in Salesforce. For one record, for one customer, there are literally on average 75 to 100 fields that the poor rep has to fill out. We call it field creep: Marketing wants data, customer support wants data. It's gotten out of control," Byrne said. "Clari is becoming their best practices data model. They define milestones and best practices within Clari. So we're simplifying the back end opportunity record and the data model."
This may all sound a little bit like magic, but Byrne says that test customers -- including big names like Cisco, VMware, and Box -- are reducing the amount of CRM administration for their reps by 80%, giving them 20% to 25% more time with their customers. 
He also suggests that the predictive analytics will help customers increase sales.
"Think about a rep in the field working on a deal. Our data science says to the rep via one of these accelerators, 'we want to let you know that the meeting you're going into, based on 15 deals that sold the same product at the same price, if you don't do x or y within next 10 days, the probability of closing the deal goes from 70 to 20. Thats where we're really bringing in science to drive art of selling."
Clari is generally available today. The company is using the freemium model that powered companies like Box: The basic app for individual salespeople is free, but to get the analytics, customers will have to buy a team version which costs $50 per user per month.
Clari also revealed that it's taken $6 million in funding from Sequoia Ventures, which backed Byrne's previous startups. That money was used to build the product and engineering team.
Learn more at DEMO Enterprise, which takes place on April 3 in San Francisco. Byrne will also be speaking at the 2014 CITE Conference & Expo in San Francisco -- register here!