Looks like Microsoft's new digital assistant, Cortana, is coming to PCs.
The head of Windows Phone, Joe Belfiore, strongly hinted at the move during a Reddit AMA session this morning.
One user asked if Cortana would ever come to PCs. Belfiore replied: "Nothing specific to announce, but Cortana herself is always telling us she's a fan of PCs herself. :)"
Microsoft released Cortana for Windows Phone as a developer preview in mid-April. The natural language digital assistant is Microsoft's answer to Apple's Siri.
Belfiore seemed much more excited to deliver another bit of news that may sound mundane but that many phone users, even on other platforms, want: a file manager is coming to Windows Phone.
"WOO HOO! SOMEONE ASKED THIS QUESTION!! I've been waiting!" he wrote, when asked if there were any plans to bring a file manager to Windows Phone.
Belfiore linked to several images of the file manager that he's already running on his phone. He said it should be available in the Windows Phone store by the end of the month.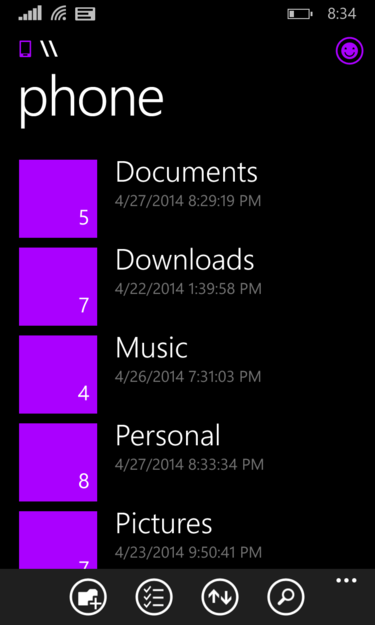 The images show that users will be able to look at a file structure starting with storage built into the phone or on an SD Card. Users will be able to create new folders and move files from one folder to another. They'll also be able to search within folders.
Apple's iOS lacks this kind of folder structure, an omission that has frustrated some users.
Many people asked questions around apps, still a sore spot for Windows Phone, which lacks some of the more popular mobile apps. He said that Microsoft is working on a new version of Skype for Windows phone and that it has also been working with Facebook on an update to that app.
Surprisingly, he also said that Google apps are high on the "want list" for apps available to Windows Phone users.
"We think we've developed an awesome platform with Windows Phone, and definitely look forward to welcoming Google's apps on it. Unfortunately, the apps are Google's and I can't say when they will act. Only our friends in Mountain View know timing," he wrote.