Google today introduces the Hangouts start button, a free and easy way for app and site developers to embed a one-click shortcut for launching text chat or video call with team members or customers via the eponymous Google Hangouts.  
The official blog entry lays out two primary uses for the Hangout start button: If you're in, say, a CRM tool or a project management application, you can immediately invite the rest of your team to a chat. Alternatively, it can be used in a customer service portal type of setting to let customers automatically launch a call with a representative.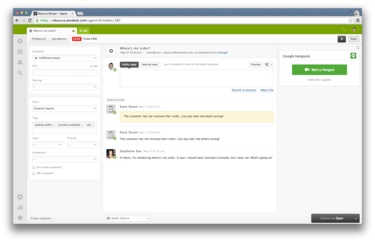 "Today, technology allows us to work across devices, at all hours, around the world. But, sometimes working face-to-face is most effective," writes Google's Stephen Cho.
A few of Google's regular rotation of developer partners, including Salesforce, Zoho, Zendesk, and Smartsheet, have already integrated the Hangouts button into their respective apps, with a seeming focus on that internal collaboration scenario. Zoho Recruit, the SaaS productivity vendor's tool for recruiters, is using it to offer a one-click way to launch a video interview with prospective hires.
Looking at the documentation for the Hangouts start button, it seems there are a number of variations on the idea that let you specify if it starts up a text chat, a video call, a video conference, and so on. 
It's an announcement reminiscent of Salesforce's recent introduction of one-click customer support video chat features to its Service Cloud product.
But where Salesforce seems to see the function as something for high-value, high-touch customers, Google's Hangouts start button is, for lack of a better word, more democratic: Pretty much everybody has access to Google Hangouts, and Google is letting anybody embed the button. Obviously, you lose some of the really deep functionality for customer service agents to go hands-on with customers that Salesforce offers, but it's definitely more lightweight and almost certainly easier to deploy in an application. 
There's a move towards using collaboration and chat technology for better customer service. It's going to be really interesting to see if Google Hangouts gets further built out as an enterprise offering with that kind of service as the focus.